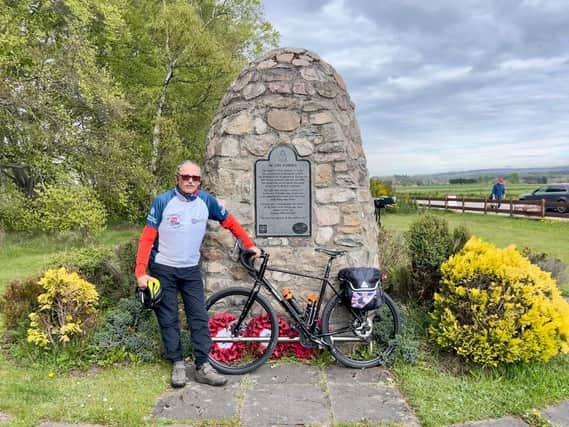 Nick, 66, from Ellon took part in his very own Coronation Day Dambusters themed 100-mile cycle ride across the north-east of Scotland, connecting all the Second World War RAF airfields, starting at RAF Buchan and finishing the ride at RAF Mundole.
Nick served in the RAF Fire and Rescue Service for 23 years and wanted to help raise funds in a way he believed he could.
The annual Dambusters Ride pays tribute to the Dambusters, members of the RAF's 617 Squadron who were assembled to bomb three dams in Germany's Ruhr Valley on the night of 16-17 May 1943 – also known as Operation Chastise.
This year marks 80 years since the risky raid, in which the revolutionary bouncing bomb, the brainchild of engineer Barnes Wallis, was dropped at low level on Germany's industrial heartland in the Ruhr Valley.
The mission was a success, but the cost was high; of 133 aircrew who left, 53 were killed and three became prisoners of war.
Nick said: "Choosing to complete my solo ride on Coronation Day seemed particularly fitting.
"I prefer cycling on my own, as I go at my own pace and can take breaks when I need to without the struggle of keeping up with younger, fitter cyclists.
"The weather was foggy and wet for the first 30 miles, but brightened up for the remainder and I completed my journey without injury or mechanical failures.
"I am thrilled to have raised £1710 for the Fund and thoroughly enjoyed the whole experience.
"The Fund has been a great support to my brother-in-law, and I am proud to have raised funds for such a worthy cause."
The Dambusters Ride consists of two elements: a Virtual Ride on the weekend of 20-21 May and a Heritage Ride that took place in Lincolnshire on Saturday 13 May.
For more information please visit rafbf.org/ride.