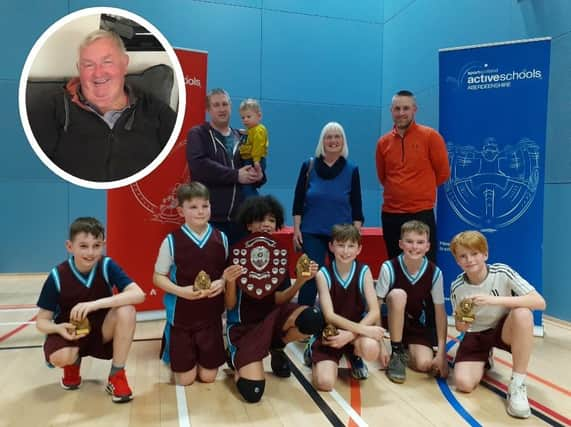 The event saw the presentation of a new Memorial Shield to remember the late Kenny Gibb, who for many years coached and developed Basketball across Aberdeenshire.
Kenny, who passed away in December 2019, and who had been instrumental in the development of Basketball in the Garioch area since the 1980s through Garioch Basketball Club, was best known within local schools for his coaching work through the Active Schools programme, via Live Life Aberdeenshire/Aberdeenshire Council.
That work that saw him engage and delight pupils with fun basketball sessions from P1 up to S6 on a weekly basis, with sessions often being fully booked such was his popularity, and his coaching even extended into working with Pre-school children getting ready for their transition to Primary 1.
Kenny's creation of a regular Basketball Festival at Kintore Primary School, which via a yearly donation of trophies from local businessman Graham Tawse saw it become the Tawse Tyres Festival, grew to become an annual fixture for local schools and ensured that pupils who had progressed in the after school setting, had a fun and competitive opportunity to play matches.
Following the loss of Kenny, Active Schools staff in the Inverurie network, through discussions with his widow Marion, planned for the return of the festival and a change to the festival format, based on what Kenny had been latterly working towards ahead of the Tokyo Olympics, which was a switch to a fast paced 4 v4 format, similar to the first ever Olympic 3 v 3 matches he was looking forward to watching from Japan.
Kenny's passing before those Tokyo Olympics took place, meant that although he wasn't able to watch that historic development for the sport he loved, his legacy was added to by the ability and enthusiasm of the pupils who took to the court at Inverurie Community Campus, a venue that Kenny himself had always wanted to move the festival to, so that more schools could take part and take advantage of the fantastic facilities.
So once again, with the generous support of Tawse Tyres, eight school teams battled it out and it was fittingly to be Kintore Primary School who took home the first ever "Kenny Gibb Memorial Shield" after they edged out Kellands Primary School in a thrilling final in front of a large crowd made up of pupils, parents and members of Kenny's family.
Head of Service for Live Life Aberdeenshire Avril Nicol, said: "Everyone at Live Life Aberdeenshire was deeply saddened by the loss of Kenny back in 2019 and since then I have been kept up to date by our Active Schools staff about the return of the festival, with the new memorial shield to remember Kenny being a lovely gesture by the Gibb family. Despite the delays in its return due to external factors, it was so good to see the festival return with such a great turnout from local schools and to see so many pupils taking part again in a sport that Kenny had developed so much during his time with Aberdeenshire Council."
Councillor Anne Stirling, Chair of the Communities Committee, added: "Kenny's work through the Active Schools programme made a huge contribution across many years, not only to the development of basketball but also to the wider Health and Wellbeing aims of the council, ensuring fun and participation level activity but also as we have seen in the return of the Tawse Tyres Festival, an opportunity for competitive sport."