Programme of surface dressing works across the north-east
Aberdeenshire Council's programme of surface dressing works is now underway across the north-east and motorists are being warned of the risks of loose chips on newly-dressed roads.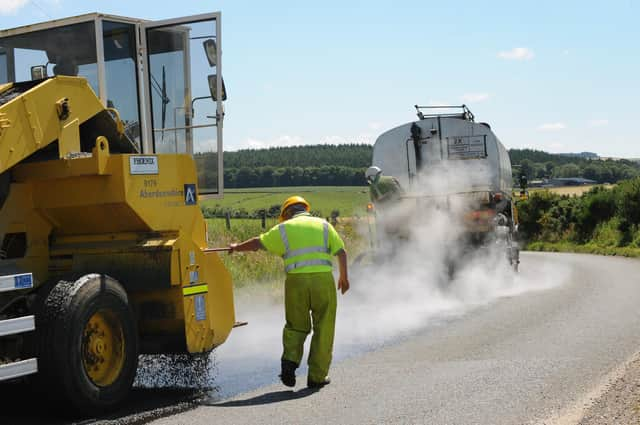 Surface dressing is used as an effective and cost-efficient way to extend the lifespan of roads. The technique of laying bitumen followed by chippings works to seal the road surface and also provides better grip for vehicles.
However, surface dressing requires motorists to take extra care and reduce speed when passing over treated sections of carriageway as there is a short-term heightened risk of skidding.
To ensure no bare patches are left, more chips are laid than are required for the finished job.
Although the newly dressed road is mechanically swept a number of times after being treated, it takes several days for chips to embed fully into the bitumen.
The slow passing of traffic over a newly dressed road is beneficial as it helps speed up this process. However, when motorists do not adhere to speed restrictions and drive at excessive speed, loose chips can prove hazardous.
Warning signs advising of surface dressing works are always erected prior to work starting and remain in place for several days after the work has been carried out.
While it sometimes may appear that a road is clear and suitable for normal use, there may still be loose chippings to watch out for, so we would urge road users to always adhere to our signage and mandatory speed restrictions.
Philip McKay, Head of Roads and Infrastructure at Aberdeenshire Council, said: "Motorists across Aberdeenshire will be well aware of the need to repair our roads following the recent winter weather and now is the time to start that work as it is weather dependent.
"Surface dressing remains the most cost-efficient way of improving and protecting roads on our 3,500-mile network. While we acknowledge that these works may temporarily inconvenience people through road closures, restrictions and the need to slow down, this remains the most appropriate maintenance technique available to us.
"While the inconvenience is relatively short-lived, the treatment rejuvenates the road surface and protects it from structural damage from water ingress."
For more information on road operations including maintenance, closures and how to report faults, visit www.aberdeenshire.gov.uk/roads-and-travel/roads/