Powerful new play marks Piper Alpha disaster
A powerful and thought-provoking multimedia theatre production exploring the parallels between the current Climate Emergency and the Piper Alpha disaster is heading to the North East.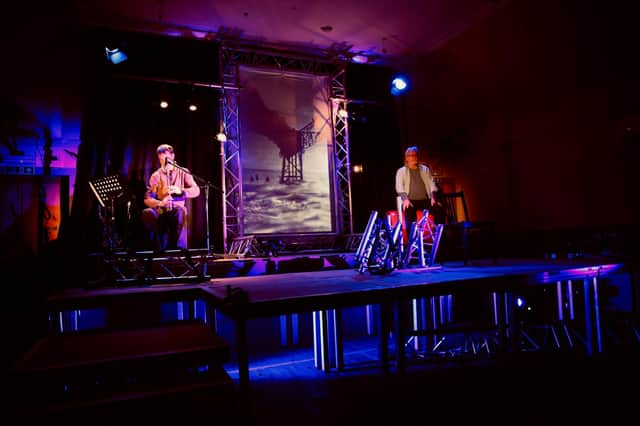 Pibroch uses searing poetry created by Aberdeenshire-based writer and artist John Bolland, and mixes it with live music and striking visual imagery.
This multi-media performance represents the personal and social experiences of Piper Alpha survivors and their relationship to the challenges each of us face in a warming world – our very own burning platform – with a pressing need for change. It aims to inform, challenge and encourage that discussion.
John's words are complemented by multi-instrumentalist and composer Fraser Fifield who provides live music accompaniment to the performance.
Pibroch is Co-directed by Mark Thomson, former Artistic Director at the Royal Lyceum in Edinburgh, alongside a strong team of Scottish theatre creatives.
Former oil worker, climate activist, member of North East Scotland Climate Action Network (NESCAN), and artist, John Bolland has been actively involved in the oil and gas industry's response to the Piper Alpha disaster in the North Sea and internationally.
He has closely examined the devastating events that took place in the North Sea on July, 6 1988 when 226 workers on Piper Alpha had to make the fatal choice of live or die, obey or resist.
167 men perished – most whilst following instructions and awaiting rescue in the mess-hall.
Those who survived, in many cases, were those who disobeyed the prevailing wisdom and took their lives and their survival into their own hands.
John said: "Pibroch started out as an idea for a demonstration against further fossil fuel development during the 2019 Offshore Oil & Gas Exhibition.
"The idea of 'guerrilla piping', using Padraig Og McCrimmon's pibroch, Lament for the Children (Cumha na Cloinne), arose as a distinctively Scottish form of protest.
"It will be the 35th anniversary of the Piper Alpha Disaster this July and although half a lifetime has passed, we seem not to have understood the underlying lessons.
"Researching both the disaster and the Climate, I was struck by the statement of Red Adair, who was a responder to the emergency, that the only way to extinguish a fire of this nature is to deny it fuel.
"I hope those who come along to the performances will come away with a sense of disquiet and a modicum of hope. Disquieted by the fact that they are, in more than a metaphorical sense, on a burning platform.
"Hopeful because, collectively as well as individually, we can figure out what we are going to do about it – for ourselves, for our children and grandchildren, for most of life on earth. Live or die. Obey or resist."
The performance on Sunday, April 2 at the Lemon Tree in Aberdeen is part of Climate Week North East 2023.
Pibroch's final performance takes place on July 6 at the Barn, Banchory on the 35th anniversary of the Piper Alpha disaster.
For tickets, visit aberdeenperformingarts.com and thebarnarts.co.uk