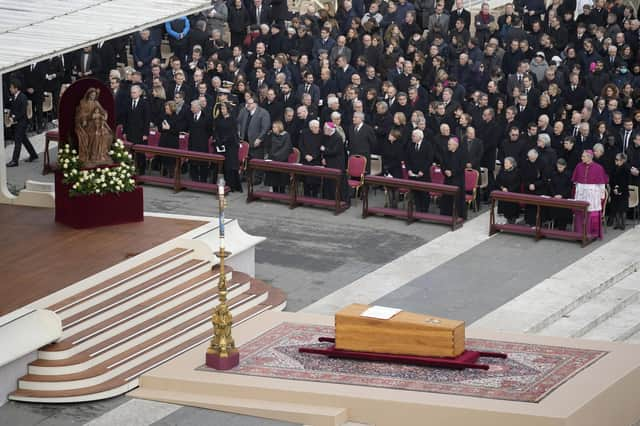 They are there to pay their final respects to the German theologian, who made history by retiring, and to attend a rare requiem Mass for a dead pontiff presided over by a living one.
Bells tolled and the crowd applauded on Thursday morning as pallbearers carried Benedict's cypress coffin out of the basilica and rested it before the altar in the piazza as red-robed cardinals looked on.
Heads of state and royalty, clergy from around the world and thousands of faithful flocked to the Vatican, despite Benedict's requests for simplicity and official efforts to keep the first funeral for a pope emeritus in modern times low-key.
Many hailed from Benedict's native Bavaria and donned traditional dress, including boiled wool coats to guard against the morning chill.
"We came to pay homage to Benedict and wanted to be here today to say goodbye," said Raymond Mainar, who travelled from a small village east of Munich for the funeral.
"He was a very good pope."
The former Joseph Ratzinger, who died on December 31 aged 95, is considered one of the 20th century's greatest theologians and spent his life upholding church doctrine.
But he will go down in history for a singular, revolutionary act which changed the future of the papacy: he retired, the first pope in six centuries to do so.
Pope Francis has praised Benedict's courage to step aside, saying it "opened the door" to other popes doing the same.
Francis, for his part, recently said he has already left written instructions outlining the conditions in which he too would resign.
The funeral ritual itself is modelled on the code used for dead popes but with some modifications – given Benedict was not a reigning pontiff when he died.
Francis is due to preside over the funeral, which authorities estimated some 100,000 would attend, higher than an original estimate of 60,000, Italian media reported, citing police security plans.
The Vatican released the official history of Benedict's life which was placed in a metal cylinder in his coffin before it was sealed.
The document gave ample attention to Benedict's historic resignation and referred to him as "pope emeritus", citing verbatim the words he uttered when he announced he would retire.