Plaque to be added to Melville Monument in St Andrew Square detailing Henry Dundas' ties to slave trade
Dundas, the first Viscount Melville, who as first lord of the admiralty, deliberately prolonged slavery to protect the elite in the 1800s
A plaque is to be added to the Melville Monument in St Andrew square detailing Henry Dundas' ties to the slave trade.
The move came after Edinburgh City Council leader Adam McVey confirmed a meeting has been called between Edinburgh World Heritage, Professor Geoff Palmer and an expert from Edinburgh University to determine "as quickly as possible" how the plaque will be worded.
The council has been debating how to highlight Dundas' ties to slavery for over two years, with a plaque originally planned to be erected by no later than September 2018. However, an expert working group was unable to agree on wording and so the matter was brushed aside. Following the death of George Floyd in the United States, and subsequent worldwide protests against racial oppression, the matter of the Melville Monument has been placed back on the council agenda.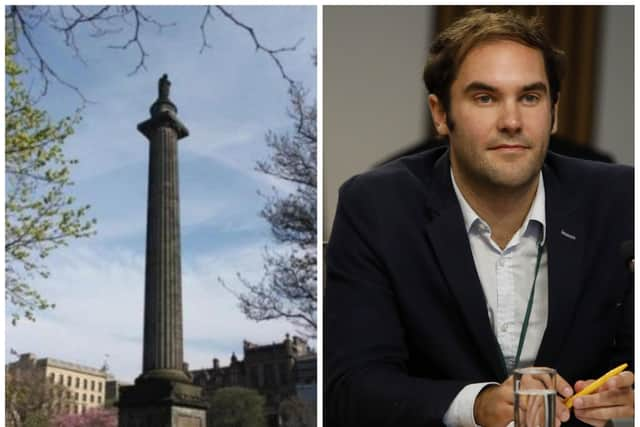 At Sunday's Black Lives Matter rally in Holyrood Park, Sir Geoff, emeritus professor at Heriot-Watt University, renewed his call for a plaque to be added to the monument.
He said: "It is within walking distance. If you go up to St Andrew Square one day and you look at the statue of Henry Dundas, it's 150 feet tall. Why is he there? He is there because he said the slave trade should be gradually abolished, not immediately abolished. We have a statue in the middle of the city to commemorate that man's doing.
"But there is an issue, should we take it down or should we put a plaque on it? The fact is I want a plaque on it, in Edinburgh, and Edinburgh council, we have been debating this for two years. And we cannot in fact agree to put on that plaque that he called for the gradual abolition of the slave trade."
Dundas, the first Viscount Melville, who as first lord of the admiralty, deliberately prolonged slavery to protect the elite in the 1800s – forcing about 630,000 slaves to wait more than a decade for their freedom.Mr Carey said: "I am astonished that in the midst of the current Black Lives Matter protests, the City of Edinburgh Council announced that it "will not be facilitating any further meetings" to "reword history on a statue memorialising [the] man who prolonged the slave trade," Mr Carey said.
"There is now an opportunity for the council to admit the role of one of its most influential figures by supporting the plaque committee to complete its work as quickly aspossible.
"My ancestor is controversial, but Edinburgh needs to own him, warts and all."
On Sunday night Cllr McVey responded to Sir Geoff's speech, tweeting: "Thanks for your work on this. I'll be speaking with colleagues tomorrow about where things stand and try to get things resolved."
He told the Evening News: "When we scratch beneath the surface of our city's long history – the sweeping streets of the New Town, some of the statues in our squares – we must face an uncomfortable truth. Edinburgh was, in part, built on wealth created by the slave trade. For too long this part of our city's history has been hidden but we are starting to confront our past and need to go further.
"We need to take action as a city now to tackle racism and that includes acknowledging the involvement of some of our city's historical figures in the slave trade and the failure to abolish it sooner.
"The statue of Henry Dundas in St Andrew Square at the very least requires a more representative story to be told on-site and, although the statue doesn't belong to the council, we've previously done what we can to facilitate discussions around how this might look.
"While a consensus wasn't achieved with a previous approach, we need a resolution now to make a change and I have called a meeting of Edinburgh World Heritage, Prof Geoffrey Palmer and an expert from the University of Edinburgh with a view to agreeing a new form of words as quickly as possible."