Plan unveiled for 300 homes in Portlethen
National housebuilder Taylor Wimpey has unveiled plans to build 300 homes in Portlethen.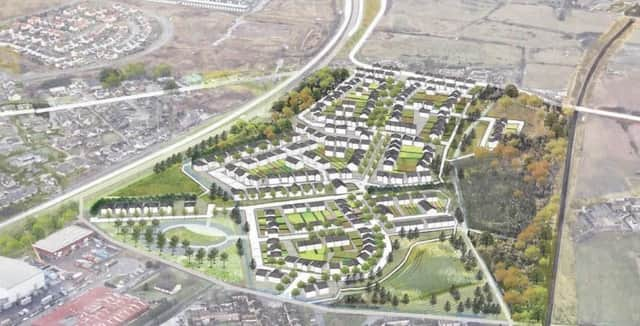 It comes after a masterplan for the area, located north of Thistle Drive, was approved by councillors back in May. The site was also included within the council's local development plan.
However, education chiefs have raised some concerns about the impact the site would have on Portlethen Academy.
They noted there is already "considerable capacity issues" at the facility and measures would need to be taken to address the increasing school roll.
The secondary school has enough space for 970 pupils and it is almost full. But, it is forecast to have 1,147 young people enrolled by 2026, making it 18 per cent over capacity.
The ambitious housing development is expected to include a mix of detached, semi-detached and terraced homes suitable for a range of buyers.
It is expected that 25 per cent of the new houses will be affordable to meet council policy.
Taylor Wimpey believes that the site fits within the landscape and acts as a "logical extension" to the town.
New residents could benefit from cycleways and footpaths that would link the development with the existing Portlethen community.
Developers hope these active travel links will help encourage locals to ditch their cars and either walk or cycle to the town's facilities.
The paths would also connect to nearby bus stops, while the railway station would be a 20 minute walk away.
A play park and community orchard are also included in the plans, giving youngsters a safe place to play and the chance for residents to grow their own fruits.
More detailed plans will be submitted to the council should this application be granted.
The site itself is located to the north of Portlethen, found nestled between the busy A92 and Aberdeen to Edinburgh railway line.
It can be found across from the industrial park and just up the road from the popular Farm Stop.
Two access points to the site would be formed, one off Findon Road and the other from Thistle Drive.
This has been specifically designed to avoid any potential 'rat-run' concerns previously raised by councillors.
Taylor Wimpey held three in-person consultation events, giving Portlethen residents the chance to comment on the proposals.
School capacity concerns were raised, while some were worried that the GP surgery and dentist were full and unable to welcome new patients.
However, the developer has agreed to set aside cash to help fund potential future healthcare facilities.
Money will also be given to address the capacity issue at Portlethen Academy.
It was noted that roads in the town "can't cope" with an increase in traffic, but Taylor Wimpey say they will look to improve roads around the development.
Residents also asked for "community friendly" areas and play parks suitable for children of all ages, something the homebuilder says is included in the plan.