Pints over prayers: anger that places of worship face harsher rules than pubs
Religious leaders have hit out at the "unjust" cap of 50 people in places of worship as Scotland emerges from lockdown – while hundreds can potentially go to pubs.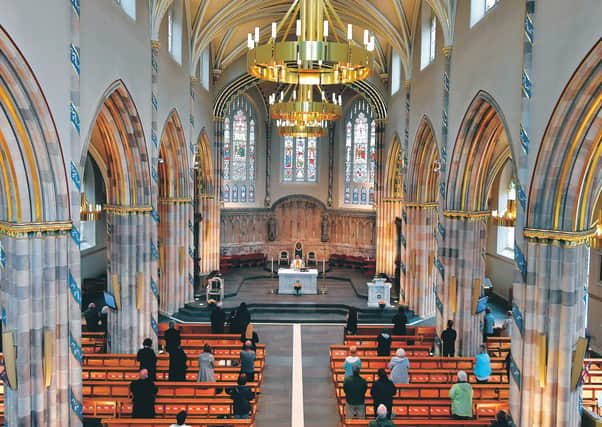 Ministers have been accused of prioritising "pints over prayers" and are facing calls to stop "discriminating" against churches over the limit.
It came into force as places of worship re-opened on Wednesday along with pubs when Scotland moved into Phase 3 of lockdown. St Andrew's Cathedral in Glasgow was among the first in the country to stage an emotional mass on the day.
The Christian Institute has now branded the limit "ridiculous", while the Catholic Church also joined calls for a rethink.
Pubs, restaurants, cinemas, libraries, universities and shops can open their doors to as many people as they like, as long as social distancing is observed
The 50 limit in churches has been questioned as many larger buildings, such as Glasgow Cathedral, could easily seat over 100 people with two-metre distancing.
Simon Calvert of the Christian Institute said: "It is ridiculous for ministers to approve 350 people eating and drinking the night away in a big venue on Friday, but only 50 people worshipping God in a big venue on Sunday.
"If the Scottish Government thinks more than 50 people in a church is too great a health risk, then surely it would also be just as risky having more than 50 people in a cinema, pub or restaurant.
"There are many large places of worship in Scotland that could safely accommodate a lot more than 50 people. No evidence has been put forward to justify the decision. It's not like religious believers are somehow more infectious or more irresponsible.
"Once people have a few drinks in them, they are much less careful about social distancing. But worshippers who are stringently following social distancing are not trusted to meet in groups of more than 50 – irrespective of the space available.
"Perhaps ministers think all congregations are small. But the reality is there are many hundreds of thriving churches in Scotland with sizeable congregations."
The Catholic Church also questioned the "unnecessary" cap and called for it to be removed at the next review.
"The limit of 50 appears both arbitrary and unjust, especially since no rationale whatsoever has been offered for it," he said.
"A review of the cap has been promised in two weeks' time, when we would expect this unnecessary restriction to be removed."
Communal singing of hymns is also currently banned amid concerns this could ease the spread of the virus. A cap of 20 has also been imposed at weddings and funeral services in Scotland.
But there isn't unanimous opposition to the 50-person limit. The Church of Scotland said it was a sensible approach, adding that the hospitality industry has the cash to undertake a more thorough cleaning regime of premises.
A Kirk spokesman said: "We have been working very closely with the Scottish Government and Health Protection Scotland on the easing of lockdown restrictions.
"Our priority is to ensure that people feel safe to return to church, which for many is a place of refuge and hope. We must ensure that physical distancing and hygiene procedures can be followed at all times.
"There are differences between the hospitality industry and churches, not least the resources available to adequately and regularly clean premises to reduce the risks from Covid-19 and the transmission of infection.
"For now we believe this is a sensible and precautionary measure."
A Scottish Government spokesperson said: "We understand the important role of congregational worship in supporting spiritual wellbeing and do not want these restrictions to last any longer than is necessary. But we must ensure that people who enter places of worship to undertake congregational activities will be safe.
"Our guidance on safe capacities for places of worship reflects the evolving scientific and health advice and has been developed through engagement with Scotland's faith communities. We will continue to work closely with those communities as we move towards fully reopening places of worship as soon as it is considered safe to do so."
Comments
 0 comments
Want to join the conversation? Please or to comment on this article.