Piers Morgan supports GMB's Kate Garraway as she shares tearful update about husband who battled coronavirus
Kate Garraway fought back tears as she recounted the last words her husband Derek Draper said to her before he was put into an induced coma as he battled coronavirus.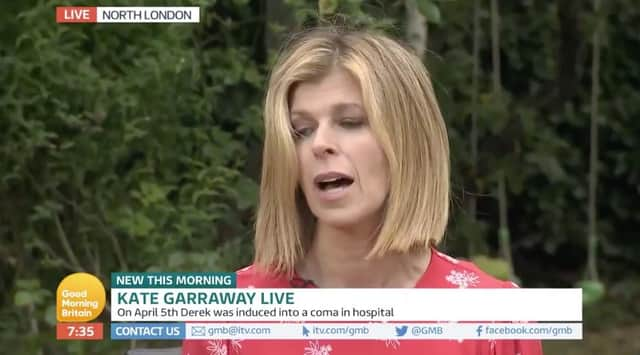 The Good Morning Britain presenter said while he is now testing negative for Covid-19, the illness has "wreaked extraordinary damage" on Draper and she does not know if he will recover.
Speaking to her colleagues on ITV's GMB from her London home, she said Draper, who has been in hospital for almost 10 weeks, told her "you saved my life" the last time she spoke to him. She said she is now hoping for "one more miracle."
She added: "The fact that he's still here and holding on, I'm so grateful that he is still here.
"He's very, very sick and as time goes on it's a virus, it's a little bit like a computer virus, the doctors manage one bit extraordinarily well and there seems to be a flicker of hope and then other things emerge and they are fighting that.
"It's affected him from the top of his head to the tip of his toes.
"The fight with the virus has been won and he's still here but it's wreaked extraordinary damage on his body and we don't know if he can recover from that."
Garraway added that she has been told it could be a year before any progress is made and said: "(It) feels unthinkable but we are praying there will be progress before then."
She continued: "One doctor said to me he's the worst affected person he's had to treat that has lived, thank God he's lived so far."
She described Covid-19 as "an evil, evil virus", and added: "I don't want to scare people, Derek's situation is incredibly rare, the damage he's sustained is incredibly rare."
Garraway said she has also had coronavirus "mercifully mildly", and continued: "It is an absolute miracle that he's here and I keep saying I know I've had a miracle but if I could just have one more."
She also reflected on the advice that her colleague Piers Morgan had offered her: "Very early on, I spoke to Piers and he just said, 'Right, come on Garraway, you're a journalist. This is the story of your life'.
"'Your focus now is Derek. You've got to fight for Derek. You've got to get all the information you can'.
"And that actually really helped because I thought, 'I've got a job,' because we were in free fall. I've got a job. My job is to fight for Derek and keep life safe for Darcey and Billy.
"That forced me into what you and I know Ranvir and Ben knows of that breaking news mode.
"When something awful happens and you're on-air, you've got to not think about the emotion of it, you've got to think about doing your job."
Following the interview Piers tweeted in support: "Wow. Such a moving, emotional, inspiring interview on ⁦@GMB with my fabulous friend @kategarraway⁩ about her family's #coronavirus turmoil. So proud of you Kate, as Derek would be too. We're all behind you, hoping & praying for a miracle."