Philip Tartaglia, Roman Catholic Archbishop of Glasgow
Archbishop Philip Tartaglia, Metropolitan Archbishop of Glasgow. Born: January 11 1951, in Glasgow. Died: January 13 2021, in Glasgow, aged 70.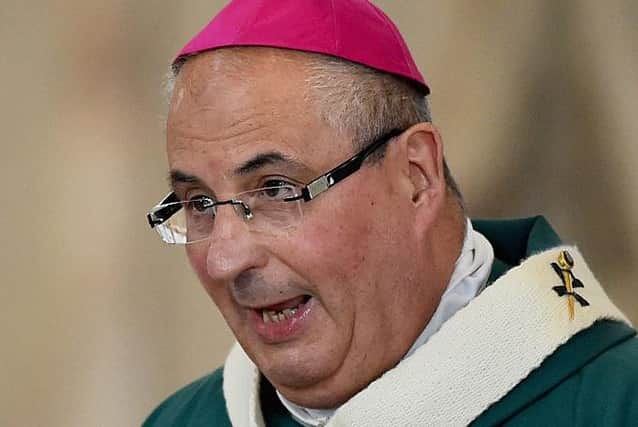 Archbishop Philip Tartaglia, who died on the Feast Day of St Mungo, patron saint of the city in which he was born, was possessed of firmly conservative views, but described by those with whom he came into contact as a "gentle, caring and warm-hearted pastor".
His appointment in 2012 as archbishop and spiritual leader of the largest Catholic community in Scotland marked a joyous homecoming for this son of Glasgow, intellectual and one-time footballer. After Archbishop Emeritus Mario Conti, he was the second Scots archbishop of Italian stock to inherit the legacy of Charles Eyre, the churchman who, with the restoration of the Catholic hierarchy in Scotland in 1878, had been the first Catholic Archbishop of Glasgow since the Reformation of 1560. Like Eyre, Archbishop Tartaglia was a keen patron of Celtic football club.
The Eighth Archbishop of Glasgow in modern times, he was the eldest son of Guido Tartaglia and Annita Bertolacci, enjoying a happy childhood in Dennistoun in the east of Glasgow. Of his eight siblings, one followed him into the priesthood. Philip's mettle showed early when at 28 his mother died, and as local priest he had to celebrate her Requiem Mass.
His love of football shone through primary schooling at St Thomas's, Riddrie, and secondary education at St. Mungo's Academy, Glasgow. A keen goalkeeper, his formidable size and ability to keep the opposition at bay earned him the sobriquet "Tank Tartaglia".
Called to the priesthood, he studied at St Vincent's College, Langbank, and Blairs College, Aberdeen, with ecclesiastical studies completed at the Pontifical Gregorian University in Rome. His ordination was carried out at his local church in Dennistoun by then Archbishop of Glasgow Thomas Winning.
A return to Rome saw him gain his doctorate, his chosen research being the mystery of the Eucharist. When he was granted a coat-of-arms by Lord Lyon Robin Blair in 2007, the story illustrated by his heraldry prefigured that of the Eucharist – the miracle of five loaves and two fishes. Two salmon occupy the centre of the shield, with five loaves (cleverly "Scottified" as bannocks by designer Monsigner Charles Burns) forming a border. Not coincidentally, the colours of the shield reflect those of Italy – white, red and green. He took as his motto Do Robur, Fer Auxilium (Thine aid supply, thy strength bestow) from the Latin hymn O Salutaris Hostia by St Thomas Aquinas.
The future archbishop's telling intellect consolidated his career, with swift moves after Rome to his first pastoral assignment as assistant priest at Our Lady of Lourdes in Cardonald, Glasgow, a post he held concurrently with that of extramural lecturer at St. Peter's College, Newlands, Glasgow. A year later he took up a lectureship at St. Peter's College, becoming director of studies in 1983. When Chesters College, Bearsden, opened in 1985 he was made vice-rector, and rector two years after that.
Moves to Dumbarton and Duntocher followed, with a request in 2004 from the Bishops' Conference of Scotland to return to seminary as rector of the Pontifical Scots College, Rome. Yet a year later he was home again, this time as Bishop of Paisley in succession to fellow Glaswegian John Mone, consecrated in his position by the Most Rev Mario Conti, Archbishop of Glasgow.
Unafraid of controversy, the Archbishop will be remembered for his stance against the Family Law Act in 1996, stating that the Church's face was set forever against civil partnerships and same-sex marriages and objecting to the easing of divorce. Going on the attack once more a decade later, he emphasised his views that the 1996 Act – quicker and easier divorce, and giving homosexual relationships legal status through civil partnerships, plus the Act allowing people to change gender designation - undermined the family in society.
He went on: "The minds of many have been so darkened by hubris and by the selfish pursuit of their own gratification that they have lost sight of the natural law which God has written into his creation...".
He tackled the Prime Minister himself, writing to David Cameron in 2010 in uncompromising terms to insist that "…the Catholic Church will not register civil partnerships nor celebrate same-sex unions: not now, not in the future, not ever, no matter what legislation or regulations your government enacts or endorses".
In 2008, the Archbishop, as president of the National Communications Commission of the Bishops' Conference of Scotland, wrote to every parish, decrying the media for pushing a "secular and humanistic agenda". Arguing his belief that "over two-thirds" of Scots are Christians, and that the "proportion of people who work in the media does not reflect this", he emphasised that this led to a "fundamental disconnection between the provider and the consumer".
His readiness to engage at topmost levels – he did not shirk from criticising the decision of the UK government to upgrade nuclear weapons capability – saw him mooted by some commentators in 2008 as a possible successor to Archbishop Cormac Murphy-O'Connor in the See of Westminster.
Throughout his career, his personal mission echoed that of Glasgow itself. In the words of St Mungo, he "Let Glasgow flourish by the preaching of Thy word and the praising of Thy name".
Archbishop Tartaglia suffered heart trouble some years ago. He had been self-isolating at his home in Glasgow after testing positive for Covid in December. He died two days after his 70th birthday.