Peterhead SeaFest sizzles in soaring heat as thousands head to enjoy packed programme
Peterhead SeaFest saw thousands head to the town's Seagate on Saturday for a fishy feast of food and entertainment.
The blistering heat on one of the hottest days of the year meant the event was packed with visitors young and old as they wandered around the various stalls, enjoyed a host of entertainment, and got top tips on cooking seafood from expert chefs.
The event got underway with a welcome to the Seafood Scotland Kitchen followed by a cooking demo by local chef Kenny Smart who showed how to make tasty family dishes at home.
The official opening ceremony was conducted by guest of honour, the Lord Lieutenant of Aberdeenshire, Sandy Manson, who attended with his wife Barbara.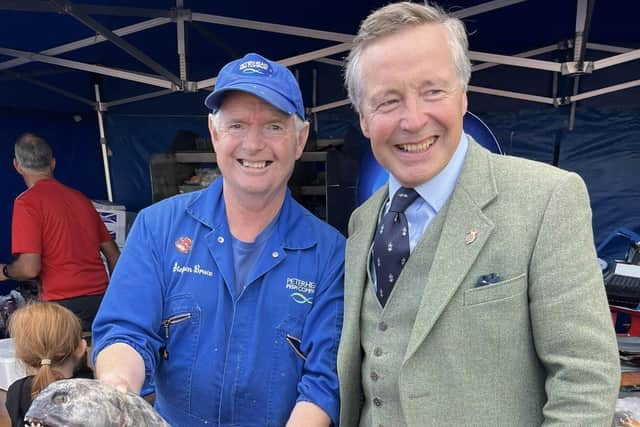 Steph Wemyss took to the stage to give a demo of her Broadway Boogie, which had everyone signing and dancing along, while top chef Kevin Dalgleish recreated a signature dish from his restaurant Amuse.
The emergency services were next in action, with the RNLI, Coastguard, Ambulance and Fire Services giving a demonstration where they saved someone from the harbour basin, while Orry Shand at Seafood Kitchen Scotland showed the audience how to make a Scottish smoke haddock dish, while Dance Joy Studio showed off their skills at Seagate.
The World Championship Prawn Tailing contest then got underway which showed off the participants' skills, speed and action, while chef Graham Mitchell took to the stage recreating a recipe from his award-winning restaurant Tarragon.
More dance action came in the form of Zumba from Kate followed by a fish filleting demonstration by Peterhead Fish Company, and a performance from the Lawrence Dance Academy.
The day was wrapped up by a cookery demonstration from chef Khanim Guild who served up local seafood as served in the town's North Bar.
Jimmy Buchan, chief executive officer of Seafood Scotland, said: "It was a great day enjoyed by many, none more so than our special guests the Lord Lieutenant of Aberdeenshire Sandy Manson and his wife Barbara. The weather was kind which certainly helped bring out huge crowds . Sponsors, vendors and visitors without you the event would not happen, and we applaud your support. We will now debrief, learn and look into how we make it happen again next year – bigger and better!"