Peterhead hosts first public event for MarramWind floating offshore windfarm
Politicians, community organisations, landowners, fisheries representatives, council officials and members of the local community have attended the first public event for the proposed MarramWind floating offshore windfarm.
MarramWind, which is being developed by ScottishPower Renewables and Shell, could be one of the first commercial-scale floating offshore windfarms in the world.
It will be located 75km off the north-east coast of Aberdeenshire and have a proposed generating capacity of 3GW – that's enough homegrown green electricity to power the equivalent of more than 3.5 million homes.
The MarramWind drop-in day – which was held at the Scottish Maritime Academy in Peterhead – gave the community the chance to meet the team and find out more about this exciting project before formal public consultation gets underway later in the year.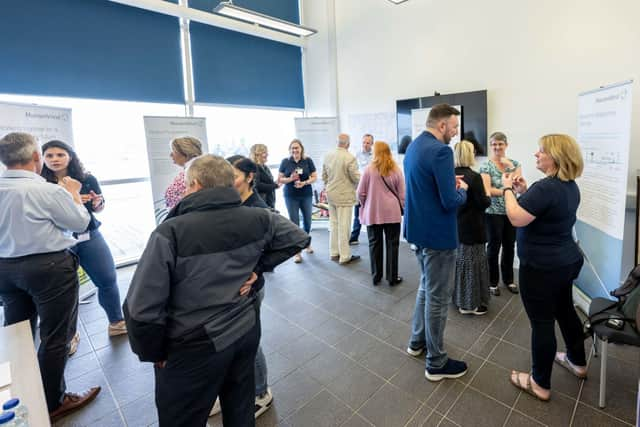 MarramWind Project Director, Richard Eakin, said: "A huge thank you to everyone who took the time to come along to our drop-in day, meet the team and find out more about our project.
"MarramWind could give a vital boost to the amount of clean, green electricity we produce here in the UK and has the potential to deliver a whole host of other benefits like jobs, investment and supply chain opportunities for the north-east and across Scotland.
"While it's early days for the project, we know there are issues and considerations ­– like fisheries, skills development, community benefit – that we need to take into account.
"Our Peterhead event was very much the start of that community conversation and we really valued the opportunity to have that face-to-face discussion.
"There will be lots more opportunities in the coming weeks and months as our plans start to take shape, and we look forward to speaking to as many people as possible as we move forward."
North East Scotland Green MSP Maggie Chapman dropped-in to the event. She said: "The MarramWind project open day allowed for some good discussions on the economic, cultural, and environmental benefits, and challenges, we face as we transition to renewables, such as wind power.
"The emphasis on community engagement, re-skilling, and environmentally sensitive development are encouraging.
"I look forward to further discussions as the project moves forward."
Aberdeenshire Council Chief Executive, Jim Savege, also stopped by to meet the team.
He said: "It was great to meet with Scottish Power and Shell in Peterhead to learn more about the proposed MarramWind development which will not only be a major renewables investment for the region but which will also have significant opportunities for local businesses and our communities."
Richard Eakin added: "It was great to kick off our MarramWind public engagement in Peterhead – we will be back.
"In the meantime, people can keep up to date with what's happening on our MarramWind website – marramwind.co.uk."