Peterhead firm wins £3m in contracts
Peterhead-based JBS Group, an innovative multi-disciplined engineering solutions and products provider, has had its best ever start to a year with £3m worth of contracts secured.
The latest contracts involve fabrication work, screw conveyors and its patented Sea Axe subsea excavation technology.
The firm has increased its team from 50 to 62 in the past six months which includes the addition of two apprentices.
JBS delivered fabrication projects for operators and energy services firms. The work included flying lead deployment frames and several other large-scale fabrication workscopes for long-standing clients.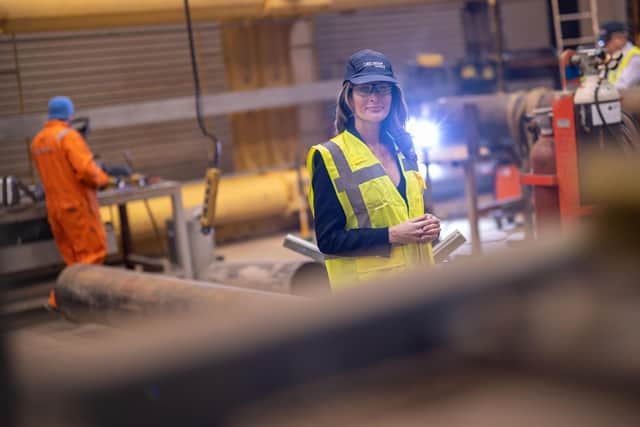 JBS also supplied dual drive screw conveyors to energy service firms for operations in the UK, Europe, Brazil, USA, South-East Asia and the Middle East.
It expects to win additional work in its Brazilian market following an edict that all screw conveyors must be dual drive from now on.
The firm has also seen increased demand for its patented Sea Axe technology, which enables fast, large-scale mass flow subsea excavation.
The product is manufactured at its Peterhead base.
In addition, JBS agreed deals with a series of companies in the energy and space sectors for its blast containment products, where patented fabrics are used, for ballistic, blast, fire and arc flash protection.
Commenting on the good news, Jo McIntosh, sales and marketing manager at JBS, said: "The work we have landed makes this our best start to a year. Our Sea Axe forms a central part of our offering.
"We've received excellent feedback from companies about our technology and how our in-house team supported those projects.
"We have ambitious plans for growth in 2023 and beyond.We are continuing to invest in training and developing our apprenticeship programmes.
"More than half of our staff have come through this programme.
"Our innovative approach and ability to solve a range of complex engineering issues across several disciplines has been welcomed by the market."
JBS is based at South View in the town's Dales Industrial Estate.