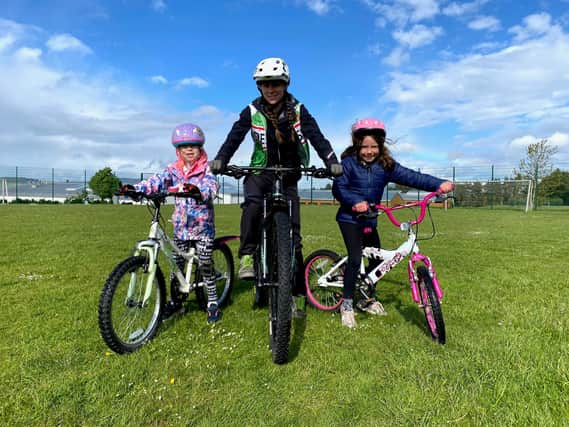 Funding provided through a successful application to the Positive Action Grant fund from LLA allowed Alford Community Sports Hub to run a bike maintenance workshop in March, which was attended by 11 members of the community who were taught how to properly maintain their bikes. In addition, two of the junior coaches from DTCC were given support to cover costs and complete their level 2 coaching qualification.
Nine mountain bikes that are owned by Alford Academy were also serviced as part of the funding and are now available for pupils to use as part of any curricular sessions. Five weeks of extra-curricular cycling activities were then offered to pupils in primaries 2, 3 and 4 across the network and in total 20 young children attended with the feedback from participants, parents and coaches all fantastic. The coaches then continued to deliver further sessions in areas including Banchory, Braemar and Aboyne and plan to continue delivering similar sessions in these areas in future.
Isla Long, Junior DTCC coach, said: "It has been extremely rewarding to deliver cycling sessions in local communities, removing the need to travel and allowing children to learn to cycle with their friends. We hope that the skills that they have learned will give them the confidence to cycle to school or enjoy riding their local trails and having fun with their friends on bikes."
Alford Community Sports Hub used the remaining funding to work with Active Schools and local cycling company Ride in Peace Adventures, who delivered seven weeks of curricular sessions to a group of S2/3 pupils at Alford Academy. The pupils were given the opportunity to improve their mountain biking skills as well as learn how to maintain their bikes and general cycling safety. The sessions mainly ran on the extensive school grounds; however, the final session took place at Haughton and Murray Parks, making the most of the varied landscape.
Kathleen Fraser, DTCC coach, said: "Thanks especially to Alford Community Sports Hub for investing in the development of two of our Junior Cycling Coaches who have gone on to deliver 30 sessions, at 5 locations from Braemar to Banchory involving 300+ riders with many follow-on requests to return or join Deeside Thistle Cycling Club."
Audra Booth, Community Sports Hub officer and Kerry Barlow, Active Schools Coordinator with LLA agreed that it's been a pleasure to work with such a great group who are committed to ensuring young people are given the opportunity to participate in sessions that improve their physical and mental health.
Anyone interested in joining Deeside Thistle Cycling Club, or wants to know more can email [email protected]​​​​​​​​​​​​​​​​​​​​​​​​​​​​​​​​​​​​​​​​​​​​​​​​​