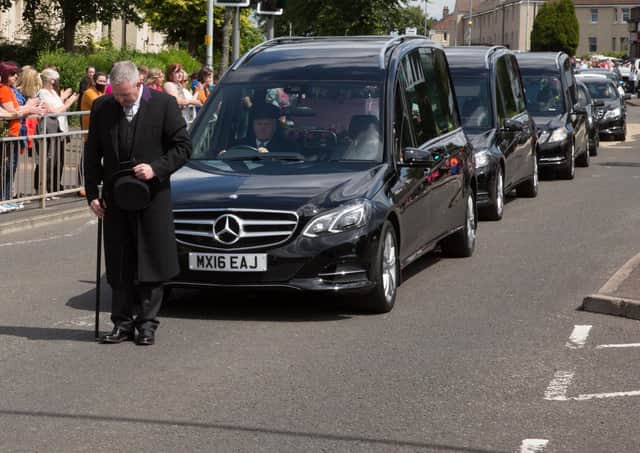 Friends and local residents line the streets to pay their respects at the funeral procession of Fiona Gibson, 12, Alexander James Gibson, eight, and five-year-old Philip Gibson, the three children who died in a house fire in Paisley, Renfrewshire. Picture: Robert Perry/PA Wire
Fiona Gibson, 12, and brothers Alexander, eight, and Philip, five, were taken to the Queen Elizabeth University Hospital in Glasgow after the blaze at the property in Renfrew Road, Paisley, on 19 June 19. They died a short time after being admitted.
A family friend said last week that the children's mother Julie had been discharged from hospital and had begun the process of laying her "three babies" to rest. People wore colourful clothing and clapped softly as the funeral procession passed through the Gallowhill area of the Renfrewshire town yesterday.
The first of the three hearses carried a pink coffin, two carried blue ones and the third had a decoration in the shape of a rainbow. The cortege passed close to St Catherine's Primary School where the two boys were pupils. Fiona was a pupil at Mary Russell School in Paisley, where head teacher Julie McCallum, said: "Words cannot express the sadness we are feeling.
Fiona Gibson, 12, Alexander James Gibson, eight, and Philip Gibson, five, died in hospital after a fire at an upper cottage flat in Renfrewshire. Picture: Police Scotland/PA Wire
"Fiona was a wee shining light in our Mary Russell family and to lose three young lives in this way is devastating for everyone."
St Catherine's head teacher Emma Henry previously said: "We are truly saddened by the loss of Alexander and Philip.
"They were both full of energy and such an important part of our school.
"Both boys loved the outdoors and frequently talked about their regular visits to the park."