Open days at Auchtavan
The old fermtoun of Auchtavan can be visited at any time but on Sunday, August 14 and September 25, walkers will be able to see inside three of the buildings.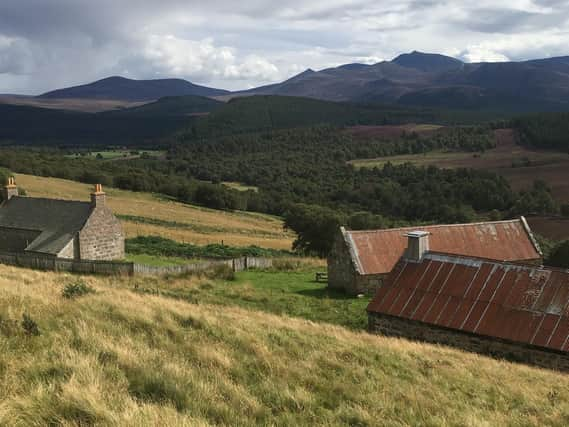 The ancient settlement sits high above the River Dee in Glen Fearder near Crathie with spectacular views across the valley towards Lochnagar.
Two complete structures survived the land clearances of the 19th century, a hingin lum cotter's cottage and a horse mill.
Also on the site, is a later Victorian building, once the picnic cottage for HRH the late Queen Mother.
Fifteen years ago, these building were restored by Braemar Community Limited, the charity which carries out projects on behalf of the village of Braemar.
The horse mill is open at any time, but the cottages are open to the public on just 4 days each year.
Simon Blackett, Chair of Braemar Community Ltd, said: "We were fortunate to receive funding to restore these building and it's important that people have the opportunity to visit and see the skilled work which repaired the once ruinious cruck framed cottage.
"At one end, the cottage has an earthen floor for the family with a traditional wooden chimney, a hingin lum, and at the other end, a cobbled floor for the animals.
"It gives a real sense of a way of life now long gone."
"Auchtavan is a really special place, with a special atmosphere. It's a beautiful walk from the A93 to reach the settlement with glorious views out towards Lochnagar and Balmoral.
"It's hard to believe that this harsh hillside was once home to so many families but with a view like this, you can well understand why the Queen Mum loved to visit!"
The cottages will be open from 12noon to 3pm on the two Sundays.
Auchtavan is situated about 6 miles north-east of Braemar.
Cars can be parked in the lay-by opposite the turn-off, marked Aberarder.
It is then a 3.5-mile uphill walk to the settlement.
The track passes through birch woods and open moorland and can be quite rough, walking shoes and outdoor clothing are recommended