Octopus farm Canary Islands: Scientists express concern at world first octopus farm proposals
A plan to build the world's first octopus farm has sparked deep concerns among scientists over animal cruelty and the welfare of the famously intelligent creatures.
The proposals, which were given to the BBC by the campaign organisation Eurogroup for Animals, have sparked a backlash from the scientific community who branded proposed icy water slaughtering method "cruel."
Under the plans, the creatures would be killed by being put in containers of water kept at -3C.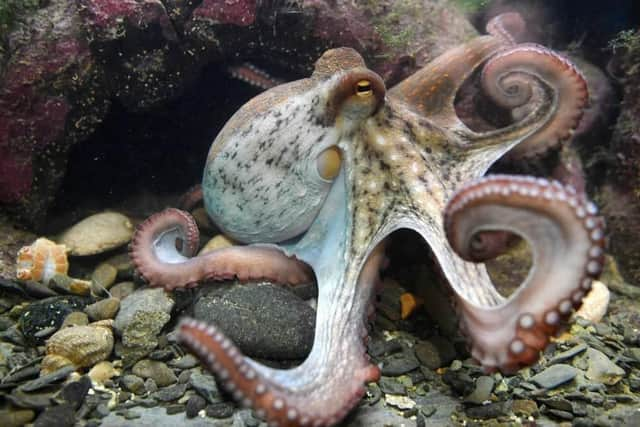 The practice, which is used in the slaughtering of fish "results in poor fish welfare" according to the World Organisation for Animal Health, with Aquaculture Stewardship Council - the leading farmed seafood certification scheme - proposing a ban on the slaughter method unless fish are stunned beforehand.
A number of supermarkets, such as Tesco and Morrisons, have already moved away from selling fish that have been killed using ice.
The Spanish multinational company behind the proposals for the farm, Nueva Pescanova, denies that octopuses will suffer, with the company hoping to produce 3,000 tonnes of octopus a year, which equates to around one million animals.
Proffesor Peter Tse, a neurologist at Dartmouth University, told the BBC that "to kill them with ice would be a slow death … it would be very cruel and should not be allowed."
Research from the London School of Economics and Political Science (LSE) has found strong scientific evidence that the creatures have the capacity to experience pain and distress.
Dr Jonathan Birch, associate professor at LSE's Centre for Philosophy of Natural and Social Science and principal investigator on the project, told the BBC: "Large numbers of octopuses should never be kept together in close proximity.
"Doing this leads to stress, conflict and high mortality… A figure of 10 to 15 per cent mortality should not be acceptable for any kind of farming."
The initial brood of 100 octopuses - 70 males and 30 females - would be taken from a research facility, the Pescanova Biomarine Centre, in Galicia, northern Spain and kept in tanks with other octopuses, at times under constant light, despite the animals being solitary animals who are used to dark.
Nueva Pescanova reportedly says in the application that there would be an estimated mortality rate of 10 to 15 per cent.
In a statement to the BBC, Nueva Pescanova said they aim to supply "premium international markets" including the US, South Korea and Japan adding "The levels of welfare requirements for the production of octopus or any other animal in our farming farms guarantee the correct handling of the animals. The slaughter, likewise, involves proper handling that avoids any pain or suffering to the animal."
The company added that they go to "great efforts to promote responsible and sustainable performance throughout the value chain to ensure that best practices are adopted."
In 2020, Oscar-winning documentary My Octopus Teacher brought worldwide attention to the intelligence of octopuses.