Obtuary: Sir Eric Kinloch Anderson, Scot who became headmaster of Eton
Sir William Eric Kinloch Anderson KT, FRSE, headmaster and educationalist. Born: 27 May 1936 in Edinburgh. Died: 22 April 2020 in Kingham, Oxfordshire, aged 83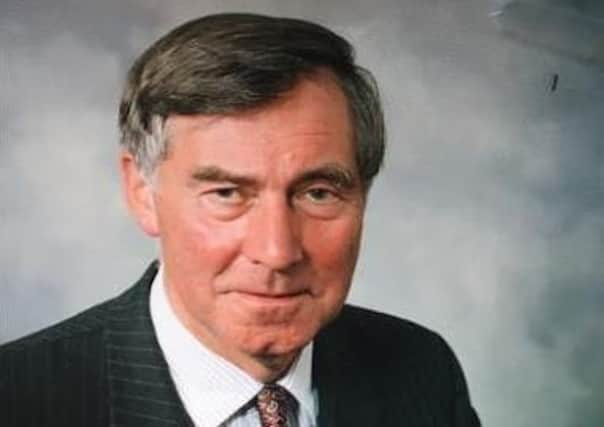 The current Headmaster of Eton College wrote "Sir Eric's contribution to Eton was unparalleled in modern times. He was one of the school's greatest ever Headmasters and then one of the finest Provosts, a wonderful schoolmaster, a fine scholar and an inspiring and visionary teacher – but above all a kind, loyal, humble and utterly authentic man."
His time at Eton was perhaps the pinnacle of his career but there were many other outstanding aspects to his amazing life, far too numerous to do justice to in this obituary. Born and brought up in Edinburgh, he attended George Watson's Boys College where he was a notable student – winning an essay prize launched his lifelong love for the works of Sir Walter Scott. Subsequently he produced several publications, most notably in 1972 editing Sir Walter Scott's Journals for the Oxford University Press and latterly he was also a member of The Abbotsford Trust.
The family lived in Colinton – his father Kinloch, his mother Margaret (nee Harper), his brother Douglas and his sister, Jane. He was named after his mother's uncle, Eric Milroy, who had always been a family hero having been the Watsonians and Scotland Rugby XV Captains before losing his life in the Battle of the Somme in 1916. His father was the fourth generation of the family running the family business Kinloch Anderson Ltd, renowned as experts in tartan and Highland Dress and as tailors and kiltmakers to The Royal Family.
Eric graduated from St. Andrews University with a first class honours degree in English, as did his wife-to-be, Poppy. Two days before his death they celebrated their 60th wedding anniversary and throughout their life together, Poppy was a huge source of strength, support and inspiration to him. When applying to be a headmaster he was once asked "What is your greatest asset?", to which he instantly replied, "My wife".
After St. Andrews, Eric completed a D. Litt at Oxford University and in later life was awarded honorary degrees by five different universities. On graduating from Oxford he considered the possibility of a business career in the family company but decided in favour of pursuing his great interest in education.
He started at Fettes College in Edinburgh before moving to Gordonstoun, where he mentored Prince Charles and installed in him a love of Shakespeare. On returning to Fettes College he was appointed housemaster of the newly opened Arniston House. Tony Blair was one of his notable pupils and a relationship was struck which years later resulted in Blair naming Eric as the teacher who most influenced his life.
His first appointment as headmaster was to Abingdon School at the age of 34 and then Shrewsbury School, before he became headmaster of Eton College in 1980. Much has been written about the reforms and modernisation of Eton which he instigated during his 14 years as headmaster and subsequent nine years as Provost, having returned to Eton after a spell as Rector of Lincoln College, Oxford.
The list of notable pupils who came under Eric's guidance at Eton is endless, ranging from future Prime Ministers such as David Cameron and Boris Johnson to Bear Grylls and Rory Stewart, Matthew Pinsent and Prince Harry. A broad-minded passion for education was always Eric's driving force but he also used his talents and his energy in many other ways. He was Chairman of the National Heritage Lottery Fund, a Trustee of The Royal Collection Fund and a Trustee of The Prince Philip Trust Fund to name only three activities out of many. He was a Fellow of The Royal Society of Edinburgh, an Honorary Member of The Merchant Company of Edinburgh and in 2002 was appointed as a Knight of the Thistle.
He is survived by his wife, Poppy, his son David, now Lord Anderson of Ipswich, and his daughter Kate, along with his six grandchildren.
Eric was a man of great intellect and compassion and a leader of the highest integrity. Above all else, his legacy is his contribution to the development and motivation of so many young people.
Comments
Want to join the conversation? Please or to comment on this article.