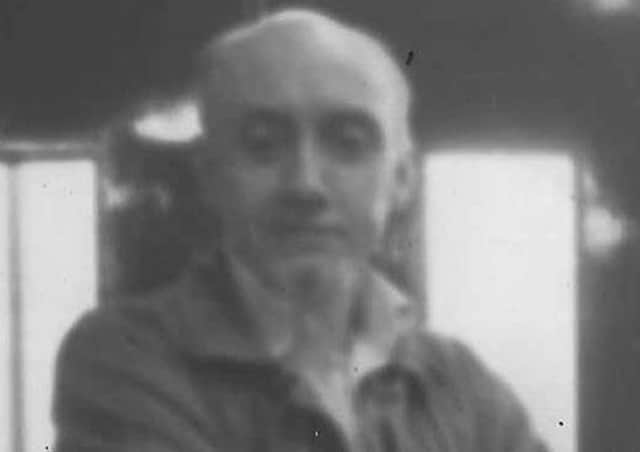 Willie Gallacher
In the early Seventies, The Scotia Bar in 
Glasgow was the haunt of writers and folk singers – Billy Connolly, Danny Kyle, Tam Harvey et al – and most nights, standing at the left-hand edge of the bar in his trademark bunnet, you would find Willie Gallacher, looking out for snippets of information for the broadsheet, Scotia Folk, which he edited along with the poet Freddy Anderson and Jimmy Blackburn.
Subsequently, Willie would retain his interest in folk music – he would hunt tirelessly for scarce old 78rpm records which he would often send up to Arthur Argo and Robbie Shepherd at the BBC in Aberdeen – but his interests were more extensive. Early in his life he had worked for the Delbosq circus, which appeared annually at Glasgow's Kelvin Hall. Willie's tasks were fairly mundane – he recalled mucking out the elephant stalls – but his friend, Tim Delbosq, was a lion tamer! Tim moved to the continent in order to keep performing with his animal acts and kept in touch with Willie until his death.
Willie was also a great music hall enthusiast and was delighted when Glasgow's Panopticon theatre was restored after many years of neglect. From this interest, Willie got to know the Short family, best known through Jimmy Logan, the performer, producer and impresario. They shared an interest in Harry Lauder, subject of Jimmy's one-man show, and Willie would hunt for Lauder memorabilia. He would visit Jimmy's father, Jack Short, in his flat at Ibrox. Jack kept a sitting room full of theatrical memorabilia but would entertain visitors in a typical old-fashioned Glasgow kitchen.
Willie spent every weekend scouring Glasgow's famous Paddy's Market or, latterly, car boot sales for memorabilia of all sorts. There were countless finds over the years, but a few I remember are: A tea towel from the Glasgow Exhibition of 1901, a signed Jessie M King first edition, a Victorian fireman's helmet inscribed to the Chief Officer on his retirement, a rare taped copy of the first broadcast of Scottish Television in 1957, and an artefact of dubious legality – a £20 note made by Thomas McAnea, aka Hologram Tam, who was once denounced as a threat to the security of the country for producing counterfeit currency from a little printing shop in Maryhill Road. Most of his finds he would give away. He corresponded with collectors all over the UK including Joe Mitchenson of the Mander and Mitchenson theatre collection and Merlin Holland, grandson of Oscar Wilde. He also became interested in military history, and was for years voluntary curator at the Royal Highland Fusiliers Museum
Willie was a warehouseman at a noted Glasgow store for most of his working life and compared himself to Glasgow folklorist Robert Ford, who had a similar apparently humdrum profession but wrote over 20 books on history, folk song and literature. However, Willie, although a fount of knowledge on Glasgow lore, was not a writer. Nevertheless, he contributed substantially to the work of others including, shortly before his death, a book on the Bridgeton Olympia by the local history society.
Willie was born in the Gorbals and lived for years in the famed Basil Spence flats at Queen Elizabeth Square. On their demolition he moved to a tenement flat in Templeton Street, beside Glasgow Green and the noted Templeton Biscuit Factory. Latterly, his mobility was impaired and he could walk only with the aid of a walking frame. Incorrigible, he refused to move from his third floor flat and made his way about town with the aid of black cabs and public transport. Employing this method he frequented the annual Christian Aid book sale in Edinburgh and even managed a day trip to Rothesay. He bemoaned the decline of the nearby Barras, but was there every weekend, claiming his slow rate of progress meant he saw even more.
His death came suddenly, after a fall outside his home from which he never regained consciousness. His departing wish was that any remaining books and collectables should be dispersed among car boot sales and charity shops so others, hopefully, could find the same pleasure in discovering them that he had found over the years.