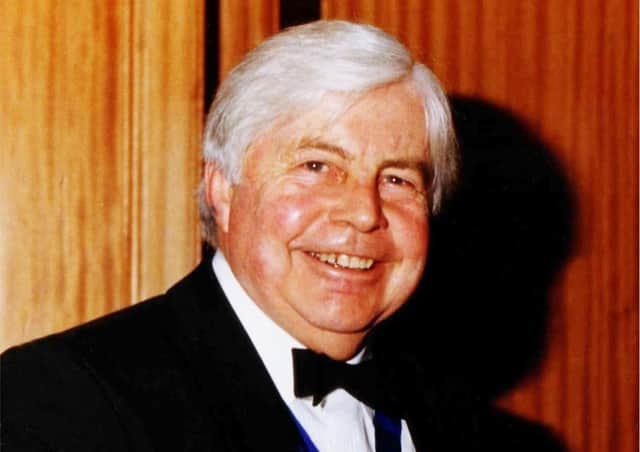 One of Tom Douglas's more prominient commissions was driving a 100-metre tunnel through the rock at Edinburgh Castle for service vehicles
Thomas Harrison Douglas. Born: 5 July, 1928 in Edinburgh. Died: 27 April, 2020 in Auchlochan Garden Village, Lesmahagow aged 91.
The death of Tom Douglas brings another loss to that diminishing cohort of farsighted planners and engineers whose hydroelectric power brought energy to the Highlands and transformed the economy.
Working out of Glasgow from 1955, Tom contributed to projects on Loch Laidon, the Burn of Mar and Loch Awe, specialising in pumped storage hydro systems where water is pumped to a higher elevation at off-peak periods when the cost of power is reduced, and then released through turbines at peak times when the electricity is most needed.
He also worked on shipyard site reconstruction, water input structures for pulp mills, the central Scotland water supply scheme and designed the surface and foul water disposal system for the new Livingston town centre to ensure that it meshed with the other services.
His next project was to survey the geology and plan for a major new pumped storage scheme at Craigroyston on the north side of Ben Lomond, but in 1971 the Government turned down the proposals, and opted for a nuclear power station at Torness.
However, while hydroelectric power development in Scotland was on hold, his company was investigating sites in North Wales, and Tom was brought in to head up work on the Dinorwig Power Station, "Electric Mountain".
Today the Dinorwig Station is still the largest of its kind in Europe, its engineering, particularly its ten miles of tunnels, earning the highest praise from tunnelling engineers. When his company's work at Dinorwig was complete, Tom began to get called in as consultant for a range of hydropower, damming and tunnelling projects across the world.
He advised at sites from Turkey to South Africa, from Poland to Japan and the People's Republic of China asked him to give a series of lectures to power engineers and construction staff in Guangzhou, where the terrain and positioning of the lakes are similar to those at Dinorwig. His lecturing continued in another way when he was invited to become Visiting Professor of Civil Engineering at the University of Strathclyde.
There were other projects close to home too, first the construction of fish passes on the Tweed at Kelso and then a more prominent commission – driving a 100 metre tunnel through the rock at Edinburgh Castle as a new route for service vehicles.
This provided fresh challenges: ensuring the safety of St Margaret's Chapel foundations and that blasting would not trigger the sensitive alarm system that protects the Honours of Scotland.
Because of his knowledge and experience, Tom was asked to be a member a board of enquiry looking into the deaths of four men during construction of a dam in Derbyshire, and this led to him leaving company work, and becoming a consultant full time. So it was that he was called to be an arbiter in a dispute involving South African Railways and a tunnelling company and later as an adviser on the blasting and tunnelling techniques that CERN should use to house the Large Hadron Collider.
He was honoured by his peers when in 1990 he was asked to be Chairman of the Association of Consulting Engineers.
Tom Douglas was born in Murrayfield Avenue in 1928. His father George was an oil and cake mill owner, and his mother was Margaret Harrison who was related to Sir George Harrison, Lord Provost of Edinburgh in the 1880s.
Margaret was a keen motorist and on the outbreak of war in 1939 became a Mechanised Transport Corps driver. Her maternal grandmother was an American, so she arranged for Tom and his sister to be evacuated to family in the United States for the duration. There, Tom won a scholarship for Western Military Academy in Illinois: it was the making of him, he would say.
He became a cadet lieutenant, swam and played tennis for the Academy, and in part his glowing entry in the graduating yearbook reads, 'Tommy Douglas came from across the sea but will forever be a part of Western and the class of '45. He was a great guy and a square shooter.'
He returned to Edinburgh as a 17-year-old and on completing his civil engineering apprenticeship in 1950 headed to London to begin work at Balfour Beatty and Co. There he was to meet Patricia Shiers. They married on 28 June, 1952, and two weeks later set off for Kenya, where Tom began work on the Wanjii Hydroelectric scheme. Completed in 1955 the scheme still generates much of Kenya's energy needs today.
Tom and Patricia's three years in Kenya are notable for other reasons. Their first child, Antony, was born there and they were in the country at the time of the Mau Mau uprising. Tom was a Reserve Police Officer, required to keep a firearm at home and as well as homemaking, Patricia was a part-time typist for the police.
Their second child, Gavin, was born a year after they arrived back in Scotland, and the family settled in Bearsden, later moving to Killearn. As the boys grew more independent Patricia spread her wings, becoming a Girl Guide Commissioner and establishing the Charles Rennie Mackintosh Society, receiving the MBE for this work in 1991.
Tom never really retired, remaining a passionate supporter of hydroelectric power as the key source of renewable energy, sceptical of the inefficiencies of wind turbines and disapproving of the subsidies wind farms were receiving. He kept up his membership of professional bodies, and his knowledge of new developments in his field, particularly in the advances of 'small hydro' and the research into the possibilities of 'low head', 'low impact' water wheels at Abertay University.
A staunch Episcopalian with an ecumenical perspective, Tom was baptised in Murrayfield, confirmed in the United States, and worshipped regularly until a few days before his death. Patricia died in 2016 and Tom is survived by his two sons, six grandchildren and six great grandchildren.