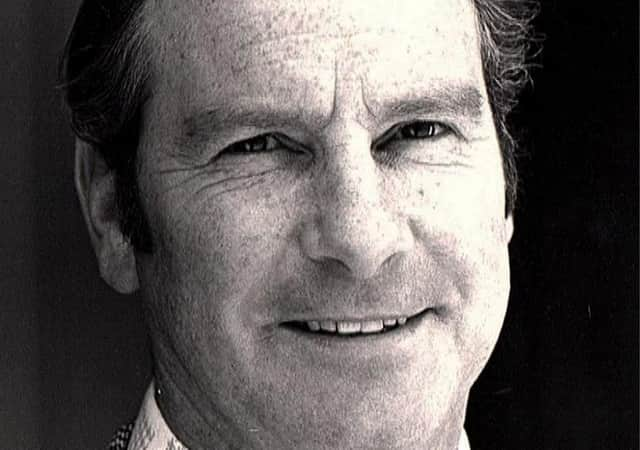 Tom Brown
An outstanding rugby player and cricketer, he will be forever remembered as the man whose match-winning drop-goal against Gala in 1953 laid the foundations for Selkirk Rugby Club's first and only Scottish Championship title.
Recalling that famous game, Brown was typically modest about his contribution. "I remember Davy Walker kicked the ball into the middle of the field. I picked it up, side-stepped my opponent and dropped a goal. It was in front of the posts and quite simple really, and I certainly didn't realise it was going to be as important as it was."
Selkirk's 3-0 victory over Gala was followed by a 3-0 win against Jed-Forest, securing the Philiphaugh club a Scottish Championship and Border League double.
One spectator at Philiphaugh that night was Bert Duffy, who went on to captain Selkirk and rise to become president of the Scottish Rugby Union. "I remember Tom's drop-goal very well, with the huge crowd giving out a mighty roar when it went over. Tom was a natural, no matter what the sport, and you couldn't meet a more modest or unassuming guy."
A strong-running, skilful centre, he also won selection for a crack South district side bristling with Scottish internationalists, including Robin Chisholm (Melrose), Hawick's Jack Hegarty and Hughie McLeod.
Brown's rugby career was ended prematurely when a back injury sustained in a match against Hawick forced him to hang up his boots while still in his early twenties. In the summer months he would hop over the Philiphaugh fence to play cricket for Selkirk, where he made a massive contribution to the local club's fortunes in a 42-year playing career.
An unerringly accurate fast bowler and a fine stroke-player, Brown was 12th man when Scotland took on the Pakistan Eaglets at Philiphaugh in a three-day match in July, 1963. Although taking the field several times as a replacement fielder, he was not awarded the international cap many thought he deserved.
His wife Liz acted as Selkirk's official scorer over many years, and was succeeded by the couple's son, Derek.
Making his senior debut as a teenager in 1949, Tom Brown's best season for Selkirk came in 1959 when he took 101 wickets and scored 1,174 runs. He went on to take over 1,500 wickets for the club. At the time he stopped playing in 1984 he was the 10th highest wicket-taker in the history of Scottish cricket. His final match at Philiphaugh came at the age of 63 when playing for the 2nd XI against Kelso 2nds in August, 1992. He opened the innings and scored a half-century. Selkirk won the game – the perfect end to a magnificent career.
Tom Brown captained Selkirk 11 times, and was skipper of the South district team for several seasons. His qualities as a captain shone as soon as he led his players out on to the pitch. "Tom was a great competitor," said former teammate Bobby Wilson. "He would never admit defeat until the last ball was bowled, and always led by example. Out in the field he just needed to give you a look, and you always did as you were told!"
Another Selkirk team-mate, Malcolm Ford, added: "Tom was the most respected captain I ever played under. He and Ronnie Simpson epitomised everything that Selkirk Cricket Club stands for, and always played the game in the right spirit." As well as being appointed a life member of Selkirk Cricket Club, Tom was a life member of Ettrick Forest Bowling Club, and was an equally gifted carpet bowler.
Thomas Preston Brown was born at Longcroft Farm, Lauder, on 26 August 1929, to George Brown and his wife Helen (née Middlemas). A shepherd at Longcroft, George Brown was also a champion sheepdog handler, and in the early 1930s purchased Lindean Moor Farm, near Selkirk, where he continued to breed and train Collies.
Tom attended Lindean Primary School, later moving up to Selkirk Public School, which he left at 14 to work on his father's farm, as a result of which he was excused National Service. He took up a sales post with local hauliers RG Stark, after which he became South of Scotland sales representative for Hadfields Fertilisers and then Norsk Hydro Fertilisers following a takeover. After taking early retirement he worked as a caretaker, gardener and driver for Lady Askew at Sprouston.
At Kirkhope Parish Church in 1952, Brown wed Elizabeth Grieve, a farmer's daughter from Helmburn, Ettrickbridge. The couple had five children – Derek, Mary, Linda, Carol and Susan. The family lived In Selkirk's Ettrick Terrace, moving to St Boswells in their later years. Tom was predeceased by Liz in 2008.
A member of Selkirk Merchant Company, Brown was appointed its Standard Bearer for the 1972 Common Riding, with Liz acting as lady busser.
"Tom was a lovely man," said Selkirk Rugby Club vice-president Jim Harold, "and everyone at Philiphaugh is extremely saddened by his passing. He was a great ambassador for the club, and was undoubtedly one of its finest players."
Selkirk Cricket Club chairman Roger Arnold added. "The contribution he made to the club, both on and off the field, was incredible. He was an inspiration to everyone, and will be sorely missed."
Brown is survived by his five children, ten grandchildren and 14 great-grandchildren. He was father-in-law to Alison, Billy and Barrie.