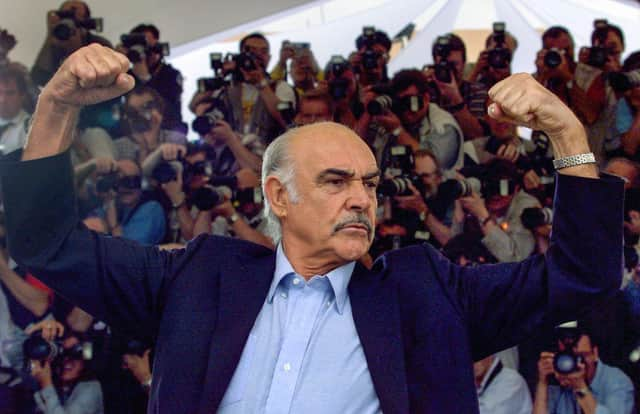 James Bond and the SNP's highest-profile supporter, Portobello's most celebrated ex-lifeguard and the world's most famous Scotsman – Sean Connery was all these things.
The son of a factory worker and a cleaner, Connery left school at 13 and worked as a lifeguard at Portobello's open-air pool, coffin-polisher, artist's model, semi-professional footballer and milkman.
He delivered milk to Fettes College, the exclusive boarding school attended by James Bond. Like Bond, Connery also served in the Royal Navy, but was invalided out with ulcers.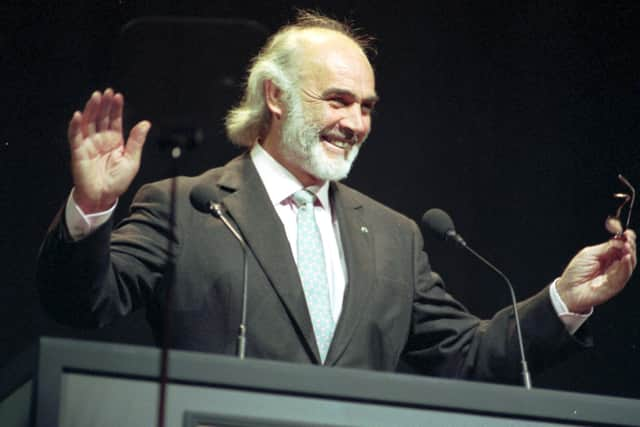 He made his stage debut with a walk-on part as a Guardsman in a play called The Glorious Days at Edinburgh's Empire Theatre (now the Festival Theatre).
In the early 1950s he went to London to take part in the Mr Universe competition, auditioned for South Pacific while he was there and got a job in the chorus for a two-year national tour.
About this time he had a chance of a trial with Manchester United, but decided acting might be a better long-term bet.
In 1958 he starred opposite fading Hollywood star Lana Turner in the British melodrama Another Time, Another Place. Turner's boyfriend, a hoodlum called Johnny Stompanato, was jealous and threatened Connery with a gun.
In a hint of future action as Bond, Connery punched him and took the gun away. Stompanato was deported and subsequently stabbed to death by Turner's 14-year-old daughter with a carving knife.
But it was Connery's role in the Disney film Darby O'Gill and the Little People that led to Bond. He had to sing and dance – and keep his guard up because it filmed in California, and the Mob supposedly held him responsible for Stompanato's death.
One of those who enjoyed the film was Dana Broccoli, the wife of producer Cubby Broccoli. She suggested her husband consider Connery for the role of James Bond.
Connery was not obvious casting as Ian Fleming's Fettes-educated secret agent and snob. Author Ian Fleming was aghast. "I'm looking for Commander James Bond, not an overgrown stuntman," he reportedly said.
It was the beginning of one of the most successful series in cinema history. But, more significantly, it marked a seismic change in British culture. Dr No opened in October 1962, the same week the first Beatles singles came out. Suddenly British society was being stormed by the lower classes.
Connery's father's family were Irish Catholics. His grandfather came to Scotland and worked as a pedlar and an illegal bookie's runner and fought boxing bouts in public parks. Connery's mother's people were Protestant.
Sean was born Thomas Connery at the Royal Maternity Hospital in Edinburgh in 1930. He spent his earliest years in a little tenement flat at 176 Fountainbridge, in what was then an industrial area on the edge of Edinburgh city centre. It was demolished long ago.
He went to Bruntsfield Primary and Darroch Secondary, left at 13 in the confusion of wartime and got a job as a milkboy with St Cuthbert's Co-operative dairy, starting salary £1.05. Despite the tough guy image, the young Connery wrote poetry for his horse Tich.
Before him lay Bond and a long, distinguished and unlikely career in films, which included an Oscar for The Untouchables, a Bafta for The Name of the Rose, the freedom of Edinburgh and a knighthood.
The knighthood was especially controversial as Connery lived in Spain and latterly the Bahamas, next to a golf course. At the same time he vociferously supported Scottish independence.
In the late 1990s he was involved in a scheme to build a major film studio on the edge of Edinburgh. A few years later he told me that Scotland's Labour government would have approved it if he had switched his allegiance.
There was also lingering controversy over comments he made in an interview with Playboy in 1965, suggesting it might sometimes be acceptable to slap a woman. His former wife Diane Cilento subsequently claimed that he once attacked her.
His first marriage ended very acrimoniously. During one of several abortive discussions about a possible autobiography, a potential writer asked him how they should treat the subject of his first marriage and Connery suggested they ignore it completely.
I knew him well enough to phone him at home, occasionally, and have him speak to me. My son was suitably impressed when Connery greeted us at a screening of The Man Who Would Be King (my favourite Connery film) with "Hello Brian", and The Scotsman features secretary was probably even more impressed when Connery phoned the office one day.
I grew up about a mile from where he did and one of my favourite personal memories was when I asked him a question at a press conference in Cannes. In mock puzzlement, he asked "Where are you from?" The international audience laughed, though I doubt most of them appreciated what was funny.
Connery had a sharp sense of humour, though he could certainly be prickly when he felt he had been wronged. He had a reputation as being stingy and may well have been the last person in a company to buy a round. But it was not that he was mean – he simply did not like to be taken advantage of.
He was a product of his place and time, a mix of nature and nurture, an intelligent and deeply thoughtful man, whose daily routine in the Bahamas began when he went online to look at The Scotsman website, before heading out to the golf course.
Despite humble beginnings, Connery had the stature, dignity and authority to play not just Bond, but Richard the Lionheart, King Arthur and an aged Robin Hood in Robin and Marian, one of his most touching and underrated films.
It is 17 years since he retired from acting. He had had several health issues and in recent times had dementia. He is survived by his second wife Micheline Roquebrune, an artist he met at a golf tournament in the early 1970s, and by his son from his first marriage, the actor Jason Connery.