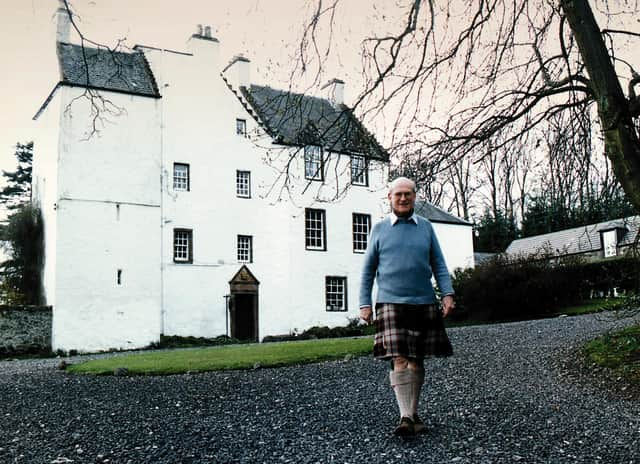 Like his Jacobite ancestor Cluny Macpherson in the Rising of 1745, Sir William Macpherson of Cluny led from the front. As clan chief, soldier, lawyer, judge and passionate rugby player, his trademarks proved to be personal courage and independent judgement.
He needed both when in 1997 the Lord Chancellor, Lord Irvine of Lairg, asked him to lead the inquiry into the racially motivated death of Stephen Lawrence. The investigation took evidence for a year, yet Sir William produced his report inside an astonishing six weeks. His findings that "institutional racism" existed within the Metropolitan Police saw him subjected to death threats. However Jack Straw, Home Secretary, promised action on all 70 recommendations.
That commitment to justice was echoed by Michael Nevin, chairman of the 1745 Association (Sir William was one of four patrons): "His conclusion that the police investigation had been 'marred by a combination of professional incompetence, institutional racism and failure of leadership' led to attacks on his findings from those who found their implications uncomfortable, yet led to reforms that have helped remedy the problems he identified, and ultimately resulted, many years later, in a measure of posthumous justice for Stephen Lawrence".
Educated at Wellington College and Trinity College, Oxford, William Alan Macpherson showed early leadership; he was commissioned in the Scots Guards in 1944, and trained with 21 SAS – of whom he was made honorary colonel in 1983.
As hooker. he captained London Scottish in 1954. In a select game, he was one of only three non-internationalists of the XV. He entered the showers after a game to be greeted by a voice through the steam: "Ah, you must be the other Macpherson!" This was the redoubtable Tommy Macpherson; both would later be knighted.
The two become firm friends, with Bill best man at Tommy's wedding. But even Sir William's aptitude for the ready remark was tested when, as guests were entering the dining room for the Golden Wedding of Tommy and Jean, he was asked to deliver the toast – on the grounds that he had done the same 50 years previously.
Away from a distinguished career – Sir William was a judge of the High Court of England and Wales (Queen's Bench Division), served as presiding judge of the Northern Circuit, and had practised as Queen's Counsel in London and abroad – the life of William Alan Macpherson of Cluny and Blairgowrie was ardently tied up with Scotland.
Genealogist, historian and heraldist besides a patron of the 1745 Association, he was "a generous donor over decades to the Royal Celtic Society", said Dr Alan Hay, chairman of the society.
As only son to Brigadier Alan Macpherson – made DSO for exploits in the Great War – Sir William succeeded as 27th chief of Macpherson in 1969. "Cluny" to his clansfolk, he led the annual march of his clan at the Newtonmore Games, entering the field to the strains of Macpherson's Rant. Keen on pipe music, he had been played out on retirement from the Royal Courts of Justice to the tune "Mrs Macpherson of Inveran".
Chief for more than half a century, he led the celebrations in 2016 on the 70th anniversary of the founding of Clan Macpherson Association, one of the world's most active clan societies. Macphersons certainly know how to party, for there's a dinner and ball the evening before the games, and a ceilidh after the games.
Surviving the infamous After-Ceilidh Ceilidh required front-line courage, with Cluny leading the singing, his party pieces being "Blaydon Races", then a somewhat risqué song about an RAF parachutist who didn't quite make it. He was 91 when at breakfast the morning after, a weary clansman, in admiration of his chief's tenacity, enquired: "Cluny, what are you going to do when you grow up?"
As fastidious in genealogy and heraldry as he was in law, Sir William kept clan papers filed at home in acid-free boxes in a purpose-built study and gallery, the walls of which are covered in heraldry – his own and that of his clansfolk. In a corner, his bonnet with three chiefly feathers, when not in action on the chief's head, rested on a stuffed wildcat in rampant pose, the Macpherson crest. His Blairgowrie castle has been home to Macphersons since it was purchased in 1787 by James "Ossian" Macpherson as agent for Cluny's ancestor.
Studiously loyal in contact with clan and clan matters, he travelled the world to represent the house of Macpherson, and was at ease alike with presidents and prime ministers, cleaners and clansfolk
Sir William eschewed being a patriarchal figure to his clan, referring to his position simply as "first among equals". Leading 150 clansfolk on to Edinburgh Castle Esplanade at the Tattoo in August 2017 he turned down an invitation to sit in the Royal box, saying, "Thank you, but I shall sit among my people".
A lifelong golfer, Cluny was playing nine holes on Rosemount when his opponent asked if Sir William had played the course before. "For about 80 years" came the reply. Legend is that his rival lost every hole thereafter.
Sir William was predeceased by Sheila McDonald née Brodie, his wife of over 40 years, and his elder son Alan. He is survived by his daughter Annie, son Jamie, and five grandchildren. After the death of Lady Macpherson, he met Hilary, Lady Burnham, daughter of Perth lawyer Alan Hunter. They had first met in Meikleour village hall when she was 16. Together, Cluny and Lady Burnham formed a close and loving partnership.
Sir William is succeeded by his son Jamie as 28th chief to the clan Macpherson.
If you would like to submit an obituary, or have a suggestion for a subject, contact [email protected]
A message from the Editor
Thank you for reading this article. We're more reliant on your support than ever as the shift in consumer habits brought about by coronavirus impacts our advertisers.
If you haven't already, please consider supporting our trusted, fact-checked journalism by taking out a digital subscription.