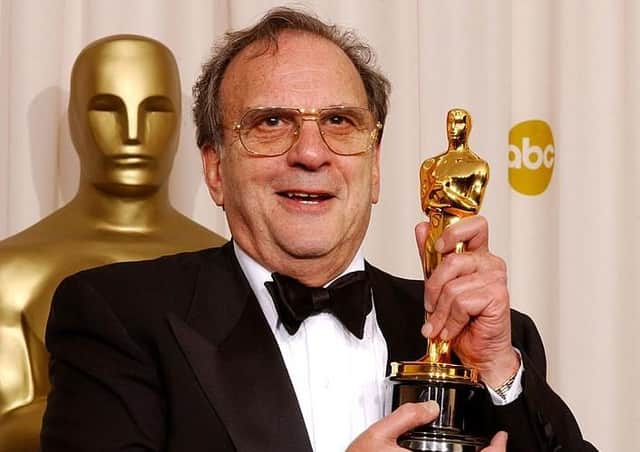 Ronald Harwood with his Academy Award for The Pianist at the 2003 Oscars (Photo by Frank Micelotta/Getty Images)
Like so many others before him and since, Ronnie Harwood was a hopeful young actor who just could not get work, not in acting anyway. He was on the point of taking a job on a construction site in Hammersmith when he decided he would try his hand at writing instead.
That was the beginning of a highly successful career as a playwright and film writer that would bring him three Oscar nominations and one win in 2003 for his script of Roman Polanski's heart-rending Second World War drama The Pianist, about the Warsaw Ghetto.
But Harwood preferred theatre to films and hated Hollywood. A great cricket lover, he continued to live in England.
He never really fitted into the celebrity scene, even though he was friends with a wide range of famous people including Warren Beatty, Prince Charles, David Hockney and Margaret Thatcher, though he insisted he was not a Tory.
After winning his Oscar he went to the Vanity Fair party with his wife Natasha, whose great-great-great-great-granny was Empress of Russia, Catherine the Great, which you would imagine would be good banter. And of course he had an Academy Award.
"I wasn't exactly inconspicuous holding this great gold statuette but no one said Hello to me and the music was too noisy," he said. "So we slipped back to our hotel and had chicken soup in bed." (Oscar parties are like that, Vanity Fair more so than most. I remember at the Braveheart party every second person seemed to have an Oscar. They are quite heavy, so definitely not inconspicuous.)
The son of a commercial traveller, Harwood was born Ronald Horwitz in Cape Town, South Africa, in 1934. His father was Lithuanian, smuggled out of his village in a coffin to escape the pogroms. His mother was the daughter of Polish refugees.
Harwood wanted to be an actor from childhood, an ambition he shared with his cousin Antony Sher. His English teacher told him Horwitz was "too Jewish" for an actor, so he changed it.
He headed for England and studied at RADA, the Royal Academy of Dramatic Art, in London. Still in his teens, he linked up with the legendary Shakespearean actor-manager Sir Donald Wolfit, not as a co-star, but as his dresser, the person who is literally responsible for dressing the actor, particularly during quick costume changes.
He later became Wolfit's business manager and Wolfit left him his personal papers when he died in 1968 in the hope that he would write a biography, which Harwood did. But his experiences with Wolfit would provide him with an even more notable success in the form of the play and later the film The Dresser.
Harwood began his professional career as a writer in the early 1960s, with the television play The Barber of Stamford Hill, about a lonely bachelor, the novel All the Same Shadows, about a young Zulu in apartheid South Africa, and the film Private Potter, with Tom Courtenay as a soldier who sees God.
During the 1970s he wrote books, West End plays and television and film scripts, but The Dresser took him to another level. An intimate drama, set in a dressing room, it portrayed the relationship between a once-great stage actor and his loyal assistant, supporting him through one final performance of Lear.
The play opened in the West End in 1980 with Freddie Jones, as "Sir", the bombastic, old-style thespian inspired by Wolfit and Courtenay as his long-term dresser.
Courtenay reprised his role on Broadway, with Paul Rogers, as Sir and in the 1983 film, with Albert Finney as Sir. Ian McKellen and Anthony Hopkins starred in a 2015 television version.
Easily staged, but a challenge in acting terms, The Dresser has been produced on several occasions at the Edinburgh Fringe.
In 2016 Harwood caused a stir when he said he would never allow the Wolfit character to be played by a woman and had even written the stipulation into his will.
The film brought Harwood his first Oscar nomination and more attention than he would later get at that Vanity Fair party, though his next film was The Doctor and the Devils, on which he worked on an original Dylan Thomas script. It was a fictionalised account of Edinburgh body-snatchers Burke and Hare, played by Jonathan Pryce and Stephen Rea.
It disappeared without trace and Hollywood interest waned till Harwood linked up with Polanski, one of the greatest and most controversial figures in cinema. A survivor of the Krakow Ghetto, Polanski hired Harwood to script The Pianist after seeing Taking Sides, his play about conductor Wilhelm Furtwangler's links with the Nazis.
The film won Oscars for best director and best actor (Adrien Brody), as well as best adapted screenplay. Harwood later worked with Polanski again on an adaptation of Oliver Twist.
Pressed on his association with Polanski, Harwood said: "He is a felon because he had an affair with a 13-year-old girl, but he is also a wonderful father. I was in Hollywood having dinner with Warren Beatty when we turned on the Larry King show and the teenager he was accused of sleeping with was being interviewed. She said she wasn't entirely innocent and totally defended Roman."
Not one to be swayed by political fashion or expedience, Harwood also said Polanski was "the best company in the world".
Harwood got his third Oscar nomination in 2008 for The Diving Bell and the Butterfly, the true story of a man who is almost completely paralysed and communicates by blinking.
The sprawling historical drama Australia, starring Hugh Jackman and Nicole Kidman, was a rare venture into big-budget cinema. "I need the money before I die to give to my kids," he said. He never met Kidman and was scathing about her acting.
He became a CBE in 1999 and was knighted in 2010. His wife died seven years ago and he is survived by their three children.