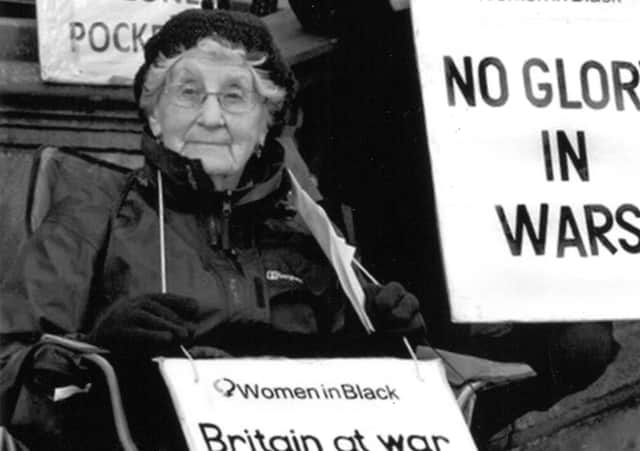 Family was the catalyst for Runa Mackay's medical career but it was fate that took her to Israel, where she dedicated a lifetime's work to helping the Palestinian people.
Inspired by her father Dr Duncan Matheson Mackay, an eye surgeon, she had followed his footsteps to Edinburgh University where he graduated in 1895. Like him she also worked, while studying, at the Livingstone Dispensary run by the Edinburgh Medical Missionary Society's (EMMS) in the city's deprived Cowgate.
She never considered herself a missionary or contemplated working overseas but some years later, when deciding where her career might go next, she agreed almost on a whim to a six-month locum stint at an EMMS hospital in Nazareth. She ended up spending 40 years in the Middle East aiding the victims of war and exile. Back home, she founded Scottish Medical Aid for Palestinians (MAP) and fought for peace and justice through the Women in Black network in Edinburgh.
Born in Hull but educated at Esdaile College in the Scottish capital, she embarked on her medical degree during the Second World War and spent three summers as a land girl in the Scottish Borders, using other holidays to shadow her father's medical work.
Graduating MBChB in 1944, she set out on a career in paediatrics, taking a post as house physician and surgeon at Edinburgh's Royal Hospital for Sick Children on a £50 a year honorarium. She was present during the hospital's first heart operation and helped administer one of the first doses of penicillin to a civilian, successfully treating a young boy with an infection. However, she soon moved on, as an assistant GP in Chesterfield.
Graduating MD in 1952, she worked as a professorial medical registrar at Manchester Children's Hospital but by 1954, with that work coming to an end, she was pondering what to do next when a letter came from EMMS's hospital in Nazareth seeking suggestions for a locum. She was free and offered to go, flying out to Israel a few months later.
Six months became a year and when the doctor who looked after women and children moved away, Dr Mackay was asked to succeed her. "I had enjoyed all the jobs I had done but had not considered any of them long-term," she wrote in her autobiography Exile in Israel. "But now I knew that work in Nazareth could become my life's work, God willing, and so it proved to be."
She immersed herself in the local culture and found her life becoming intricately entwined with that of the Palestinians. The workload was heavy and she had to be prepared for anything, quickly taking on midwifery duties, providing anaesthesia and performing small operations. She delivered hundreds of babies a year during two decades in obstetrics and helped to eradicate the potentially fatal custom of cutting the cord with any handy implement and treating the umbilical stump with cow dung, a practice that often led to tetanus.
Dr Mackay also changed the practice of using coffee grounds to treat burns, persuaded mothers not to swaddle their infants so tightly that they caused dislocated hips and taught them how to save their babies from hypothermia during the bitter winters.
She went on to spend a decade with the Israeli Ministry of Health as a district medical officer in Galilee, where she co-founded the Galilee Society, the National Arab Society for Health, Research and Services. After retiring she returned to Edinburgh in 1985. Having had a long association with the Iona Community, she became a full member.
She also joined CND and the Medical Campaign against Nuclear Warfare, manning their buses during the Edinburgh Festival and taking part in vigils in Glasgow and London.
That same year she was the Scottish delegate on an International Fellowship of Reconciliation to the Middle East. She wrote: "Life in the refugee camps in the Occupied Territories is well-nigh intolerable, with curfews, house demolitions, deportations, imprisonments and killings. To be able to do medical work was a relief, to do something positive."
She was also appointed secretary for the UN International Year of Peace Scottish Council in 1985 and fulfilled a long-standing dream to study Arabic, taking a degree at Edinburgh University.
However, her retirement was short-lived: she was Scottish delegate on an International Fellowship of Reconciliation to the Middle East; worked the summer of 1987 in refugee camps in Lebanon; visited North Yemen, Egypt and Jordan in 1988 as guest of the Jordanian Medical Association; spent months of 1991 in Hebron in the Occupied Territories working for MAP following the Gulf War and celebrated her 70th birthday amidst bombing in Beirut.
From 1992-94 she lived and worked in Lebanon, setting up clinics and identifying the need for a physiotherapist who improved the lives of those in the refugee camps.
Returning to Scotland, she founded Scottish MAP and, while confined with an injured ankle, wrote Exile in Israel. Theoretically retired again, she continued to travel and campaign, returning to Lebanon with the British ambassador to award certificates to Palestinian Red Crescent doctors, and visiting Syria, Israel and Palestine.
A familiar fixture each Saturday afternoon at Edinburgh's Women in Black vigils against injustice, war and violence, she was immortalised in the Scottish Parliament's Travelling the Distance installation to mark women who made a significant contribution to Scotland. And in 2014 she was honoured with a lifetime achievement award by Scottish MAP.
Though she never sought such recognition, over the years she had a vast influence on countless people who crossed her path, many of whom were quietly, unobtrusively mentored.
A tiny woman who never married, her humility and matter-of-fact manner belied her extraordinary experiences and masked an inner core of steel: aged 88 she went back to the Middle East to see the new operating theatre in Nazareth Hospital where she once worked without running water, boiling instruments on a primus stove.