Obituary: Ronnie Rusack,  publican dedicated to the revival of Scotland's canals and charity work
Ronald Edward Seaton Rusack MBE, publican, fundraiser and canal preservationist Born: 15 May, 1948 in Haddington. Died: 24 November, 2020 in Edinburgh, aged 72.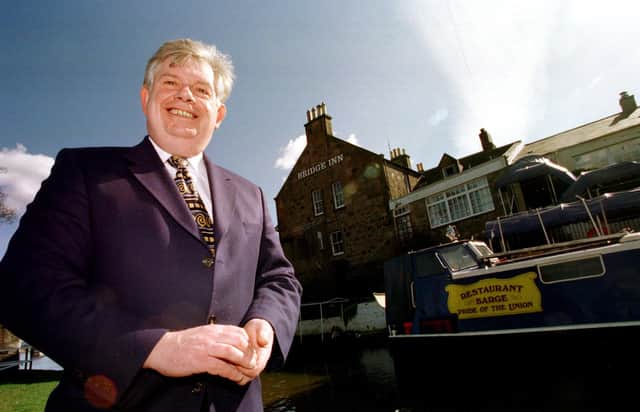 Ronnie Rusack's Bridge Inn won a total of 18 national awards
When Ronnie Rusack took over at the Bridge Inn, located at a lovely spot on the banks of the Union Canal, the waterway was anything but scenic: disused, neglected, strangled by weeds, it was almost beyond navigation.
But something about it intrigued him and he embarked on an exploration of the unloved stretch of the once-bustling canal linking Edinburgh and Falkirk. The entrepreneur in him also saw the commercial potential of a restaurant boat.
And so began half a century of dedication to the revival of Scottish canals, protecting the historic assets and opening them up again to the public, a role he fulfilled alongside his day job of running the award-winning pub while also raising many thousands of pounds for charity.
"He was a man with vision, with humanity and he really cared deeply about everything he did," said Professor John Hume, honorary life president of the Seagull Trust, which Rusack also chaired.
Born in Haddington, the son of GP Louis Rusack and his wife Jacynth, a medical secretary, he was educated at the town's Knox Academy before going on to catering college to train for a career that was already in his genes: his great grandfather Wilhelm Rusack, an immigrant from the German spa town of Bad Harzburg, had opened Rusacks Hotel overlooking the Old Course in St Andrews in 1887.
After college had a spell as assistant manager of the Great Western Hotel in Oban before being recruited to manage the Doric Tavern in Edinburgh, an establishment dating back to the 17th century.
He was then brought in by Lowland Inns to manage their first acquisition, the Bridge Inn in Ratho, in 1971, and went on to become a director before buying over the premises. Having initially investigated the potential of establishing a floating restaurant on the canal, he finally got the project to fruition in 1974 with the Pride of the Union barge providing waterfront dining and function facilities for parties including weddings and christenings.
At that time there were only six miles of navigational waterway and the vessel was reportedly the first large boat to be used on the canal since it officially closed in 1965.
The 1970s also saw the introduction of free canal cruises for people with special needs through the Seagull Trust. The Order of St John, of which Rusack was a member, was persuaded to fund a boat and he then helped to establish the Seagull Trust cruises, offering the pub premises as a base with his staff taking bookings for the first boat, the St John Crusader.
The Ratho branch, which he set up, was the Seagull Trust's first, followed by three others – in Falkirk, the Highlands and Kirkintilloch – with a total of 12 boats having been owned and operated since its inception.
Rusack, who became chairman in the 1990s, was enthusiastically involved as a volunteer in all aspects of the organisation's work from tackling canal-side maintenance on the work boat to sharing meetings at Buckingham Palace with patron Princess Anne, the Princess Royal, or hosting a visit from the late Prime Minister Margaret Thatcher.
His hospitality was faultless but he could be a tough adversary, even thrawn, when the occasion required. As a result he achieved much. He was: a member of the Millennium Link Project which restored the Forth and Clyde and Union canals to their former glory; chairman of the Lowland Canal Volunteer Group; founder of the campaigning umbrella body Keep Canals Alive and a member of the Inland Waterways Advisory Council.
His Bridge Inn houses the Edinburgh Canal Centre and he was made an MBE for his contribution to the conservation and restoration of the Union Canal.
Alongside all of that he also elevated the Bridge Inn's reputation from a spit and sawdust pub, winning 18 national awards including Pub of the Year from both Booker and Schweppes, and was a prolific fundraiser. Last year the Rotary Club of Currie Balerno awarded him the organisation's highest honour, a Paul Harris Fellowship, for his significant contribution. Over the years he raised thousands of pounds for charity by providing Santa's Fire Engine, complete with inflatable snowman, Santa and artificial snow – all at his own expense – at Edinburgh's Gyle shopping centre.
Restoration of fire engines was another of his interests. He had four appliances, including a Green Goddess army fire tender, and was a founder member of the Fire Vehicle Preservation Group Scotland. He was also keen water skier.
Ronnie Rusack is survived by his partner Priscilla, his children Ron, Claire and Carol, grandchildren Archie, Logan, Sam, Louis and Mathew, brothers Phil and Andrew and sister Ada.