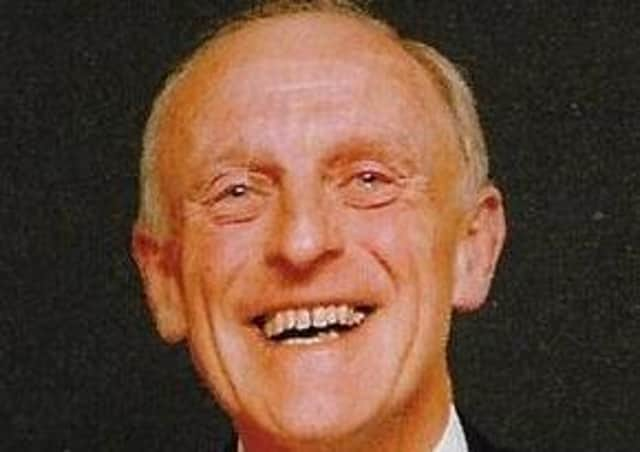 Exactly why Robin's parents, John and Evelyn Stevenson, christened him Robert and thereafter called him Robin, is a mystery lost in time.
Born in Giffnock, Robin first attended Belmont school, the whole of which was evacuated to Crawfordton school in the Borders.
The method of teaching at Crawfordton was very much "old school", the window blind cane being used to highlight Latin "howlers" and the corner flagpole to ensure no "funking" of tackles on the rugby pitch. Robin had very happy memories of school life and was blessed not only with skills in sports but also an academic ability that won him a scholarship to Glenalmond college.
He played rugby and golf throughout school (and even cricket at Crawfordton) and also enjoyed other outdoor pursuits such as hill walking, climbing and skiing. He represented Glenalmond at rugby and also became head of school – or Captain of Coll in "Glenalmondese" – an office his older brother John had held before him and his nephew Graham took on after him.
Gaining an exhibition to Christ's College, Cambridge to study French and German, Robin continued to pursue his interest in sports; an interest that led his tutor to express surprise that Robin gained the equivalent of a 2.1 at the end of his first year as he had "spent so much of his time more valuably on other things".
In his second year, Robin was part of the Christ's rugby team that won the intercollege rugby championship "The Cuppers". This entailed beating all the other Cambridge colleges, a feat that had not been achieved by Christs for 50 years and has probably not been repeated since.
Also in his second year, Robin changed his studies from languages to law and after graduating was called to The Bar as member of Gray's Inn.
During his time in London he played rugby for London Scottish. His National Service was spent in the army. At Mons Officer training at Aldershot he passed out as the top officer cadet of his year. This meant he got the pick of postings and chose the Royal Horse Artillery, with whom he spent 18 months in Germany. There is no record of what he was doing as part of his army duties but he played rugby for the Rhine army and won several cups for a new interest in motor cycle trialling.
On leaving the army, Robin was interviewed by Lord Beaverbrook and began a career in newspapers.
He began in the distribution department but went on to work in publicity where thoroughly enjoyed attending what he described as fun events including Silverstone motor racing, The Boat Show at Earls Court and even sheep dog trials in Hyde Park. He moved ever upwards through a number of posts within the newspaper industry before he became General Manager at the Daily Express in London and finally Group General Manager of the Scottish Daily Express in Glasgow. During this time Robin also gained his private pilot's licence, he was in every sense a high flyer.
When the Scottish Daily Express was closed down, Robin had the opportunity to move back to London but decided he wanted a change of career. He became the General Manager and a Director of the Port of Felixstowe in Suffolk. It was here that he met his wife to be, Anne.
At the age of 47, Robin married, claiming that he had been far too busy to do so before but had finally fallen in love.
Shortly after marriage and back living in the West of Scotland, Robin changed career once again, having qualified as Company Secretary, a post he took up with the Scottish Special Housing Association (SSHA) in Edinburgh.
In 1988 the SSHA became Scottish Homes, with Robin as Director of Administration. He also headed up the Legal Services Department before retiring in 1996
Having started golf at about the age of six, Robin continued to golf throughout his life. He was a member of Sunningdale and Aldeburgh south of the border and also a member of Prestwick, Luffness and Bruntsfield back home in Scotland. One year, with a handicap of 4, Robin decided to try to qualify for the Scottish amateur Championship and set aside two weeks' leave in order to compete.
Failing to qualify, he decided to take sailing lessons, mainly to find out what others found so fascinating about the activity. Sailing became another life- long love, beginning with racing flying fifteens and eventually to more than 20 years spent cruising the West coast of Scotland with his wife Anne and their dogs.
In the notes he left for his funeral Robin described marriage as "great", providing a sense of great contentment in just being together, sharing everything apart from political views.
Throughout his varied life Robin had a strong affinity with young people, especially within the family. His great nieces and nephews eagerly awaited his visit at Christmas as he always brought an outrageous game involving activities that strained the nerves of parents and grandparents.
With honesty and integrity, Robin always chose to do what he felt was right rather than what was popular. Always there to share laughter, to give help and support, he was generous and hospitable.
For many years prior to his death in the Western General Hospital Edinburgh, he bore his worsening health problems uncomplainingly.
He will be missed by many for his friendship, companionship and love.