Obituary: Robin MacCormick, Scottish solicitor, and writer to the Signet
Robin McCormack, solicitor. Born: May 15 1940 in Edinburgh. Died: December 28 2020 in Edinburgh, aged 80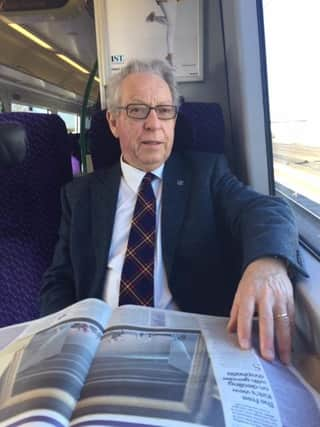 When I lived on a large patch of land in the USA State of Tennessee I decided I wanted to plant a large vegetable garden.
I knew very little about gardening. However, I had a friend whose father was a successful farmer. I asked him to help me and within a few minutes he managed to accidentally sever the electrical power, gas and water lines on my property.
I then, with blind faith, invited him to return the next day to try and complete the job.
The next day I gave him a bucket of water and a can of fertiliser. I told him to place a small teaspoon of fertiliser in the bucket and then spray it upon my plants.
A few minutes later he returned to me and asked for more fertiliser.
His request surprised me as only a few teaspoons were needed to cover a large area. He explained that he had followed my instructions and had placed an entire cap full of fertiliser upon each seed he planted.
I gasped because I feared that he had ruined my entire garden. Instead, due to an inordinate amount of rainfall, the garden grew and grew and produced great bounty.
Recently, Scotland lost one of its greatest gardeners for the future of our nation. Robin MacCormick (1940-2020) and I first met as local and national political activists who believed as others have posited that we may be living in the early days of a new and better nation.
Together we stuffed envelopes, made telephone calls, handed out leaflets, climbed stairs and spoke to voters about our ambition and hope for an independent Scotland that would take its place among the other great nations of the world.
During our time together I was impressed and grateful for how Robin, an "Old Scot", showed such interest in me as I was a "New Scot". His kindness and thoughtfulness is something I shall cherish all the days of my life.
Robin spent his early years in Canada and attended Fettes College in Edinburgh, where he began a lifelong friendship with former MSP Dr Ian McKee.
He later studied at Edinburgh University and became a successful solicitor with Scottish Gas. He was perceived both as a legal eagle behind which one would discover a very sharp and kindly mind.
Robin's many contributions to Scotland included serving for 15 years as secretary of the Scottish Flag Trust that maintains the visitor centre at Athelstaneford.
In addition, he was a leading light of the Saltire Society, founded in 1936 to improve the quality of life in Scotland and restore the country as a creative force in Europe.
It was here that he met his wife Dr Morag MacCormick. I am certain that he believed his greatest accomplishment was convincing Morag to share his life.
Robin sometimes accompanied Morag on international travel, supporting her career exporting Scotland's nursing skills and following Scottish Opera to far corners of the world.
One time he asked me if I would look after his garden patch at his local church that was located in my neighbourhood and, coincidentally, where I was also a member of the gardening committee.
I accepted his invitation and remembered the magnificent garden that he and Morag had created at their home over the past two decades.
I was intimidated, however, as Robin had asked me to keep things tidy while he was away, I thought I could manage this assignment.
And now, without my friend Robin around to help plant and tend our national garden, I prefer to simply believe that he is away and now it is the responsibility of myself and others to keep things tidy, not to sever any utilities and to use just the right amount of fertiliser to strengthen our roots (including those with Europe) to help our garden become more bountiful.
As a result of Robin's many contributions, I am confident that our national garden, similar to the small one I planted in Tennessee, will continue to grow and flourish as long as season after season we lovingly care for its future whilst Robin is away.
If you would like to submit an obituary, or have a suggestion for a subject, contact [email protected]
A message from the Editor
Thank you for reading this article. We're more reliant on your support than ever as the shift in consumer habits brought about by coronavirus impacts our advertisers.
If you haven't already, please consider supporting our trusted, fact-checked journalism by taking out a digital subscription.