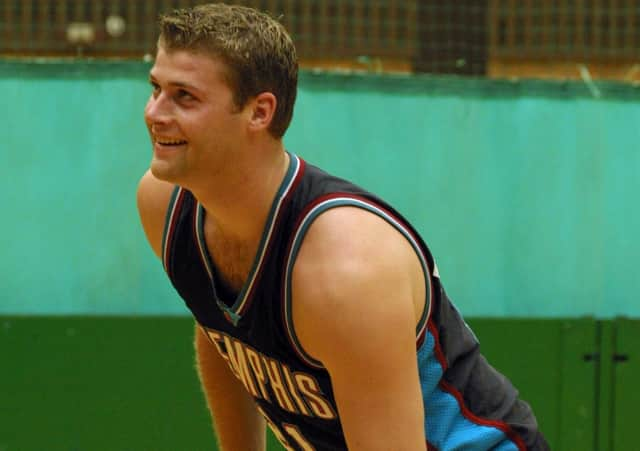 Robert Archibald, who died suddenly, was a mould-breaker among Scottish sporting greats. In a nation where greatness is normally the preserve of the talented "wee man," the 6ft 11in, 18 stone Paisley Buddie was a genuine "big man," whose achievements matched his stature.
He was born in Paisley, the son of "Big Bobby" Archibald, who had moved from Paisley Basketball Club to captain the all-conquering Murray International Metals (MIM) team assembled by David Murray. In the 1980s MIM were dominant in Scotland and the UK, regularly competing in Europe, and Bobby Archibald was captain of the club and of Scotland, and also a Great Britain regular.
Eventually outgrowing his father, Robert showed an aptitude for the game at school at Queen Anne High School in Dunfermline, and with the local club Dunfermline Reign, which won him Scotland age group caps. As a teenager, it was obvious, he was going places in his chosen game.
Bobby relocated to the USA, and at Lafayette High School in Wildwood, Missouri, young Robert continued to develop with their Lafayette Lancers team, to such an extent, in 1998, that he won a basketball scholarship, to the University of Illinois at Urbana-Champaign.
His freshman and sophomore years were tough – he played in just 12 games – but persistance and hard work on Robert's part paid off in his junior and senior Years, as he became a starter in "Fighting Illlini" squads which won the Big Ten Conference to qualify for the "March Madness" of the NCAA finals – reaching the "Sweet Sixteen" (the top 16 college teams in the USA) in his senior year of 2002.
Graduating with a BA in Economics, Robert was drafted at number 32 – the third player chosen in the second round of the draft, by the Memphis Grizzlies, becoming the first and so far only Scottish player to play in the game's top tier – the NBA.
The NBA is the absolute pinnacle of basketball and it would be fair to say Robert struggled to make an impact. He played a mere 12 games for the Grizzlies, before being traded to the Phoenix Suns, who moved him on, to Orlando Magic. However, after barely a week in Florida he moved north, to Canada and the Toronto Raptors, for whom he played 30 of his total of 44 games in basketball's "Big Show".
In 2004 he moved back to Europe, initially to Valencia, where, over the next eight seasons, mainly in Spain, he proved himself to be one of the top players on that continent. He won the FIBA Europa Cup with Joventut Badalona in 2006, then, in 2008, with Azovmash Mariupol, he won the Ukrainian Superleague – and was voted MVP (Most Valuable Player) in the finals series, and the Ukrainian Cup. He then returned to Spain, to play for Malaga and Zaragoza.
Team GB was given host nation entry to the 2012 Olympic Games basketball tournament and, as one of the few Britons with NBA experience, plus his extensive experience in Europe, Robert was one of the squad's leading lights. At the end of the tournament, now aged 32, he decided this was a good time to retire, so he moved back to the USA, to Illinois.
He entered the insurance industry as an agent for the giant State Farm Insurance and Financial Services group, setting up an agency in Elmhurst, a western suburb of Chicago, where his hard work soon paid off with industry awards.
His sporting passions found an outlet at Biltmore Country Club, where he enjoyed his golf. He also developed a passion for cooking, becoming a dab hand around the grill.
On court, he played in a very physical position: centre/power forward, one of the big men charged with making space under the baskets and winning rebounds. Forget basketball's "non-contact sport" status, it can get very tough under the boards, and Robert, like his father before him, relished the physical stuff. In his Senior year at Illinois he collected more fouls than any other Big Ten player.
But, off the court, he was a leader when it came to team bonding and having fun. Former teammates, both at college and in the NBA, spoke of his outgoing personality, sense of fun and good humour, and his willingness to look after younger teammates, in generous tributes following his death.
In 2004, he married college sweet-heart Molly Eckols, with whom he had a son: Robert Archibald III, "Robbie," now eight.
Sadly, the marriage ended but he later found new happiness with Missy Sandberg, becoming a second father to her children, Ethan and twins Ryan and Avery.
He is also survived by parents Bobby and Heather and a sister.
As Scotland's only NBA player and Olympian, Robert stands alone in the annals of his chosen sport in this country. He was a genuine big man, taken far too soon.