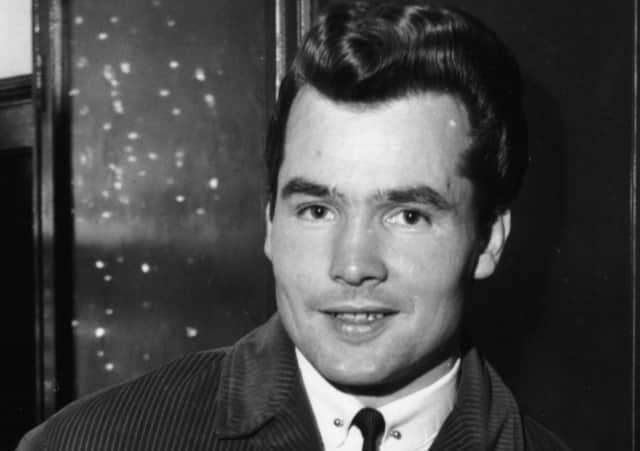 Ricky Valance in 1962. (Photo by Keystone/Hulton Archive/Getty Images)
If you are going to be a one-hit wonder, then you could not do better than making that hit a million-selling Number One. David Spencer was a Welsh miner who sang in his local church choir before he changed his name to Ricky Valance and topped the charts for three weeks 60 years ago with the death ballad Tell Laura I Love Her.
He might not even have had that one big hit if Decca had decided to take up their option for releasing the original American recording by Ray Peterson. The hero declares his love for the eponymous lady before succumbing to injuries sustained in a car race that he entered to raise money to marry her. Decca thought the song "too tasteless and vulgar for the English sensibility". But then, this was the company that turned down The Beatles.
Decca's miscalculation left the field open for Valance, a club singer who had recently signed a record deal with Columbia. It was his very first recording session. "I listened to the American version and thought, 'How the hell do I do it any better than this?' " he said. His producer, Norrie Paramor, told him: "You were a choir boy, it's a hymn, that's the sound we want."
But this romanticisation of death was controversial. It has been widely reported that Tell Laura I Love Her was banned by the BBC, but that is an oversimplification. The BBC were nervous of the song, but these were the days before Radio One and Top of the Pops and the BBC had limited outlets for pop. In fact it was featured on the BBC's Saturday teatime show Juke Box Jury, as well as being played on Radio Luxembourg, the station of choice for "pop-pickers" in that era.
It came into the charts at No 26 in August 1960, climbed to 14 the following week and actually dropped a place before revving up once more and hitting the top spot. Shirley Bassey was there ahead of him, but Valance was the first Welsh man with a Number One single.
Tell Laura I Love Her shamelessly tugs on the heartstrings and it set the standard for a spate of what were called "teenage tragedy songs", "death discs" or rather cynically, "splatter platters", in which a string of ill-fated protagonists die in car wrecks, motorbike accidents and plane crashes, leaving broken-hearted lovers to weep alone.
Death discs were a largely American phenomenon, but Ricky Valance was originally David Spencer, from the village of Ynysddu in Wales. One of seven children, he was 15 when he followed his father into the pits. "It was a race home to get in the tin bath before him," he said. He did not stick the pits for long and did several other unskilled jobs, including digging ditches, before National Service in the RAF.
He married during this time and after National Service he and his wife settled in London. He got work as a singer in cabaret and clubs, which led to a record contract and a change of name. Ritchie Valens, the teenage singer of La Bamba, died in the same plane crash as Buddy Holly the year before Valance recorded Tell Laura I Love Her and the similarity between the names led to confusion. Ricky Valance maintained he took his name not from the dead singer, but from a racehorse trainer.
Tell Laura I Love Her was not the first teenage tragedy song. There had already been several others in the US charts, including Mark Dinning's Teen Angel in 1959. Songwriters Jeff Barry and Ben Raleigh tapped into this with a song that was originally about a guy competing in a rodeo. Barry's publisher suggested listeners might identify more readily with someone killed in a car crash than someone being gored by a bull. Barry went on to co-write Do Wah Diddy Diddy, Da Doo Ron Ron, Sugar Sugar and Leader of the Pack and Raleigh wrote the theme song for Scooby-Doo.
While the Everly Brothers scored with Ebony Eyes and the Shangri-Las had a big hit with Leader of the Pack – complete with screeching tyres and screams of "Look out, look out, look out!" – Valance never found another song that came anywhere near Tell Laura I Love Her. He tried with a succession of death songs, including Six Boys – the boys in question being pall-bearers at a funeral.
In 1962 he was fined £15 on a minor assault charge and he blamed this for damage to his reputation and the dip in his career.
But the basic problem was that his songs were just not very good. Tell Laura I Love Her is dramatic, melodramatic, memorable; Six Boys is dull and forgettable. By the time Six Boys came out in 1965 Valance had had a series of flop records on Columbia and had switched to a new label – Decca, finger on the pulse as ever. Death discs had had their day and the world was in the grip of Beatlemania.
Unable to build on his initial success, Valance struggled with mental health issues and maintained that his wife and his rediscovery of God saw him through bouts of serious depression. But he retained a core fan base, people remembered Tell Laura I Love Her and he found work in cabaret, holiday camps and on nostalgia package tours.
He recorded a country album in Nashville, and for many years he lived in Spain, where he hosted a golf programme on television, before moving back to England, making his home in Skegness. Recently he suffered from dementia and he had been in hospital for months. He is survived by his wife of 62 years Evelyn and by their two children.