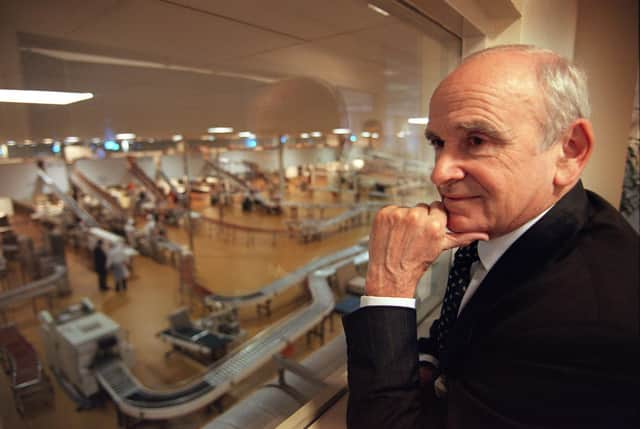 Raymond Miquel, then chairman of Lees' the confectioner, at its Coatbridge factory
Ray Miquel was never one not to push himself. A stranger to modesty and completely driven, he captained Bell's Whisky from the helm of his destroyer, torpedoing competitors while avoiding business minefields. Enlisting in Bell's at age 25, he reached the bridge within nine years, developing it into a major brand here and in North America.
In a long business life during which he became chairman or director of a score of companies, he took no prisoners. Yet it was that selfsame insatiable drive that saw him and his beloved Bell's sunk, when – while in the United States negotiating a major acquisition – a dawn raid on the stock market saw him left without a lifebelt.
Bell's was the hugely successful business that under Miquel's direction had increased profits every year since flotation in 1971, with such growth that it had become the nation's favourite whisky with a 28 per cent market share. In June 1985, Miquel was in the Westin Hotel in Chicago to buy the luxury portfolio of Westin Hotels from United Airlines, then in financial difficulties. With a deal tantalisingly close, he was called from Scotland by Geoff Cooper, Bell's finance director: Guinness plc had just confirmed a takeover bid for the distiller to the stock market. With his own deal nigh complete, Miquel assumed that Bell's-plus-Westin would be too big for Guinness to afford. But legal advice was that deal-making during a takeover bid breached stock market rules, so Miquel's Westin plan was shelved until resolution of the Guinness bid.
His mood lightened when a score of photographers greeted him on arrival back in the UK by Concorde. But that ray of sunshine vanished when in the battle with Guinness, it transpired that the gameplan of wily chief executive Ernest Saunders had been meticulously prepared. Not only did Guinness claim Bell's had "lost its way", it stressed lack of a substantial sales base in the US. Further, Miquel was left without corporate financiers Morgan Grenfell, Saunders having poached them, as well as cleverly tying the hands of Bell's legal adviser. Even at home, Miquel faced a Scottish establishment so well courted by voluble assurances from Saunders that the body of the business press took Liberal MP David Steel's view in backing the deal. A decade ago, Miquel admitted: "We ran an awful campaign. He [Saunders] knew all about us".
From the vicissitudes of sport Miquel learned early how to lose and when to move on. He played tennis to a serious level, successfully competing in athletics into his mid-50s. He took the same attitude into the boardroom, training daily, and expecting his staff to do the same. One story is that he had senior executives out for a training run on the South Inch in Perth on Christmas Day.
He basked in being hailed as having saved the Ryder Cup when, in 1982, he orchestrated a £300,000 sponsorship to maintain the tournament in the golfing calendar. At the Gleneagles event in 2014, Miquel, whose home lay within an iron shot of the first tee, confessed himself "astounded" at the international scale of the competition he had assisted.
Raymond Clive Miquel presented a curious mixture. Born in London the son of an immigrant chef, he was raised in Glasgow from 1943 when his father gained a post in the city's Central Hotel. He thrived on exceptionally hard work, yet could be acutely status conscious. When, as chairman of the Scottish Sports Council, he visited Scotland's 1990 Commonwealth Games Team in Auckland, New Zealand, he insisted on having a team blazer made for him. Accused of being publicity conscious, he retorted: "I invented the term".
Car parking spaces at the Bell's HQ at Cherrybank in Perth were strictly ranked, with vehicles parked nose first to the building to avoid leaving exhaust marks on the white harling. He drove his staff relentlessly, once remarking: "Wives and families are for weekends and holidays". Staff addressed him as "Mr Miquel". He had a Marmite reputation. "His fellow directors were merely cyphers" said one businessman. Senior managers were not allowed to leave until well into the evening. But he was respected and few argued that his refusal to delegate was anything other than his own form of leadership.
He rejoiced in his academic honorific after being appointed visiting professor in business development by Glasgow University. Miquel attended the long-defunct fee-paying Allan Glen's School in Glasgow, ever after giving short shrift to those raising the jibe that Allan Glen's excelled only in "woodwork and metalbashing". The precision he learned both there and at the Royal Technical College brought him the post of works study engineer in 1956 aged 25 with Arthur Bell & Sons Ltd in Perth. His arrogance was more than matched by his ability in building Bell's into a market leader. The business became his life, such that after being ousted, he never really found a niche again. Even so, he steered Belhaven Brewery, Deep Pan Pizza and latterly Lees to success.
Pushed out of Belhaven after a boardroom battle, by 1993 Miquel looked to Lees of Coatbridge, an old-fashioned confectionery firm tottering across two dilapidated factories. He turned it into Lees of Scotland, operating from efficient premises. His son Clive, chief executive of Lees, stepped out of the shadow of his father the year that Lees announced its first £1 million profit. Miquel Sr, however, was forced to step down in 2009, a move that surprised observers, given Ray's mantra that he would "never retire". For Ray Miquel, age was simply a number, and his batteries remained on supercharge to the end.
Miquel was predeceased by his wife Nancy. They had three children; daughters Carolyn and Yvonne; and Clive.