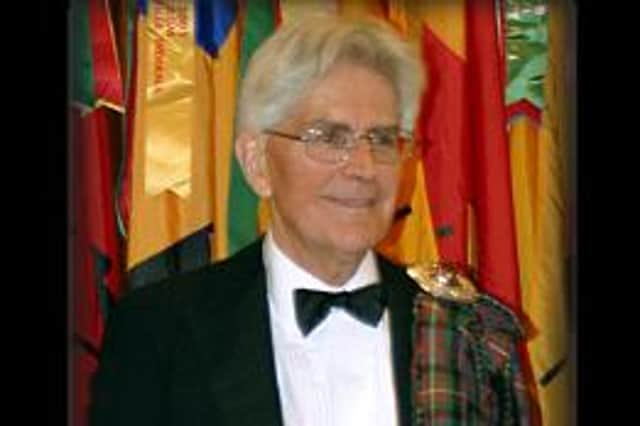 The fact that Ranald MacDonell of Glengarry lived some 600 miles from his ancient chiefly seat counted for little when it came to representing his clansfolk. A born traveller from infancy, he cheerfully would depart his home in Surrey to lead events that mattered to him and those whom he represented.
As 23rd Chief of Glengarry, Aeneas Ranald Euan MacDonell was an important member of the High Council of Clan Donald – a grouping of the major independent branches of Clan Donald chaired by The Lord Macdonald of Macdonald, High Chief of Clan Donald and 34th hereditary Chief of Clan Donald. Other High Council members are: Ranald MacDonald of Clanranald, 24th Captain and Chief of Clanranald; Sir Ian Macdonald of Sleat, 25th Chief of Sleat and 17th Baronet; and the Right Honourable Randal McDonnell, 14th Earl of Antrim and Chief of the McDonnells of Antrim.
One of four patrons of the 1745 Association, a recent visit by Glengarry was to unveil a plaque on Falkirk High Street at the entrance to Falkirk Trinity Churchyard where his collateral ancestor Aeneas, younger son of the 12th Glengarry, is interred.
Aeneas was accidently shot by his own side following the Jacobite victory at Falkirk Muir on 17 January 1746, when the army of Prince Charles Edward Stuart convincingly defeated Hanoverian troops under General Henry Hawley, until then considered the flower of the Government military machine. On a snowy January day, Glengarry was shown over the battle site by Michael Nevin, chairman of the 1745 Association.
Said Mr Nevin: "Glengarry served the Association with unfailing courtesy and loyalty. He and (his wife) Carolyn presided at our annual dinner in 2018 and always gave their time to the Association generously and without recompense".
The young Ranald was born into travel. His Irish mother Diana née Keane was pregnant with him when she fled the perils of wartime England for her home in Dublin. His father, the acclaimed RAF fighter pilot Air Commodore Aeneas Ranald Donald MacDonell, 22nd of Glengarry, commanded a Spitfire squadron during the Battle of Britain, but was himself shot down and taken prisoner. The news that her husband had survived took so long to come through that Diana wondered if she had been left a widow.
Educated in post-war Dorset, Ranald showed his academic mettle by studying modern languages at St John's College, Cambridge. Eschewing academia, he entered business, travelling the world as a director of an international company, and as President of Euroalliages, an association of European ferro-alloy producers..
The pleasant enigma of Glengarry is that for someone so thoroughly anglicised (he was the fourth generation educated and raised in England), he wrapped himself in the history and culture of Scotland, albeit it as one acquaintance remarked: "….while remaining as roast beef as Old England". Succeeding as chief in 1999, he took his responsibilities seriously, proved learned in Clan Donald history, wore the kilt well, and in his unassuming manner rarely missed a major clan event.
In 2005, he took part in a ceremony in Glencoe when a Macdonald clan herald was installed into office for the first time for 510 years. In a splendid re-creation of Highland history, Edinburgh solicitor Adam Bruce was sworn in as Finlaggan Pursuivant in front of a gathering of 100 Macdonald clansfolk and their supporters, headed by Lord Macdonald, with Glengarry one of the assisting chiefs in anointing the new pursuivant by sprinkling wine on his head.
The 13th titular Lord MacDonell picked his ancestry well, tracing his lineage back to John, Lord of the Isles (a title now held by Prince Charles), and before that the 12th century King Somerled.
Longevity ran in his line. Donald, 8th of Glengarry, was a centenarian, and chief for over 70 years. A century later, clans under Glengarry took the Jacobite side in both major Jacobite Risings of 1715 and 1745.
A collateral ancestor who gained infamy was Col Alasdair Ranaldson MacDonell, 15th of Glengarry. With himself swathed in tartan, he had his full-length portrait painted by Sir Henry Raeburn. His arrogance and flamboyance gave Sir Walter Scott the model for the haughty Highland chief "Fergus MacIvor" in Scott's pioneering historical novel Waverley of 1810. In the geographic Glengarry, the titular Glengarry cleared land for lease to sheep farmers, and through rent rises and evictions, forced his clansmen to emigrate, largely to North America.
In retirement, the very different 23rd of Glengarry gave of his time teaching English to immigrants from the extended European Union. A music lover, he sang first bass with a local choral society near his home in Reigate.
Glengarry died after a long battle with cancer. By his divorced wife Ann née Hind, he has two daughters, Fiona Jane and Victoria Ann. He is survived by his children and grandchildren, and second wife Carolyn née Richardson.
He is succeeded in the chiefship as 24th of Glengarry by his younger brother Patrick, a science graduate who lives in Yukon, Canada.
(This obituary has been updated from the earlier version that appeared online)