Obituary: Pat McCluskey
Patrick McCluskey, footballer. Born: April 13 1952 in Kilsyth. Died: August 24 2020, aged 68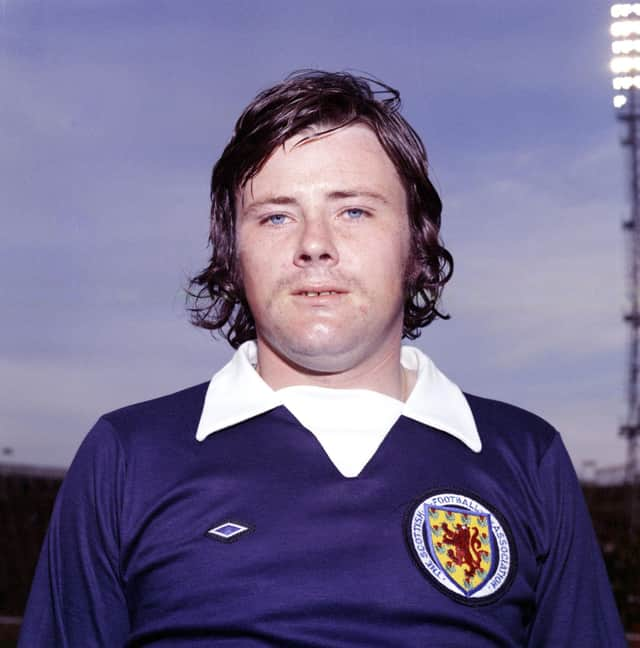 Pat McCluskey in his Scotland strip for the 1974-75 season
Pat McCluskey was a classic example of the type of player who was the backbone of so-many successful Celtic and Rangers teams – the fan on the park, living the dream by pulling on the famous shirt.
A Kilsyth boy, he had broken into his school team at an early age, then won trophies with Glasgow Amateurs in the youth ranks. He then briefly played junior football with Maryhill, prior to signing his first Celtic contract in May, 1969.
He became one of the fabled "Quality Street Gang," the coterie of impressive young talents Jock Stein nurtured, playing in the reserves alongside the likes of Danny McGrain, Kenny Dalglish, David Hay and George Connelly.
Initially, however, aged just 16, he was sent out on loan, to Sean Fallon – and McCluskey's father John's old club, Sligo Rovers.
McCluskey made a very-good impression in the League of Ireland and at the end of that 1969-70 season, where, unknown to him, former Celtic player John Colrain, then managing rivals St Pat's Athletic, was monitoring his progress and reporting back regularly to Celtic Park.
At the end of that one season, in which he had helped Rovers reached a couple of cup finals, he was recalled to Celtic.
McCluskey made his Celtic debut in a Glasgow Cup tie, against Clyde, in May, 1971 and by the end of the following season he was pushing for a regular place in the side.
His case was helped by the way, after being thrown-on as a substitute for Jim Brogan, in the first leg in the Samn Siro, he played outstandingly well against Inter Milan in a European Cup semi-final, at Celtic Park, in April, 1972. The teenage McCluskey even had the confidence to take and score one of the penalties in the shoot-out, which the Hoops lost 4-5.
With the old guard of Lisbon Lions reaching the end of the line at Celtic Park, in season 1972-73 McCluskey's name began to appear with greater regularity on the team sheet.
His versatility did him no harm – he was equally comfortable at full-back, in central defence or as a hard-tackling midfielder. McCluskey certainly played his part in the later years of the run of nine consecutive league titles.
It came as no surprise when he began to collect Scotland age group honours, gathering the first of six Under-23 caps when selected to face England during his big breakthrough season of 1972-73.
He made his first Under-23 appearance, in a 1-2 loss to England, at Rugby Park, in February, 1973 and in his six games at this level, he played with some future Scotland legends.
The last of these honours came against Denmark, in February, 1975. Scotland won 1-0, then, 24-hours later the main Scotland team also won 1-0 against the Danes, in Copenhagen.
In the wake of that win, some of the players broke curfew for "a wee swally." Back at the hotel, there was a bit of horseplay, an altercation between skipper Billy Bremner and an SFA "blazer" and as a result five players, including McCluskey, were banned from ever representing Scotland again.
Joe Harper and Arthur Graham were subsequently forgiven, but, for Bremner, Aberdeen's Willie Young and McCluskey – there was no reprieve.
The surprise signing of Hibs' legend Pat Stanton marked the beginning of the end for McCluskey at Celtic, with Stanton displacing him in the team and, in September, 1977, after 189 games, and with three Scottish League-winner's, two Scottish Cup-winner's and one League Cup-winner's medals to his name, he was, surprisingly, sold to Dumbarton for £20,000.
After three seasons and 125 games for the Sons, he moved on to Airdrie before, after a season in the Indoor Soccer League in the USA with Pittsburgh Spirit, he ran down his football career with Queen of the South.
In all, he played more than 400 senior games.
Pat McCluskey was a somewhat underrated talent. He was rather more than a "journeyman," was never phased by the big occasion – putting away one or two crucial goals from the penalty spot – and never gave less than 100 per cent.
He was also referred to as "Fat Pat," even by the Celtic fans.
He used to joke that the famous hooped shirts made him appear somewhat broader than he actually was. More likely, he was mesomorphic – having a chunky, muscular body type.
After football, McCluskey spent some years working offshore in the oil industry, but, in later life he returned to Celtic Park, as a member of their match-day corporate hospitality team, where he discovered, the Celtic fans had never forgotten him.
He was a very popular host at Celtic Park, with the fans recognising him as one of their own.
He also "knew his history," and was a regular attender at Celtic Graves Society events.
McCluskey continued to live quietly in Kilsyth, happiest among his friends and in familiar surroundings.
As an old Celtic team mate said: "Pat was always a quiet man, but he was a tremendous teammate, who really played for the jersey."