Obituary: Nick Radcliffe, TV journalist, reserve officer and businessman
Nick Radcliffe, TV journalist, reserve officer and businessman. Born: April 27 1952 in Wells, Somerset. Died: January 15 2021 in Edinburgh, aged 68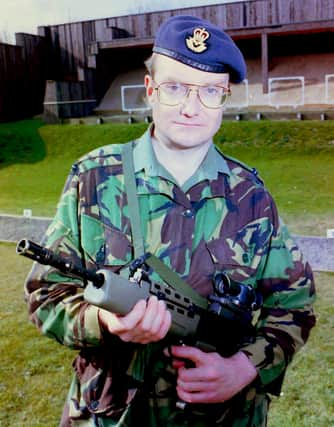 It can truly be said of former television journalist and news presenter Nicholas Radcliffe that he would never knowingly do anyone a disservice. Quite the reverse, as time spent in his company would be full of good humour, interesting observations, perhaps even high jinks – and certainly a glass or two to lighten the proceedings.
Nicholas John Richard Radcliffe, who died on January 15 at the Erskine Home in Edinburgh, was born and bought up in Wells in no less a place than the gatehouse of the Bishop's palace.
Educated locally, he attended Edinburgh University and graduated with a degree in phonetics before moving into broadcast journalism.
It was Nick's time with Scottish Television for which he will best be remembered. He was one of the first journalists on site in March 1978 when the Penmanshiel tunnel on the East Coast main line collapsed and he was also on duty on July 6, 1988 at the time of the Piper Alpha oil rig disaster in the North Sea.
Michael Mulford, former STV Producer/Director, said: "Nick was a consummate professional broadcaster and reporter; as a newsreader, unflappable.
"He mastered the art of news reporting, and the critical value of pictures. He could be somewhat thrawn and stubborn, but always without malice, and always in a delightfully irritating way."
Nick married Denise Taylor in April 1981. They met while Nick was covering a news story at the Royal Botanic Gardens in Edinburgh. Sadly,Denise died in September 2006,
In the early 1990s Nick left STV and set up his own company, Black Bear, producing corporate and safety videos as well as training companies in crisis management and the media.
Richard Ord soon became a partner in Black Bear Productions, running the administrative and financial side of the company and leaving Nick free to concentrate of the creative aspects of the business.
He recalls: "Nick was a friend, business partner, luncheon companion, fountain of knowledge on many subjects, history and military, news and politics, commenting on many subjects and politicians' foolishness or otherwise, and on a good malt whisky with a little water, kind and generous – we will miss him. Per Ardua ad Astra [Through adversity to the stars]."
During those year's Nick joined 7644 Squadron, RAuxAF, a specialist media group which worked with the RAF and Nato during humanitarian crises and conflicts.
Wing Commander Steve Dargan, an OC of 7644 squadron, recalled, "Commissioned into the RAF reserves in 1994, NickRadcliffe spent a decade devoting his formidable talents to training RAF personnel in how to work with the media.
"Outside his specialist role, Nick became an enthusiastic and conscientious flight commander, mentoring 'never served civilians' transitioning from recruit to useful RAF officers.'
In recent years Nick had been suffering from Parkinson's Disease, but even in his twilight hours he still managed the witty quips and maintained the fastidiousness of his dress.