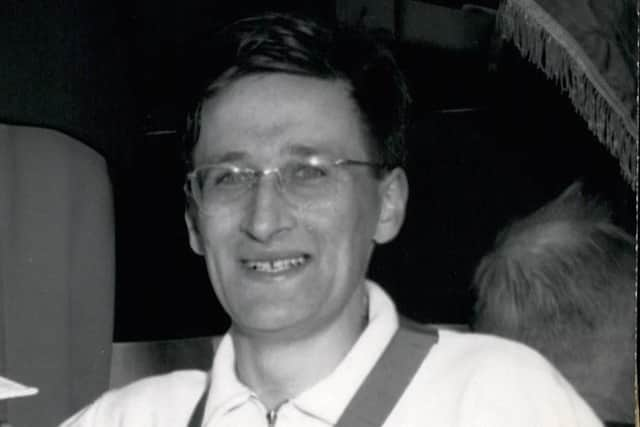 Martin Hyman pictured in 1961
Martin Hyman was an acclaimed English long distance athlete who in the 1950s and '60s competed widely at the top level and from 1979 onwards lived in Scotland where he made a huge contribution to the sport as an inspiring coach, mentor and meticulous administrator. With his distinctive high-stepping style he excelled over roads, at cross country and on the track in his speciality distance of 6 miles and its metric equivalent, 10,000 metres. Highlights of his career included appearances for England in the Commonwealth Games at Cardiff and Perth, and for Britain at the Rome Olympics and European Athletics Championships in Belgrade. In addition he ran for Great Britain regularly in international matches, captaining the mens' team in the early 1960s, and was a multiple British Championships medallist.
He enjoyed numerous successes including the Jean Bouin race in Barcelona and Sao Paulo New Year's Eve event in Brazil, beating famous Olympic marathon champion Abebe Bikila and setting records in both. Over the country his greatest achievement was 3rd place in the International Championships in Nantes in 1961, while he was a member of Portsmouth Athletic Club's team which won the English national title three times in the 1960s.
Martin Hyman was born in Southampton to Edward, a trade union official, and Eleanor. With sister Eleanor and brother Richard he was initially brought up in Southampton before the family moved to Jersey for his father's work. After the outbreak of war, remaining there was perilous as Edward came from a Jewish family, so shortly before the German invasion in 1940 they fled back to Southampton. As refugees, life was hard but while Martin had to attend numerous schools he won a place at Southampton University. Despite physical frailty, a growing interest in running gave him focus and while not a natural athlete, application and determination saw him competing for the University's cross country team, the start of his lifelong involvement in running.
Another pivotal event was joining Portsmouth A.C., where he met lifelong friend and well-known international runner, Bruce Tulloh, with whom he trained regularly and formed a mutually beneficial coaching relationship. They were keen students of developments in training methods, adapting programmes to their needs.
Martin had to undertake National Service but as a conscientious objector did so with The Friends' Ambulance Unit, in London and Linz, Austria. While living in a hostel in London he met fellow resident Margaret Veal from Sussex, then a secretarial student. The couple married in August 1958 at Horsham and enjoyed 62 happy years together, during which they had sons Michael and Patrick.
In athletics, 1958 was his breakthrough year. He won the National Universities' cross country title and made his international debut on the track for England at 6 miles in the 1958 Cardiff Games, where he finished a highly creditable 4th, first Englishman and bettering the Games record. A lack of natural finishing speed let him down as he was well in the reckoning until the final lap.
Martin also made his British debut that year, winning the 10,000m against France in Paris, and in 1959 also represented Britain several times. In 1960 he was selected for that event at the Rome Olympics and finished 9th, a disappointment cushioned by a personal best time. But like many colleagues, he was highly critical of officials who had only permitted three days' acclimatisation in the sweltering Roman heat. Shortly after he was appointed chair of the International Athletes' Club to promote athletes' interests with officialdom.
In 1961 he set a national record at 6 miles and a year later finished 5th in the Perth Games at 6 miles and 4th in the 10,000m in Belgrade, his lack of finishing speed especially galling as he missed a medal in the former by 1/10th of a second, while in the latter he recorded the same time as the bronze medallist. Although he did not participate in more international championships, he continued running successfully throughout the '60s in all disciplines.
A biology teacher by profession, in 1979 he was persuaded by a colleague in Swindon who was appointed head teacher at Inveralmond High School in Livingston to join him there. A highly regarded teacher, Martin retired as assistant head in 1993 and remained in Livingston. He became heavily involved in the running scene, initially with the local Livingston Club and from about 2000 with the Lothian Running Club he helped found. Martin's involvement covered all aspects and was recognised by his being accorded Honorary Life Membership of Scottish Athletics.
He continued running competitively at Masters level, including cross country and hill running; he coached and encouraged young athletes especially, irrespective of level of ability, and devised courses for cross country, road and hill running. Convenor of the Hill Running Commission and a pioneer of Orienteering, he instituted regular weekly training sessions, initially for orienteers in Edinburgh's Meadows, which expanded to include runners of all standards. With him at the helm these weekly sessions became legendary and ran for over 30 years.
His approach to coaching was athlete centred in terms of advising on training programme options and encouraging athletes to take responsibility for their own development. He strongly believed in the wider benefits of participation for youngsters and was driven by a desire to give something back to the sport, on occasion paying for running shoes himself for those whose family could not afford them. The number of warm tributes since received by his family bear testament to his success.
Apart from family and running he enjoyed the Great Outdoors and chess, supported CND and was a lifelong fan of Southampton F.C. A committed socialist, he was a humane, understanding individual who looked for the best in people and inspired many to better themselves.
He is survived by his wife, sons and brother.
If you would like to submit an obituary, or have a suggestion for a subject, contact [email protected]
A message from the Editor
Thank you for reading this article. We're more reliant on your support than ever as the shift in consumer habits brought about by coronavirus impacts our advertisers.
If you haven't already, please consider supporting our trusted, fact-checked journalism by taking out a digital subscription.