Obituary: Margaret Salter, Scottish child development expert
Margaret Caldwell Salter FRSE, Professor Emerita of Developmental Psychology. Born: June 16 1926 in Paisley. Died: September 16 2020 in Edinburgh, aged 94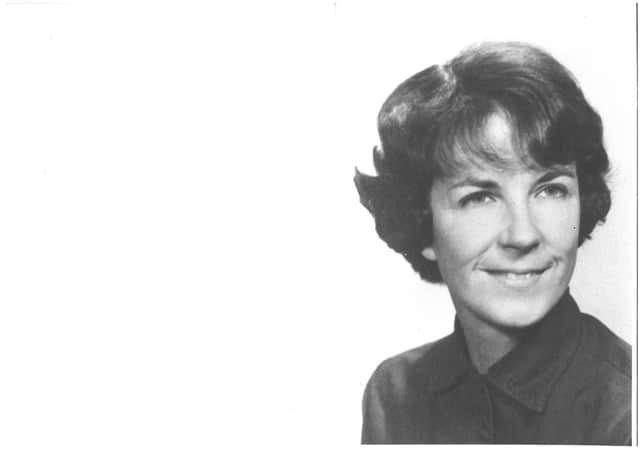 Margaret Salter once hitched a ride on a Lancaster bomber
Margaret Salter was an influential child development expert whose innate affinity with children and fascination with their thinking vastly improved the lives of countless youngsters around the world.
Her seminal work, Children's Minds, first published in 1978, remains as informative and perceptive today. Yet she came to the field via a somewhat circuitous route – starting out as a student French teacher amid the chaos of post-war continental Europe before joining the army. Only later did she switch her focus fully to psychology, spending 35 years as an academic at her alma mater, the University of Edinburgh, where she was awarded a personal chair in developmental psychology.
Professor Margaret Donaldson-Salter was born in Paisley, the daughter of wholesale clothier James Donaldson and his wife Agnes, a primary school teacher. When the Great Depression hit the family business they moved to Perthshire where they ran Aberfoyle's Post Office and shop and young Margaret was educated at the village primary and Callander's McLaren High School.
Along with her two younger brothers she enjoyed an idyllic childhood, which shaped her subsequent achievements, but the family endured two tragedies in quick succession when their parents died within four years of each other.
Margaret was just 17 when she lost her mother and 21 when her father died, a formative time that saw her embark on a French degree and spend a year in France teaching at a Lycee in Rouen. She had been ready for adventure when she arrived in Normandy shortly before victory over Japan in August 1945.
Soon afterwards, while travelling through Europe to a student conference in Prague, she witnessed the turmoil six years of conflict had wreaked on the continent. Having made the outward trip by train, the return journey was rather more unorthodox: she hitched a lift back on a Lancaster bomber, seated in the only available accommodation – the empty bomb bay.
During her time in France she also visited a young British sailor suffering a broken back and stranded in a local hospital, unable to communicate in French. When she discovered there was no progress in his repatriation she took up his case, telling the British Consulate she would ask her MP to raise the patient's plight in the House of Commons.
Miraculously, a helicopter was swiftly mobilised to transfer him to the UK – an early demonstration to the spirited young student of the positive power her influence could exert.
Graduating MA with First Class honours in 1947, she then joined the army, received a commission and worked in personnel selection for a time. A spell teaching French in a Kirkcaldy secondary school followed before she returned to Edinburgh University to take a B.Ed degree in psychology – a subject she had studied briefly as a teenager – and education. Graduating again in 1953, she became an assistant in the institution's education department.
Four years later, as a researcher at lecturer level, her fluent French helped secure the opportunity to spend a year in Geneva with the renowned Swiss psychologist and child development pioneer Jean Piaget, who would prove a huge influence on the direction of her work.
The following year she took up a lecturing post at Edinburgh and in the early 1960s was awarded a John Hay Whitney Fellowship, spending a year in the United States. There she was a visiting lecturer at Rhodes College, Tennessee and visited Harvard University where she met the distinguished American psychologist and educator Jerome Bruner, with whom she became good friends.
She was a reader in psychology when she met her future husband Stephen Salter, an Edinburgh University engineer working in artificial intelligence and planning to build a robot with the intellect of a five-year-old. He sought her knowledge of how children thought at that age and the pair hit it off, marrying in secret when she was 46 and mischievously causing confusion by announcing that Dr Donaldson's lectures would now be given by Dr Salter.
Promoted to a personal Chair in 1980 she made history at Edinburgh University as the first married woman professor.
Throughout her career she was dedicated to fostering children's confidence and understanding of themselves and their environment, facilitated through adults' greater appreciation of the world through the lens of a child.
She was also passionate about promoting reading and once advocated replacing sweets at supermarket checkouts with children's books.Her own insightfulness and ability to immerse herself in a child's realm produced several children's fiction books including Mindar, the tale of a boy living in the Middle East 4,000 years ago, and Journey into War featuring the adventures of an English girl and two Polish boys in 1940 France.
Other professional publications included R&D, Reading and Language Programme for the Primary Years, written in collaboration with her closest friend Jessie Reid, and Human Minds: An Exploration.
By the time the latter was published in 1992 she had retired and her pioneering work had been recognised with: the book Understanding Children: Essays in Honour of Margaret Donaldson; her portrait in the Scottish National Portrait Gallery; and honorary life membership of the United Kingdom Reading Association. She would also become an honorary fellow of the British Psychological Society, fellow of the Royal Society of Edinburgh and receive an honorary doctorate from the Open University.
Retirement saw her return to an earlier love of painting, creating a mix of abstracts and moody images reflecting people and their emotions. Later she discovered digital technology and embraced the infinite possibilities computers offered to re-imagine photographs, focusing in on and re-working details to produce spectacular large scale prints.
As with her art, her influence is encapsulated succinctly by one friend: "Margaret was one of these unique people who can change the way you view the world."
She is survived by her husband of 47 years, Stephen Salter, emeritus professor of engineering design at Edinburgh University.