Obituary: Margaret Grant, Scot who founded Brittle Bone Society
Dr Margaret Thomas Johnston Grant MBE, Brittle Bone Society founder. Born: June 29 1933 in Dundee. Died: December 2 2020, in Dundee, age 87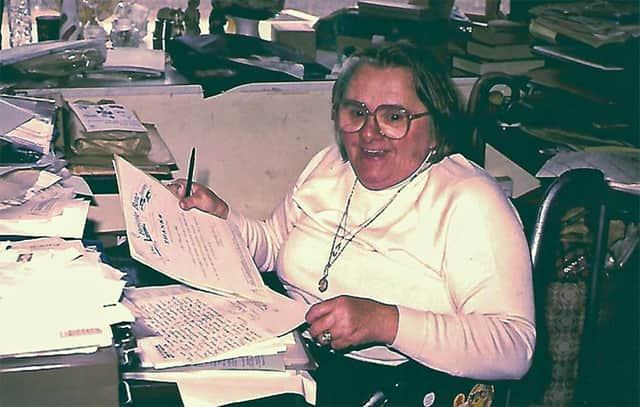 Living with Osteogenesis Imperfecta inspired Margaret Grant to establish Brittle Bone Society
Margaret Grant had lived with the debilitating bone disease Osteogenesis Imperfecta all her life when her baby girl was born with the same rare disorder.
Although evidence of the brittle bone condition, known as OI, dates back as far as 1000 BC, by Margaret's birth in the 1930s little was known about its diagnosis and treatment.
Nothing much had changed by the time her daughter arrived.
Having recognised for many years that there was a lack of both knowledge among the medical professionals and support for those living with the disease, she now resolved to change the situation.
And in 1968 she established the Brittle Bone Society, the world's first charity to assist the OI community, in her hometown of Dundee, and went on to become a leading authority on the condition.
The daughter of school catering assistant and jute mill worker Margaret Wilson and her husband Charles, a painter at Dundee's dockyards, she was educated at the Trefoil School in St Abbs.
She met her future husband, David Grant, back in Dundee, while Scottish country dancing at a local church, and their daughter was born in 1961.
Seven years later she achieved her aim of setting up an organisation to highlight brittle bone disease and her pioneering work saw her named Dundee Citizen of the Year in 1975.
Margaret received the Osteogenesis Imperfecta Foundation (USA) award in 1982 for hosting the first international conference for people living with the condition.
Today the society has thousands of members and supporters and works closely with National Health Service specialised hospitals and world-leading healthcare professionals throughout the UK and beyond.
It provides frontline support and raises thousands of pounds each year to help fund the supply of wheelchairs and equipment and to promote better care in the sector.
Margaret Grant was the organisation's driving force for decades, displaying meticulous attention to detail while dispensing pearls of wisdom with a well-honed sense of humour.
She drove around Britain giving inspirational talks, urging others to take up the baton and form local groups of the society.
She held annual conferences, helped with medical articles, organised fundraising events the length of the country and and sat on street corners rattling collection cans.
Particularly close to her heart were all the children affected by the condition and her dedication to them and the estimated 5,000 individuals in the UK living with OI was recognised in 1989, when she was honoured with an MBE for her achievements.
The previous year she had been awarded the Tunstall Telecoms National Caring Award.
It is believed that approximately one in 15,000 people are born with the condition, which is caused by a genetic mutation affecting the production of collagen, the protein that forms the bone structure's framework.
This leads to weak fragile bones, liable to fracture at any moment, and can cause severe physical disability.
Even without fractures, quality of life can be significantly affected by other symptoms including scoliosis, hearing and height loss.
The charity celebrated its 50th anniversary in 2018 when Margaret Grant's personality lit up the room during the festivities.
That same year she was awarded an honorary Doctor of Laws degree by the University of Dundee, an accolade accepted on her behalf by her daughter Yvonne.
While her priorities were always her family and supporting others with brittle bone disease, Margaret Grant also found time to relax by reading and writing poetry, enjoying a range of music, reading books – from Scottish history to the Bible – and visiting churches and cathedrals. In addition, she was a Girl Guide captain.
And it was clear that Margaret Grant, a proud Dundonian who had been living with a series of long-term health conditions, was held in great affection by the OI community across the world as members paid tribute to her.
Brittle Bone Society chairman Elaine Healey said: "Margaret is loved so much by everyone from the charity she created. She devoted her life to raising awareness of OI.
"All of us who now enjoy improved support whilst living with the condition owe a debt of gratitude to Margaret for all the battles she fought and won for people living with this rare condition."
The charity's vice chairman, John Phillips, added: "Margaret was a woman of great importance in the Rare Disease movement," and he pledged to ensure her memory is suitably honoured.
The history of the charity's important early work that Margaret Grant pioneered has already been entrusted to the University of Dundee, which is archiving and preserving the society's past to record its enormous impact on the care of people with OI.
Margaret Grant is survived by her husband David and daughter Yvonne, a trustee of the charity of many years, who hope she will be remembered with happiness, laughter and smiles.