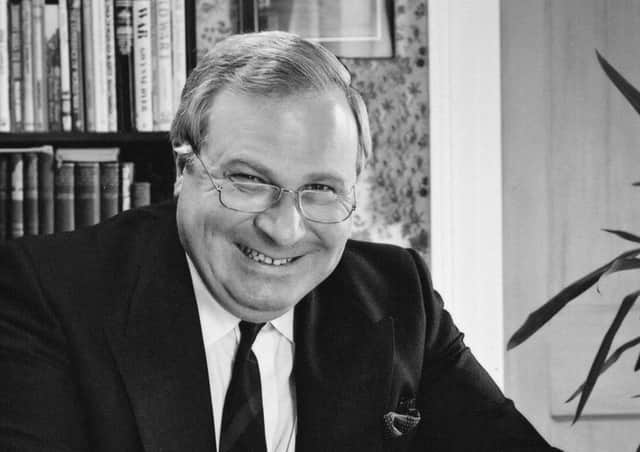 Les Howie was born to be a teacher. Leslie George Howie (known to his friends as Les) was the son of George and Else Howie. He was educated at Leith Walk Primary School, Broughton High School, Dundee University and Moray House College of Education.
I first met Les in the autumn of 1972 when he came into my history department at Craigmount High School as my very first student. He was a brilliant student and was my first permanent appointment to the history department. He was such a good historian with a wonderful ability to impart knowledge in such innovative and interesting ways. It was clear from the beginning that he had exceptional abilities as a classroom teacher. It was also apparent that he wasn't going to toe the party line and accept any pearls of wisdom from the senior management team. He was his own man.
After Craigmount, Les's teaching career took him to the post of principal teacher at Whitburn Academy, where he had great success in promoting his subject among his pupils. In 1987 he went to George Watson's College in Edinburgh, where he taught history for the next 20 years.
His transition to the private sector did not in any way steer him towards taking a more conservative and mature view of senior management. As one of Watson's senior management team gently put it "he was a lovely colleague to work with but prepared to branch out... if he thought that his was the better way".
Les will be remembered as a legendary teacher in George Watson's College. There he has left a legacy of inspirational teaching, the gratitude of numerous former pupils and exceptional service to the school. He was the history teacher par excellence. His classroom was a treasure trove for young people who were interested in history. This is what a pupil wrote in the school magazine when Les was retiring:
"What other teacher has barbed wire in their classroom? Samurai, British and German Army uniforms hanging on the walls? Authentic hand grenades on their desk and a picture of Hitler driving past the Brandenburg gate?"
His former depute principal, Anne Brobbel, also understood the importance of his classroom to his teaching: "One look at his classroom", she wrote, "spoke volumes for his love of the past, people, buildings and places. Political and social movements were all represented in vibrant posters, old documents, colourful artwork and, of course, the work of his pupils front and centre".
Les, however, was more than an inspirational classroom teacher. He understood that his responsibility to pupils and to the school did not end in the classroom itself. He and his history departmental colleague, Graham Gibb, organised and led so many successful trips to the battlefields of the Western Front. Those of us who were privileged enough to accompany one of these trips could see the sheer depth of knowledge and understanding that the pupils received. But the trips were more than that. Pupils bonded, they understood the horrors of war, they appreciated their own school's contribution to the war effort, they visited the graves of family members, they attended the nightly ceremony at the Menin Gate in Ypres and they returned home with a new view of the world.
These trips, along with several trips to Berlin, inspired Les to revamp the Remembrance Services held each November at the school. As the Watsonian put it, they were changed "from faceless acts of remembrance to a meaningful and moving service in which today's generation of pupils can connect with the sacrifices made by their counterparts of sixty and ninety years ago".
Yet Les's great love was pipe bands. He had been a drummer himself as a pupil at Broughton High School. He was determined that this important part of Scottish culture should be celebrated in Scottish schools. At Craigmount he set up the Craigmount Pipe Band in 1974, which became the most successful state school pipe band in Scotland at the time. Those of us who taught with him at that time watched in awe as this young teacher used his enthusiasm, his organisational skill and his ability to motivate pupils to persuade them to take up piping and drumming. It was a world that most of them did not know; yet many of that original group are still involved with pipe bands. What Les achieved at Craigmount was exceptional.
When he moved to Watson's from Whitburn Academy, Frank Gerstenberg, the then principal of George Watson's, was looking for a history teacher. I was Les's referee. In conversation, Frank mentioned that he was also looking for someone who would revive, refresh and develop the school's pipe band. I said: " Les Howie is your man." Frank certainly ticked both boxes when he appointed Les to Watson's.
Les used all his previous experiences at Craigmount to set up these marvellous years of success, both national and international, which George Watson's Pipe Band continue to enjoy. The band was his pride and joy both at school and in retirement. He regaled us with news of the band, YouTube videos of the band, future engagements and pictures of the band's latest triumphs. When Les celebrated his 70th birthday last summer at Myreside, the band played for him. The band made a great effort in travelling back to Edinburgh from a competition especially to play for him. He really appreciated that.
Les was a historian as well as a history teacher. He had a deep knowledge and love of Scottish history and all things Scottish. He never forgot his Scottish roots. He was a proud Scot. Not surprisingly, given his mother's background, he also had a lifelong love of Germany, its language and its history. For many, he will be remembered for his unrivalled knowledge of Edinburgh, its history, culture, streets, buildings and, especially, its cemeteries. His lifelong involvement and interest in the Boys' Brigade led to the co-authorship of two interesting and detailed volumes entitled Badges of the Brigade.
Watson's, however, was his life. He had a deep historical knowledge of the school. He was for some years the editor of the Watsonian. Fittingly, his career came to an end with the publication of his illustrated history of George Watson's College. It was a labour of love and such an appropriate way to end his association with Watson's. Les was not himself a Watsonian yet he was a Watsonian to his fingertips.
His sudden death has been a great loss. There are many former pupils who will mourn the passing of a very special teacher and mentor. Many of us have lost a loyal friend who impressed us with his knowledge, regaled us with his stories, infuriated us with his irreverence and touched us with his kindness. He was inspirational, irascible and irrepressible. His was a life well lived in his own inimitable style.
Les is survived by his two brothers, Harry and David, and their families.