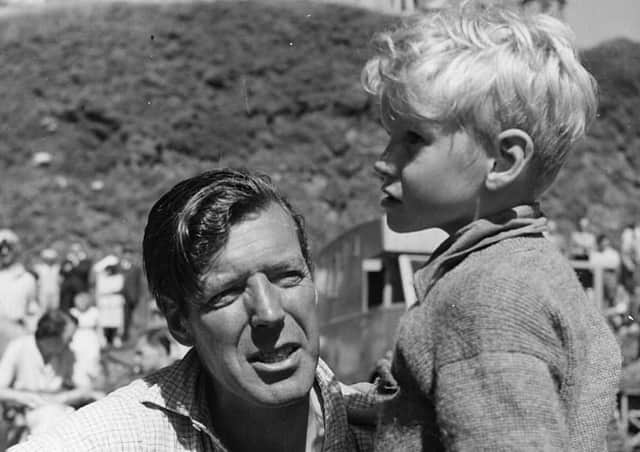 Jon Whiteley was the internationally renowned expert in French art and revered curator at the Ashmolean Museum in Oxford whose back story involved being an Oscar-winning child actor of the 1950s from Aberdeenshire. He starred alongside some of Hollywood's biggest stars, a success he attributed entirely to his mother's expertise in elocution and voice production.
Jon's recitation of The Owl And The Pussy Cat during a BBC radio broadcast from Monymusk School caught the attention of a casting director, and though he was only six, he was asked to star alongside Dirk Bogarde in the 1952 film Hunted. His performance as an orphan on the run with a fugitive killer captured the imagination of filmgoers across the globe. His special Academy Award, won jointly with Vincent Winter, came for his role in his second film, The Kidnappers, with Duncan MacRae, for his "outstanding juvenile performance".
Over the next 15 years, and always with the encouragement of his parents Archie and Christine (née Grant), he starred in Moonfleet with Stewart Grainger, Joan Greenwood and George Sanders, The Spanish Gardener (in which he was reunited with Bogarde), Stranger In Between, and finally, The Capetown Affair in 1967.
Jon and his sisters Fleur and Marsali shared a love of literature and speech. With their father, headmaster of Monymusk School, they read poetry together as a family. Mrs Whiteley, a graduate in speech and drama and accomplished elocution coach, encouraged her children to recite and to perform in concerts. Her passion for speech and performance was passed on, ultimately leading to Jon's film career.
Born and raised in Monymusk, Jon regularly returned to the village until the death of his mother in 2004. From both his parents.
Jon inherited a desire for education, and apart from a final television appearance in an episode of Jericho in 1966 before The Capetown Affair the year after, he turned his back on showbusiness for all time. Serious study was more important to him than any allure of the silver screen, and he became an undergraduate at Pembroke College, Oxford.
Thereafter, he never departed the city of dreaming spires, undertaking a doctorate on the 19th-century French painter Paul Delaroche before working for three years in the Christ Church Picture Gallery, and in 1978 joining the Ashmolean until he retired as curator 36 years later.
His particular knowledge of French art and artists – his initial ambition had been to take up a career as a painter – saw a prodigious output that included books on Ingres and Pissaro, as well as writing the catalogue for the important Claude Lorrain exhibition at the British Museum. He catalogued French drawings at the Ashmolean in two volumes, with his final catalogue, a major undertaking, encompassing the remaining holding of post-1800 French paintings at the Ashmolean .
The magisterial work of Jonin the field of French art was recognised in 2009 when he was appointed a Chevalier de l'Ordre des Arts et des Lettres.
Modest to a fault, and renowned for his courtesy, Jon gave time to everyone who crossed his path.
Slightly old-fashioned in appearance, he spoke in an understated manner with a deliberate delivery that gave impetus and emphasis to what he said.
Jon died after a short illness, and is survived by his wife Linda, an art historian, and a son and daughter.