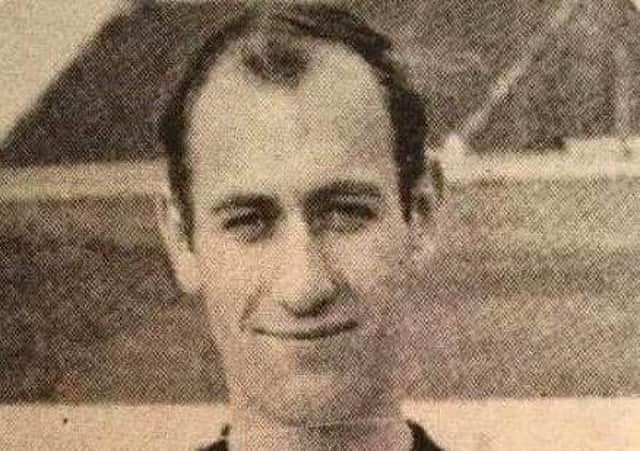 John 'Spud' Murphy
'Spud" Murphy, who has died after a long battle with dementia, belongs to an all-too-common strain of Scottish footballers. He played his entire career with a small, unfashionable club so he never received the recognition his talents deserved. No Scotland caps, or selection for wider national squads, embellish his escutcheon, but the many international wingers who had to be removed from his figurative hip pocket at the end of games will testify – he was one very good full-back.
He joined Ayr United, his only senior club, in 1963, from Darvel Juniors, having previously played for the then-prolific Saxone Amateurs youth team and Hurlford United. He quickly earned promotionn to the first team, joining in July and making his debut against Morton on 10 August in a league Cup sectional game, at Cappielow.
When his United career ended, 15 years and over 600 games later, he was an iconic figure at Somerset Park. His appearances were a club record, covering some of the most-glorious years in the club's history.
At the end of his first season, United was the 32nd best of Scotland's then 39 senior clubs. They slumped to second-bottom spot, 38th of the 39 clubs the next season.
Club director Tom McCreath, who owned a joinery business in Maybole, was now team manager. McCreath was old-fashioned, he starved his players of the ball in training: "to make them hungry for it in matches". But, in season 1965-66, he managed to guide Ayr to the Division Two title, although a lot of the credit for that should go to the player-coach, Ally MacLeod, who played just in front of Murphy at left-half. Promotion had come too-quickly for the young Ayr team, who finished bottom of Division One, but the board kept faith in MacLeod, who recruited more local youngsters and at the end of the 1968-69 season, United were back in the top-flight.
Older Somerset Park regular wax lyrical about that team. Goalkeeper Davie Stewart would go on to play in the 1975 European Cup Final with Leeds United, and be capped for Scotland. Murphy's full-back partner, Dick Malone, would be in the 1973 FA Cup-winning Sunderland team, while others, such as winger Cutty Young, would go on to greater things.
United bumbled along as a mid-table Division One side, until, in season 1974-75 they produced a surge which saw them finish in seventh place, to secure their place in the new Premier Division, involving the top ten clubs in Scotland, the following season.
United remained there until the end of season 1977-78. By then, MacLeod had gone off to Aberdeen and then the Argentine, while, towards the end of those glory years, Murphy's hitherto automatic place was under threat from young players such as Stevie Nicol and Robert Connor – both of whom would go on to earn Scotland caps.
At the end of that season, he hung up his boots. Ayr had honoured him with a Testimonial Match, against Danish side Aarhus in 1975, and in 2007 he was inducted into the Ayr United Hall of Fame.
His 15 years with United were not his last involvement with football; an old team-mate, one Alex Ferguson, invited Spud to scout for Aberdeen, a post he filled with some distinction for a number of years.
Murphy had a reputation as a hard but fair, strong-tackling full-back, but his discipline was never questioned. He was, however, against Motherwell in 1975, sent off, after he questioned a linesman over a throw-in. It was his only recorded piece of indiscipline.
Murphy was better-known as a defensive full-back, but, he did score ten goals for United over his career, including two in one game at Montrose, a memorable 40-yard effort against Dumbarton and the only goal of the game, another long-range effort, when MacLeod returned to Somerset Park for the first time as Aberdeen boss, in November, 1975.
Throughout his career, he was a part-time player, his day job was as a sales representative for a chemicals company, specialising in sanitising products. He lived in Crosshouse, where after football, he was a familiar figure at the local bowling club. This brought one humourous moment when, watching a Manchester United game on the TV, Murphy made a remark about: "my pal Fergie". This brought the typical Ayrshire response: "Aye right!!" from the barmaid, only for some of the other club members to correct her, and confirm that Murphy and Ferguson had indeed been friends when playing together for Ayr United, and later.
Indeed, following Murphy's death, the now Sir Alex said: "Spud was my dearest friend at the club, we used to sit together at the front of the bus for away games. He was a great player who opted to spend his whole career with the one club and I kept in touch with him, indeed, I was speaking to his wife Margaret just a week before he died."
Another former Scotland boss, Craig Brown, also paid tribute to Murphy, saying: "He was the best left-back of that era not to be capped."
John Murphy is survived by wife Margaret, daughter Yvonne, son John Jr and a grandson, also John. He was cremated and his ashes scattered on Somerset Park.