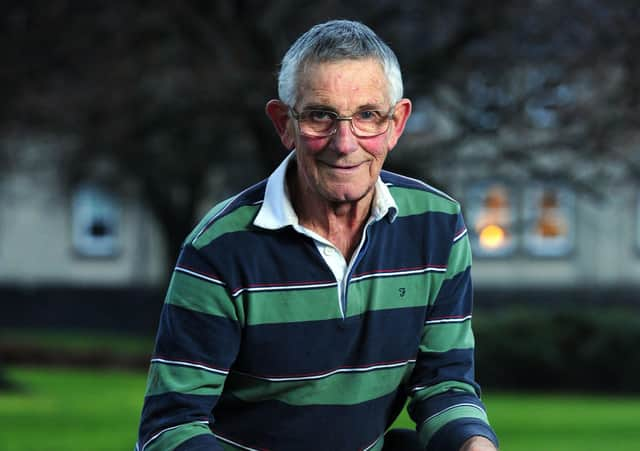 John Freebairn (Picture: Ian Rutherford)
John Freebairn, who has died aged 82, was an extremely talented and versatile Scottish sportsman who enjoyed success in football, athletics and Highland Games and later in coaching.
Perhaps best known to a certain generation of football fans as a goalkeeper with Partick Thistle between 1958 and '62, he thereafter became one of the top Games athletes competing during the summer at venues the length and breadth of the country, equally adept at tossing the caber as the perilous pursuit of pole vaulting, often on to a grass landing.
His sporting talent blossomed at school in Kilsyth, where he won honours at football and athletics, and continued once he entered Glasgow University to study civil engineering.
Such was his all-round athletic ability that in his debut in decathlon competition aged 20 in 1958 in the AAA (British) Championship at Loughborough, he finished a highly creditable 5th , 3rd of the British athletes participating and 1st Scot.
There is little doubt that had John been able to preserve the amateur status he had to forfeit according to the draconian rules of the era when signing for Partick Thistle, he would have gone on to excel at decathlon and earn a 
British vest. That was one of the few regrets of his multi-faceted sporting career, as he mentioned during an interview with the Scotsman in 2013.
John Freebairn was born in Kilsyth only son of Robert and Jean and brother of Jane, Agnes, Christine and Lizbeth.
His father was a civil engineer and John attended the local primary school before Kilsyth Academy, where his sporting talent came to the fore. A goalkeeper for the school, he was selected for Scottish Schools under-18 team for the match against their English counterparts at Stamford Bridge in 1956.
He also represented Scotland YMCA and the Scotland Youth team, the latter including future well-known players and internationals Billy Stevenson and Johnny Macleod.
Further recognition came in the form of three caps for Amateur Scotland against England (at Wembley), Holland and Wales.
By now a number of clubs were on his trail, including Arsenal and Spurs, with Falkirk, Clyde and Partick north of the Border showing interest. This created a dilemma for John as he was also enjoying success in amateur athletics.
In John's final year at school he had won the high jump at the Scottish Schools' Championships, later achieving a leap of 6ft in a Schools' representative match, an impressive mark for the time. In his first year in senior competition he secured 3rd place in the Scottish Championships behind the legendary Crawford Fairbrother, while he featured in prize lists in the Rangers and Glasgow Police Sports, both very prestigious meetings. Glasgow University awarded him a "Blue" and his decathlon potential was evident.
The consequence of playing professional football then was loss of amateur athletic status but circumstances forced John's hand as he required financial support for his studies. He therefore signed for Partick Thistle in 1958 under manager Davie Meiklejohn and played almost 120 games in the top tier alongside teammates including Davie McParland, Joe McBride and Tommy Ewing.
His style was very much his own as he liked to come off his line frequently, sometimes occasioning concern among teammates and fans, but he was effective. One highlight was winning the Glasgow Cup in 1960 when Thistle defeated Celtic 2-0, with one press report stating "Freebairn was in excellent form, making some impossible saves."
Unfortunately he and Willie Thornton, who replaced Meiklejohn after his untimely death, did not enjoy the same relationship, leading to John's departure from Firhill, after which he played a number of games for Albion Rovers, Hamilton, Montrose and Portadown in Northern Ireland as he concentrated on his civil engineering career.
Because amateur athletics was no longer an option, John turned to the only professional form available, Highland Games, in which he became one of the best-known figures on the circuit, competing with considerable success until the mid-1980s.
He was a popular individual recognised for his sportsmanship, integrity and encouragement of others. Initially the emphasis was on "light events", jumps and pole vault, winning the national Games' Association title in 1966 and 1968 before making an impact also in "heavy events" such as caber, Scots hammer and shot putt.
Although the standard of competition was high he featured prominently in prize lists and was a familiar sight hurrying across Games fields, changing from kilt to shorts as he went from heavy to light events.
On one famous occasion he competed in 14 events in one afternoon, including obstacle and hurdle races. While money prizes were at stake, he was motivated by the competition, camaraderie and love of the Games which frequently doubled as family holidays in lovely locations such as Portree, Glenisla, Aboyne and Braemar.
At Aboyne Games he won the Chieftain's Challenge Cup in 1969 for the best athlete in combined light and heavy events, a notable accolade, and at Braemar in front of the Royal Family he featured regularly in prize lists. Other highlights included trips to Australia, Indonesia, France, Japan, Germany and Sweden to participate in Games.
Reinstated as an amateur in the mid-1980s, he competed successfully in Masters' Athletics for many years both in the UK and in Europe, winning several titles. In parallel John developed his coaching interest, achieving national status, and was particularly highly regarded for encouraging youngsters. In 2014 he was honoured by carrying the Queen's baton for that year's Commonwealth Games.
In 1962 John married childhood sweetheart Cecilia Kane, with whom he had daughters Susan and Joanne and enjoyed a happy, supportive family life.
A civil engineer with Central Regional Council he designed and built the family house in Kilsyth and was involved locally as community councillor, co-founder of Colzium Athletic Sports Club and fundraiser for heart scanners.
John is survived by his wife and daughters.