Obituary: John Fraser
John Fraser, actor. Born: March 18 1931 in Glasgow. Died: November 7 2020 in London, aged 89.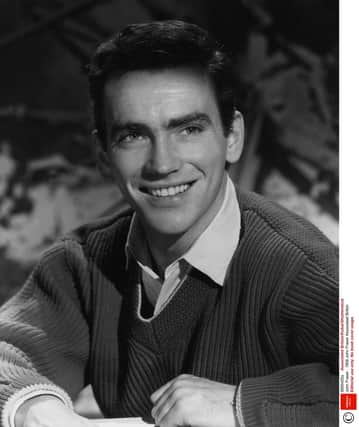 The Glasgow-born actor John Fraser probably made a bigger impact with his gossipy memoir of life in the ranks of closeted gay celebrities, including his occasional lover Rudolf Nureyev and matinee idol Dirk Bogarde, than he did with his appearances in the films The Dam Busters, Tunes of Glory and El Cid.
Once described as "the most handsome man in Britain", Fraser played the pivotal role of the piper in the classic 1960 Scottish military drama Tunes of Glory. Alec Guinness, whose character has risen through the ranks, clashes with the new by-the-book colonel, played by John Mills, whose background is Eton, Oxford and Sandhurst. Things come to a head when Guinness discovers a romance between his daughter, played by Susannah York, and Fraser's character. He loses his cool and hits him, prompting Mills to initiate court martial proceedings.
But off-camera Fraser was anything but a ladies' man. He was gay at a time when homosexuality was illegal. And it could still lead to career ruin long after it was legalised in England in the late 1960s.
However, in 2004, in his candid autobiography Close Up: An Actor Telling Tales, Fraser wrote frankly about his relationship with Nureyev, effectively confirmed rumours about Bogarde and described Laurence Harvey as a "whore" who would sleep with anyone if it advanced his career.
"Most of the people I write about are dead," he said. "It seems mealy-mouthed not to tell the truth."
Although Fraser was only a corporal in Tunes of Glory, he played an officer in The Dam Busters, a prince in El Cid and an aristocrat, Lord Alfred Douglas – Oscar Wilde's lover and nemesis – in The Trials of Oscar Wilde, for which he received a Bafta nomination as Best British Actor, losing out to co-star Peter Finch. It was a stellar short leet, completed by Laurence Olivier, Richard Attenborough, Albert Finney and Guinness and Mills for their performances in Tunes of Glory.But Fraser's start in life was anything but aristocratic. He was born John Alexander Fraser in Glasgow in 1931 and lived on the Mosspark council estate. His father was an engineer's merchant, but his business had floundered and he suffered from alcoholism and mental health issues.
Fraser's father was subject to drunken rages and was institutionalised on several occasions. He died in 1945, followed by Fraser's mother a few months later. Fraser moved to the Battlefield area with two elder sisters, lived with an aunt and attended the High School of Glasgow.
In his mid-teens Fraser appeared in Oscar Wilde's Salome at Glasgow's Park Theatre, but was stung by one critic's comment that his performance was "undermined by an accent from the worst Glasgow slums". Fraser embarked on a crash elocution course, leaving him with an accent suited both to English lords and to BBC Radio.
After National Service in the Army, he joined Pitlochry Festival Theatre, whose roots lay in the Park Theatre and worked with them both as an actor and assistant stage manager. Still only 20, he landed the starring role of David Balfour in a six-part BBC television adaptation of Kidnapped in 1952, with Patrick Troughton as Alan Breck.
He seemed to have a glittering career ahead of him when he went on to The Dam Busters and The Good Companions, in which he sang, leading to a brief time as a would-be pop star. In the 1960s he had major roles in Repulsion, in which he is killed by Catherine Deneuve, and Isadora, with Vanessa Redgrave, and on stage he played Jimmy Porter at the Traverse Theatre in Edinburgh.
Seemingly wary of the spotlight Hollywood movies might bring to his private life, he worked increasingly in TV and played The Monitor in the Doctor Who storyline Logopolis in 1981, and two different characters in The Bill in the 1990s.
He formed a theatre company that toured Europe, Asia and Africa with excerpts from Shakespeare and wrote about it in a book entitled The Bard in the Bush in 1978. But his memoirs a quarter of a century later made a much bigger splash. By that time he had retired from acting and, as he pointed out, most of those he wrote about were dead. He wrote of an affair with Nureyev, revealing that Nureyev wore clothes several days running and would want to make love after a workout or show without bothering to shower.
He said of Laurence Harvey: "It was well known in the business that Jimmy [film producer Jimmy Woolf] was in love with Laurence Harvey. He had put his protégé into film after film, all of which had flopped, until he bought the film rights to John Braine's bestseller [Room at the Top]. Larry's whoredom was so blatant it was disarming… And throughout all these career marriages, he still managed to string Jimmy Woolf along."
He also recalled a dinner he had with Bogarde and his manager Tony Forwood, who lived together for many years, unsurprisingly fuelling gossip and speculation. Fraser recounted Bogarde saying that his screen persona had afforded him a very comfortable lifestyle and he could never reveal his true sexuality.
Fraser wrote: "Dirk's life with Forwood had been so respectable, their love for each other so profound and so enduring, it would have been a glorious day for the pursuit of understanding and the promotion of tolerance if he had screwed up the courage… to make one dignified allusion to his true nature."
Fraser had made several films in Italy and he settled in Tuscany with his long-term partner Rod Pienaar, an artist he met in South Africa in the 1970s. On the subject of Scotland, Fraser wrote: "The sound of the bagpipes is sweetest from a long way off." Pienaar survives him.
A message from the Editor
Thank you for reading this article. We're more reliant on your support than ever as the shift in consumer habits brought about by coronavirus impacts our advertisers.
If you haven't already, please consider supporting our trusted, fact-checked journalism by taking out a digital subscription.