Obituary: John Duncanson, broadcaster who anchored Grampian TV's North Tonight for 20 years
John Charles Kinnear Duncanson, broadcaster. Born: April 14, 1940 in Prestwick. Died: October 25, 2020 in Inverness, aged 80.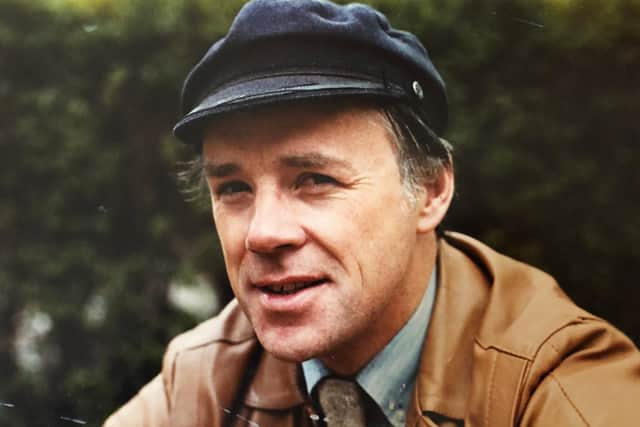 AS the anchorman of North Tonight, Grampian Television's flagship news programme, John Duncanson lived with the relentless demands of live broadcasting on a daily basis for two decades – his easy charm and professionalism making it appear effortless.
Having formerly spent some 15 years working for ITV companies and BBC Scotland, John was to become a well-kent face and popular personality with Grampian TV in the 1980s and 1990s. Indeed, in an industry renowned for changing faces, John was to buck the trend – spending the remainder of his working life with the station and frequently using his high public profile to assist worthy causes.
No wonder that former MSP, Ted Brocklebank, at one time head of news and current affairs at Grampian, lauded his former colleague as an "exceptional broadcaster" and a "thoroughly decent human being".
Outside of work, John wisely pursued diverse interests – he was a fine singer, gifted songwriter and adept guitar and banjo player; a keen sailor; an avid motorcyclist and lover of cars (indeed almost anything with an engine); and an enthusiastic advocate of all things Scottish.
John Charles Kinnear Duncanson was born in Prestwick in 1940 – the son of Thomas and Eleanor Duncanson, and a brother to Patsy, Sheila and Eleanor.
He had a nomadic early education, attending nine different primary schools while his RAF officer father served on numerous bases across the UK. His secondary schooling was more stable – at the RAF's Balborough Hall boarding school.
From an early age John was totally set on a career as an actor, although his father, very conscious of the vicissitudes of that profession, tried to steer him towards more conventional occupations.
Undeterred, John's first hands-on experience in his chosen career came as a lowly scene shifter at the former Gateway Theatre in Edinburgh.
During three years at the London Academy of Music and Dramatic Art (LAMDA), on his holidays he gained invaluable work experience as a theatre manager at the Byre Theatre in St Andrews. On leaving LAMDA, he swiftly turned his dream of treading the boards for a living into a reality with four years of gainful employment as a fully-fledged actor – attracting roles on both television and radio.
The young actor had a favourite pastime – composing and performing songs about people in the public eye.
The secretary to the head of BBC Scotland chanced upon a performance, and was so taken by John's rendition of a ditty about Christine Keeler, a femme fatale whose affair with a cabinet minister almost brought down a Conservative government, that she gave a glowing report to her boss. John was promptly hired to write and perform his material for the BBC – a career break which took him to the periphery of broadcasting journalism.
It encouraged him to make a career change and, in 1964, he landed an announcer's job at Border Television. During the following decade he reverted to a nomadic lifestyle as a presenter for no less than six different ITV stations in England and Northern Ireland.
His entree into broadcasting journalism proper came in joining the BBC's Reporting Scotland news team in Edinburgh as a presenter. A move to the BBC's fledgling Radio Highland station in Inverness involved producing and presenting programmes in both English and Gaelic.
It was this bilingual experience which instigated an undying love for the language of the Gaels – a love later conveyed to Grampian TV viewers in his trademark programme sign-off "oidhche mhath" –Gaelic for "good night".
By 1979 John was firmly ensconced in Grampian Television's newsroom in Aberdeen. The nomad had finally found a permanent home. He was a charismatic, if sometimes idiosyncratic, fellow – all 5ft 5ins of unbridled energy and enthusiasm, much loved by both his colleagues and his television audience. Fellow presenter Norman MacLeod recalls: "John was great with people: very approachable, very warm and also very encouraging. And he had a wicked sense of humour: however, on camera, he was a consummate professional."
In 1997 Grampian TV was sold to STV, and when the inevitable personnel changes ensued, John, having achieved a major contribution to Grampian Television's history and to television journalism in Scotland, happily accepted a well-earned golden handshake.
Retired, but still only 59, he spent his new-found leisure time indulging his love for music, sailing and travel. Some years previously he had consummated his love for boats and sailing by purchasing a slightly run-down 1930s schooner which he christened the Ros Bhan – Gaelic for White Rose. Moored at Peterhead Marina, it became his permanent home.
The enthusiastic but hitherto reined-in sailor, now put his taste for adventure on the line. He had long dreamed of sailing Ros Bhan to the Canary Islands where his sister Eleanor was living on Tenerife.
Accompanied by his son John, nephew David Sharpe and boxer cabin dog Oscar, John headed south on a daunting sea odyssey of several thousand miles. In the Bay of Biscay, feared by even the most experienced of sailors for its predilection for notoriously bad weather, the adventurous trio caught the Bay in one of its foulest moods. Rightly, they feared for their lives, but somehow, miraculously, they survived the fiercest of storms and ultimately found safe haven in the Algarve.
With another crew on board, John subsequently headed for San Sebastian on La Gomera – known as "the island lost in time". And he spent five very enjoyable years revelling there before selling the Ros Bhan and heading back to Scotland, eventually settling in Inverness.
Freed from the enforced political neutrality of journalism, he had at last been able to openly nail his Scottish nationalist colours to the mast, and support the SNP's agenda. At gatherings, he was a kenspeckle figure in his Ancient Robertson kilt; a "Yes" badge pinned to his kilt jacket; and his ubiquitous Breton cap perched jauntily on his head.
However, later, while holidaying on Tenerife, he suffered the first of a series of debilitating mini-strokes, spending several weeks in hospital before recovering sufficiently to return home. Although he still involved himself in various political and community activities, including the Men's Shed project in Inverness, his ill-health dictated a significantly quieter lifestyle, and he ultimately moved into the Queen Mother House care complex in Inverness.
John died in Raigmore Hospital on 25 October, 2020, after a short illness, He is survived by sons John and Tearlach to his first wife, Winifred, and Eilidh and Donnie, to his second wife, Norma, and grandchildren Charlotte, Cosmo, Cailean and Luna.
Comments
 0 comments
Want to join the conversation? Please or to comment on this article.