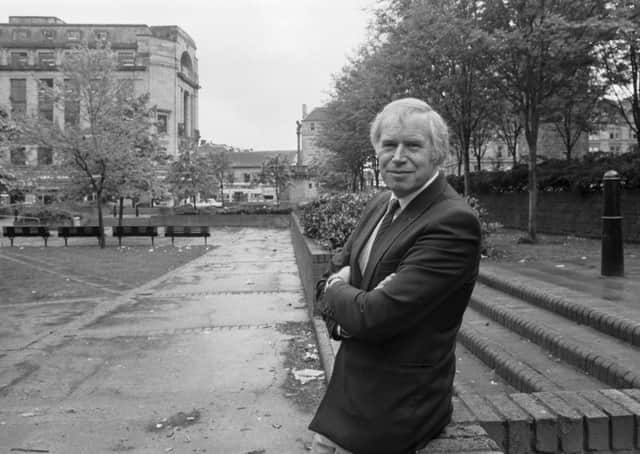 Conductor John Currie in May 1989 (Picture: Brian Stewart/TSPL)
Scotland owes much of its postwar pre-eminence as a choral singing nation to the enterprising vision of one man, John Currie, who has died at the age of 85.
Between rising to early prominence in his transformative appointment as director of the Glasgow Choral Union in 1965 (soon to be recast as the Scottish National Orchestra Chorus), and enjoying a golden twilight period 30 years later running Perth Festival Opera and putting together a choir for the gala opening of Perth Concert Hall in 2005, Currie stimulated and dominated just about every aspect of the nation's frontline choral life.
But these were just bookend landmarks in a career which, at its height in the 1970s and '80s, was also to see Currie simultaneously hold control of the chorus of Scottish Opera, the Edinburgh Festival Chorus and, of course, his eponymous John Currie Singers, a specialist hand-picked ensemble as notable for its annual Handel's Messiah performances as the numerous contemporary works it ably promoted, many commissioned from living Scottish composers.
He was, effectively, Scotland's choirmaster general.
Currie's interest in choirs dated back to his schooldays at Ayr Academy, itself a hotbed of prodigious musical talent in the 1950s. Born in Prestwick in 1934, Currie later studied at the Royal Scottish Academy of Music and Drama before exploring his broader cultural interests by taking an MA at Glasgow University, where he was subsequently employed as a lecturer in music.
Having already formed his own choir – the Glasgow Student Singers – he had also made inroads into musical journalism as Glasgow music critic of The Scotsman. Remarkably, it was common in those days for The Scotsman to review the SNO weekly concerts in both Glasgow and Edinburgh, despite them being identical programmes.
I called upon his journalistic acumen and historical knowledge some 15 years ago when, as current Scotsman critic, I was asked to put together a panel of writers to compile a 20 Greatest Classical Concerts feature for this paper. Currie's choices were, as ever, colourful, affectionate, shrewd, accurate and informative.
That literary spark was to surface also in the libretto he fashioned from the demonic narrative of James Hogg's Confessions of a Justified Sinner for Thomas Wilson's 1976 opera for Scottish Opera, premiered in York that year under the baton of Norman del Mar. Currie himself conducted later performances.
But it was in choral training that Currie was to forge a formidable reputation, and as such was fortuitous in being in the right place at the right time, although that would have amounted to little had it not been accompanied by a rare sense of vision and dogged determination.
His transformation of the old Glasgow Choral Union into the more ambitious SNO Chorus saw its standards rise to match the newfound competence which the orchestra, itself was experiencing under Sir Alexander Gibson. Big-hitting choral works by Mahler, Elgar, Britten and Berlioz were now well within the enlarged chorus' capabilities.
He even gave it a life of its own when, in 1972, the singers were flown to Tel Aviv to perform in a series of concerts at the Israel Festival under Daniel Barenboim, Zubin Mehta and Gary Bertini.
A groundbreaking tour of the USA four years later began with a glitzy programme with the Los Angeles Philharmonic Orchestra at the Hollywood Bowl, conducted by Gibson, followed by appearances with Barenboim in Philadelphia (Beethoven's Ninth Symphony), Erich Leinsdorf in Cleveland (Mahler's Eighth) and André Previn in Chicago (Walton's Belshazzar's Feast).
A further US tour in 1980 got off to a rocky start when the concerts with the Cleveland Orchestra had to be cancelled due to a musicians' strike.
But all ended well in Los Angeles, especially for Currie, where the seeds were sown for his later move to California and a five-year directorship of the Los Angeles Master Chorale.
Meanwhile, the John Currie Singers, established in 1968, had secured a critical place in Scotland's musical life. Similar in profile to the professional London-based BBC Singers, Currie was able to explore the most diverse and demanding avenues of choral repertoire, from Bach to Webern, as well as providing a vehicle capable of servicing ambitious new works by Scottish composers.
His partnership with Gibson at the SNO was now also extended to Scottish Opera, where he had been appointed chorus master in 1974, conducting some of the company's touring productions. By 1983 he had also succeeded the legendary Arthur Oldham as director of the Edinburgh Festival Chorus, laying the groundwork for memorable Usher Hall performances with the world's greatest conductors.
Currie's incessant energy had also enabled him, despite the demands of his choral responsibilities in Scotland, to serve from 1971-75 as director of music at Leicester University, and later in a similar position at Strathclyde University.
His later Los Angeles experience proved rather less fulfilling, the conservative politics of the Master Chorale going against him, and the ruthless antagonism of the LA Times music critic precipitating Currie's eventual decision to return to Scotland in 1990, where he settled with his second wife, Anna, who eventually predeceased him, in the Perthshire countryside.
It was from there that he travelled weekly in the mid-1990s to revive the failing health of Manchester's famous Hallé Choir; but more significantly where he ran Perth Festival Opera, directing and conducting compellingly perceptive, original productions of Mozart, Gluck and Britten for the city's annual arts festival, until budgetary restraints led to a change of policy, and the festival's decision to import "off the shelf" travelling productions instead.
While he accepted that stoically, the decision by the then Scottish Arts Council to axe funding for the John Currie Singers was a more sorrowful blow for Currie.
A major stroke led inevitably to retirement, and a move back to Glasgow. Currie died of Covid-19 and is survived by his three children, Abigail, Rachel and Justin (frontman of rock band Del Dmitri), from his first marriage, to Barbara Kirkwood.