Obituary: John Cook, India-born Scottish surgeon, academic and Pipe Major
John Cook MB, Ch.M, FRCSE, FRSE, surgeon and academic. Born: 9 May 1926 in Calcutta, India. Died: 19 April 2020 in Dorstone, Herefordshire, 
aged 93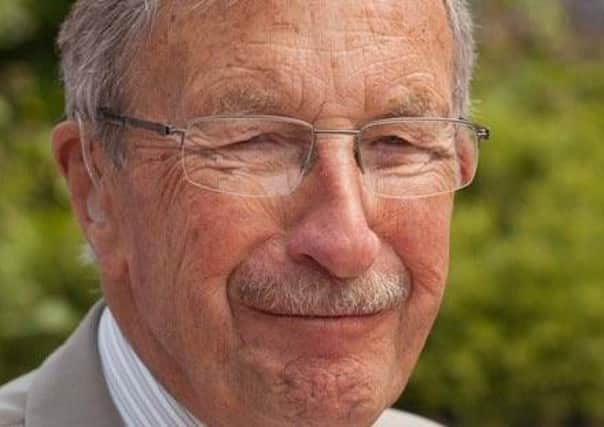 John Cook was born in 1926, in Calcutta, where his father, George, had a long, distinguished career with the National Bank of India. From a young age John was sent home to the UK for schooling at Sandown, Bexhill until his father retired to Nairn. There he attended Alton Burn before winning a scholarship to Fettes College in Edinburgh. It was at Fettes that John began his lifelong love of piping, being taught by PM James Sutherland. He was Pipe Major of the school band when Fettes won the Schools Pipe Band Competition in 1944.
In October 1944 John enrolled in the Faculty of Medicine at Edinburgh University together with another Fettesian, Iain MacLaren. Whilst they knew each other at school, it was as medical students that their friendship grew, and it was a constant for 80 years. He joined the OTC, playing in the Pipe band and eventually becoming the Pipe Major. He qualified MB., ChB in 1949.
In October 1950 John joined the RAF. After initial training he was posted to RAF Hillingdon before being sent off to RAF Tangmere to assist the MO with a potential outbreak of smallpox – the Brighton Smallpox Epidemic must have been the last outbreak of this disease in Britain. He attended the RAF School of Tropical Medicine at Halton before being posted as the MO of the flying station at RAF Khormaksar, Aden. It was in 1951 in Aden that John met a nursing sister, Flying Officer Patricia Bligh.
When he came out of the RAF, John was set on a career in surgery. He returned to the Royal Infirmary of Edinburgh and his studies in preparation for the Fellowship exams. Pat and John married in March 1953 at St Nicholas Parish Church, Sevenoaks with the groom and Best Man, Iain MacLaren, resplendent in Highland dress.
John passed his Fellowship of the Royal College of Surgeons of Edinburgh in 1955 and took up a post as Research Assistant and Surgical Registrar at the Radcliffe Infirmary, Oxford. Whilst at Oxford, John honed many of the research skills and techniques that would intrigue him and serve him well later in Uganda and beyond. John and Pat's first child, Christine, was born whilst they were in Oxford.
In May 1955 John was appointed 1st Assistant in the Department of Surgery at Makerere University College, Uganda. Here he was encouraged to follow a wide variety of surgical interests, including bone and joint tuberculosis, tumours of the jaws, reconstructive surgery in leprosy and stricture of the urethra and allied problems.
His main field of research was into kaposi' Sarcoma – idiopathic multiple haemorrhagic sarcoma and the treatment of this tumour by intra-arterial injection with nitrogen mustard (mustine). His hypothesis was that the nature of Kaposi' Sarcoma could be elucidated by studying the de-differentiation on glass and re-differentiation in sponge. Makerere did not have sophisticated research facilities although at this time much exciting work was taking place there. Research equipment had to be sent out from Britain and some of the small glass tools required had to be fashioned – a skill John had acquired whilst in Oxford.
He was encouraged by Sir James Learmonth to write up his research as a Ch.M. thesis. He returned to his University to be examined by Sir John Bruce and Sir Michael Woodruff, who recommended the University award John a Gold Medal. In July 1963 he graduated Ch.M., at that time one of just seven Masterships conferred in Edinburgh since the war and in which time Gold medals had been awarded to only four people.
By 1964 John and Pat began to face up to the need to move from Makerere. They were very content in Uganda, but with five children approaching secondary education their choice was the age-old imperial one: stay put and send the children back to the UK or Kenya for schooling, or move elsewhere and keep the family together. They decided on the latter course. In 1964 John was appointed to a post of Consultant Surgeon at the Eastern General Hospital, a position that carried the status of Honorary Senior Lecturer in the University Department of Clinical Surgery in Edinburgh.
He developed a definitive style and scope of operating which he found entirely satisfactory and he always found the greatest pleasure in the minutia of operating. He was a good teacher of surgery. The Eastern had an excellent reputation for surgeons in training and would attract SHOs from Africa, India and Malaysia as well as the UK. These included, amongst many others, Ben Obonyo who became the first Makerere graduate to gain a Ch.M. In 1968, in addition to his work at the Eastern, he took up the offer of three sessions at Leith Hospital. This post included a share of the excellent casualty department of Leith Hospital, with the management of injuries and fractures which weren't seen at the Eastern.
On their return from Kampala John became an examiner for the Fellowship of the Royal College of Surgeons of Edinburgh, the beginning of a long and loyal service to "his College". In 1969 he was elected the Hon. Secretary. This was a period of profound change for the College which essentially imposed a second career on top of a full-time charge in the NHS. After his term as Secretary John was re-elected to the Council and served as their representative on the General Medical Council from 1982-86.
In 1970 John was elected a Fellow of the Royal Society of Edinburgh.
He became the Secretary of the International Federation of Surgical Colleges from 1973-84 and was their consultant to the World Health Organisation.
Through his friend Iain MacLaren, he became a member of the Royal Scottish Pipers Society and continued to enjoy a few tunes and a dram with old friends at Rose Street Lane until he moved south on retirement.
Ordained as an Elder of the Church in East Africa, John served on the Kirk Sessions of the Dean Parish Church and Portobello Old & Windsor Place Church in Edinburgh and later as an Elder in the Hampton Park United Reformed Church in Hereford.
John retired from surgery in 1986 when he and Pat moved south to Clehonger, a small village on the outskirts of Hereford. Even in deepest Herefordshire John was able to continue his interest in piping, with the newly formed Kinnersley Castle Pipe Band. He was a keen fisherman since his East African days and was able to indulge with this past time on the Wye and it's various tributaries.
John was devastated when Pat died suddenly on 7 June 1998. He continued to live in Clehonger, close to two of his daughters, Christine and Katherine. He travelled frequently to visit Janet and her family, Diana in Vancouver and Andrew in Edinburgh.
In February 2005 John married Judy Hill, the widow of Keith Hill, headmaster of Hereford Cathedral Prep School. Iain MacLaren again acted as his Best Man and the happy couple were piped out of the Church by John's son, Andrew. They lived near Hay on Wye, where John and Judy ran a very happy home, dispensing generous hospitality. During winters they migrated south to Altea in Southern Spain to escape the ravages of British weather and from there they set off on numerous travelling adventures. Having always been a linguist, John set about mastering Spanish at the tender age of 79.
John's health had been failing for several months but he and Judy were determined to continue living as comfortably as possible in Dorstone, supported by their families. He passed away peacefully on 19 April 2020.
Comments
 0 comments
Want to join the conversation? Please or to comment on this article.