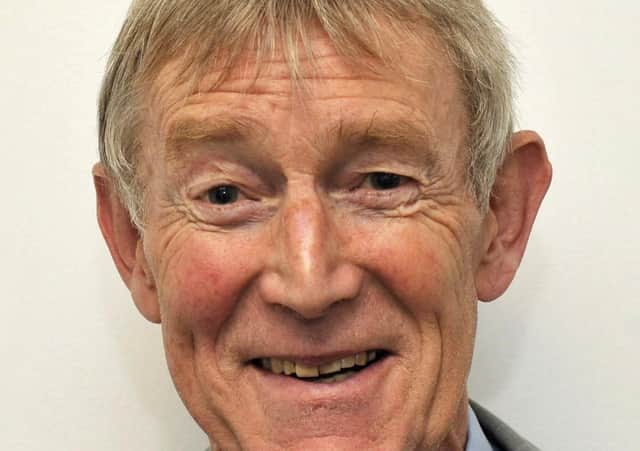 John Bryant (Picture: Tim Ireland/PA Wire)
John Bryant was a leading Fleet Street journalist who held a number of prestigious posts with several major titles, including the Daily Mail and the Times, having begun his lengthy career in 1967 with the Edinburgh Evening News. He was also an enthusiastic and accomplished distance runner who enjoyed success with Edinburgh Southern Harriers, among other clubs, and had a long association with the London Marathon as both participant and official.
His last major Fleet Street position was between 2005 and 2007 with the Daily Telegraph as Editor in Chief, including a spell as Acting Editor, shortly after its acquisition by the Barclay brothers when a steadying hand was required. During that demanding period he oversaw major developments including digital access and the newspaper's relocation to Victoria, enabling him to comment later: "I got the Telegraph back to punching its weight as a respected newspaper."
While with the Mail he was part of their team that persuaded South African runner Zola Budd to obtain British citizenship to circumvent the bar on their athletes competing at the Olympics because of apartheid. He was with her at the 1984 Games in Los Angeles, scene of her famous clash with American athlete Mary Decker, and escorted her back to London, sheltering her from the worst of intrusive publicity. She trusted him implicitly and later he became her coach.
Running was very much part of his DNA for many years, with him enjoying initial success at Oxford University before going on to complete 29 London Marathons.
John William Bryant was a West Countryman brought up in the Somerset village of Haselbury Plucknett along with younger brother Nigel ,where parents Jim and Mollie ran the Swan Inn.
His talent for running was first noted after his grandmother encouraged him to run after the bus to catch it before it left the village.
From Sexey's School in Bruton he attained a place at Oxford University, where at Queen's College he initially studied law before switching to English.
By now running seriously, he captained the cross country team, leading it to a win in the annual Varsity match against Cambridge, represented the athletics team at steeplechase in the annual Varsity match at the White City for which he was awarded a "Blue" and was selected for British Universities on the track. Captain of the athletics team at the same time was Jeffrey Archer, who became a lifelong friend and with whom he ran the London Marathon in 2004.
After graduating he joined one of the world's oldest cross country clubs, Thames Hare and Hounds, to whom he gave over 50 years' sterling service, becoming captain in the 1970s and President in 2010. A member of their team which achieved 2nd place in the Southern Cross Country Championships in 1975, he was one of their foremost runners of that period.
Meanwhile, a first job with the Edinburgh Evening News as a result of a placement in a journalist training scheme took him north of the Border from 1967 till 1971. He was a general reporter covering events ranging from the Festival to a six-week secondment in Belfast reporting on the Troubles.
Living in the city's Merchiston area, he joined Edinburgh Southern Harriers and in 1969 was a member of their winning team in the prestigious Edinburgh to Glasgow road relay race, running the 5th leg in the second best time of the day of the 20 teams, sandwiched between Olympians Gareth Bryan-Jones and Fergus Murray on the 4th and 6th legs.
In 1968 he was a member of the Harriers cross country team which won bronze at the National Championships over Hamilton Park Racecourse while on the track in summer he ran well in the steeplechase, figuring in the Top Twenty' annual Scottish ranking lists.
His next move was to the Daily Mail, where editor David English recognised his ability and by the early 1980s he was features editor. In 1985 he became Managing Editor of the Times and then deputy editor till 1990, when appointed editor of the Sunday Correspondent and then the European. Thereafter he returned to the Times as deputy editor again before another spell at the Daily Mail, as consulting editor. After his Telegraph days he was appointed chair of the Press Association Trust in 2008.
He was close to Chris Brasher, the Olympic gold medalist who founded the London Marathon in 1981, and ran in the first one and another 28 subsequently. His best time for the distance was a very creditable 2hrs, 21 mins., which pleased him as it beat his hero Emil Zatopek's winning time in the 1952 Olympics.
He contributed greatly to the development of the London race and became chair of its Charitable Trust in 2010, which distributed proceeds to London sports clubs.
A serious road accident in 1987 almost spelled the end of his running career, but despite pessimistic prognoses he managed to continue until seven years ago.
Through his friendship with Brasher he came to know his contemporaries Chris Chataway and Roger Bannister, which facilitated his writing a well received book about the first four-minute mile called "3m 59. 4", the iconic time clocked by Bannister. He also wrote a number of other books including "Jogging", "Marathon Makers" and "The London Marathon History".
In 1968 he wed Carol and they had a long and happy marriage during which they had two sons, Matthew and William. He is fondly remembered by his running friends here for his enjoyable companionship and readiness to strum a guitar and sing at post-race parties.
Widely considered a complete gent who never lost his temper in an occasionally fraught line of work, he always sought to get the best out of people.
He is survived by his wife, sons and six grandchildren.