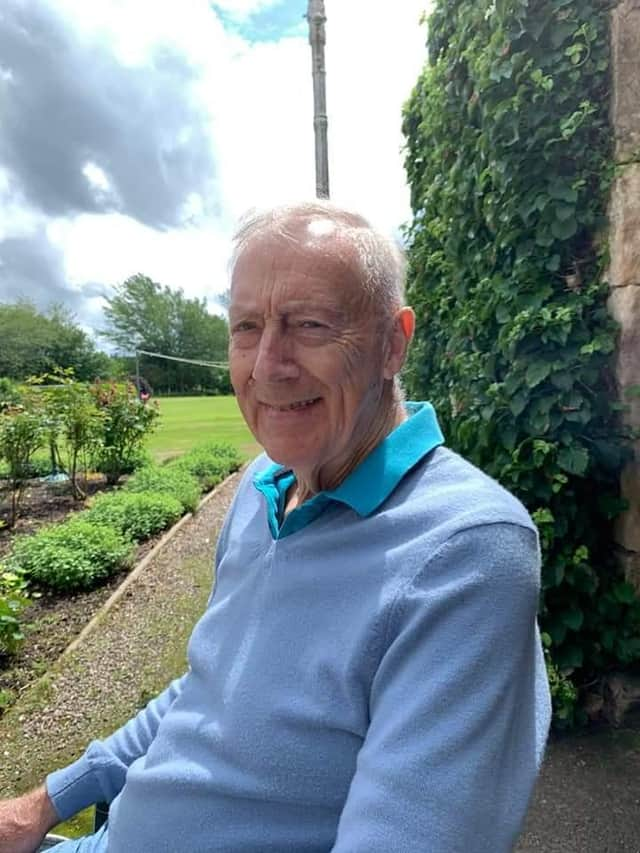 When asked recently how he was, John Arbuckle would reply "Fine" and move the conversation onto some other topic. He did, however, make an appointment for a medical check-up and drove to the hospital. He made it to the entrance before he collapsed. Then having been diagnosed with both leukemia and pneumonia, he died three days later.
Throughout his eighty-year life, John never complained, nor did he seek the limelight, often appearing diffident and shy, and yet he had a remarkably successful life and, if he wanted to, plenty to shout about.
As a farmer, he was one of the first to see his raspberries make it onto the shelves of the top supermarkets. This was long before the soft fruit industry was transformed by polytunnels and, in John's day, the weather and exacting standards from the buyers were challenging to say the least. His success with this enterprise was down to his attention to detail and the ability to quietly deal with the buyers from the major multiple retailers out to make their name in their dealings with farmers.
John also grew seed potatoes on his farm in north east Fife, and again, it was his ability to quietly meet the requirements of a demanding market that marked him out. In an industry riven with problems of quality he was quietly proud that few, if any, seed potato consignments from his East Flisk farm ever came back with a rejection slip.
His lifetime interest in the potato crop may not have been surprising as his father had been vice chairman of the Potato Marketing Board. His own first steps in the industry were taken when he was a 15-year-old schoolboy attending a class in Cupar where varieties and diseases had to be identified prior to roguing the crop for purity.
Two years later, he won the first prize as a student on the Scottish potato crop inspection course; a feat he repeated some 40 years later after he had retired from active farming.
As a seed potato producer, he specialised in growing crops for the export market with all the additional standards and conditions that entailed. Inevitably he was drawn into potato politics and he served as chair of the potato committee of the National Farmers Union of Scotland and latterly as a member of the Scottish Seed Potato Development Council. A colleague on this committee said John did not say much, but when he did people listened to what he said. His committee service saw him elected an honorary Vice president of the Union.
Ten years ago, John co-authored a history of NFUS written to celebrate the organisation reaching its 100th birthday. Possibly emboldened by this step into the literary world, he then co-compiled a couple of books aimed at raising funds for RSABI, Scotland's rural charity. These light-hearted joke books have so far raised over £70,000 for the less well off.
Unusually for a farmer, he carried his love of growing plants into his garden where friends came to admire his meticulously tidy flower and vegetable plots. His neighbours in the hamlet of Giffordtown also benefited from his gardening efforts as the informal village bartering system saw him trade fruit and vegetables for other items such as eggs.
He was community minded, serving as chair on the community council in the area where he farmed and then as secretary in the part of Fife to which he and his wife Jean moved after giving up the tenancy of the farm. During his term of office, a major expansion of a gravel quarry on the edge of the hamlet was proposed. On behalf of his neighbours, John steadfastly opposed this development, but when defeated by the planning system, he did not delve into rancour and recrimination.
Jean, the daughter of a farmer from Angus, died three years ago. John and she always enjoyed the company of their two sons, John and Niall, and daughter, Irene, and their partners, as well as five grandchildren. This family friendship was a great support to John after her death.
As a young farmer, John chaired Bell Baxter Agricultural Discussion Society when it scooped up the prestigious Allan Howie award presented to the club in Scotland showing most ambition.
His two main recreations outwith farming were both marked by dedication and long service. He curled all his adult life for Abdie club and five years ago was awarded the Royal Caledonian Curling Club medal for completing 50 years on the ice. Despite the popularity of the sport, remarkably few curlers achieve this milestone. He was a social curler, enjoying the camaraderie as much as the competition.
And while never playing rugby after his schooldays, he was a long-term supporter of the Howe of Fife. He was not a member of the "blazer brigade" but could be seen regularly on the touchlines. Without being asked, John could, in his retirement, be seen on a Monday morning picking up litter around the Howe premises. Why? Just because it was "his club" and because he hated untidiness.
There was one exception when his normally quiet demeanour was upset. This occurred when two of his raspberry pickers decided to have a fight using John's carefully nurtured raspberries as artillery. Though it happened rarely, he could and did raise his voice when needed.
If you have a submission or suggestion for our Obituaries section, email [email protected]
A message from the Editor
Thank you for reading this article. We're more reliant on your support than ever as the shift in consumer habits brought about by coronavirus impacts our advertisers.
If you haven't already, please consider supporting our trusted, fact-checked journalism by taking out a digital subscription.