Obituary: Joan Davidson, Scot who sparked interest in science in thousands of children
Joan Davidson, Edinburgh Science Head of Learning. Born: March 9 1977 in Aberdeen. Died: November 27 2020 in Edinburgh, aged 43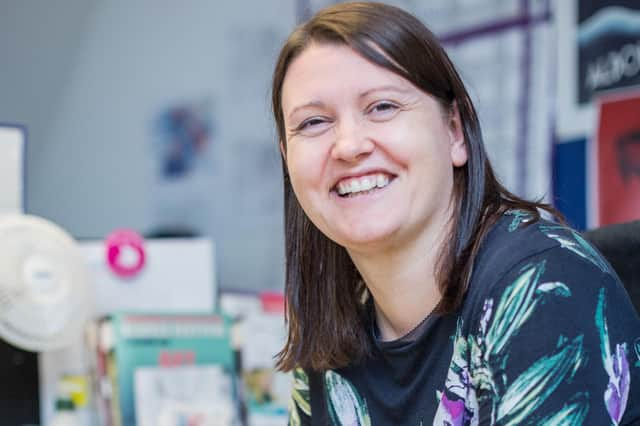 Joan Davidson had a passion for education
Joan Davidson was the Head of Learning at Edinburgh Science, the charitable organisation behind the annual Edinburgh Science Festival. An inspirational figure dedicated to inspiring young people to explore, study and develop a lifelong love of science and technology, Joan was instrumental in organising events and experiences which reached more than half a million young people.
A dedicated champion of environmental causes in her youth, and briefly a science educator following her graduation in Environmental Geosciences, Joan came to the Edinburgh International Science Festival – as the organisation was known then – in 2008, following seven years in retail management.
Her first role was that of Generation Science manager, running – alongside her "work wife" Amy Elder – a touring programme of educational science workshops in primary schools around the country.
Although Generation Science was well-established when Joan arrived, in her role as manager and later Head of Learning she oversaw its expansion to the point at which it was reaching 60,000 pupils a year as the largest science-based touring programme of its kind in the UK.
Operating for 12 weeks between February and May, a typical Generation Science programme now sees ten groups of two workshop educators touring the country, delivering somewhere between 1,000 and 1,400 shows in 600 schools.
With all content designed to support the schools' Curriculum For Excellence, Generation Science also proved to be a huge logistical undertaking to manage, as Joan discovered when 2018's "Beast from the East" stranded her teams across the country. Among other events Joan developed with her team at Edinburgh Science was the Careers Hive, which in 2020 reached 3,000 S1 to S3 pupils at a live event in Edinburgh's National Museum of Scotland.
Aimed at pupils, teachers and the general public, and supported by the Scottish Government's Festivals Expo fund, Careers Hive offers workshops and advice from industry professionals on studying for and entering STEM (science, technology, engineering and maths) careers. Another area which Joan was developing, meanwhile, was a programme of year-round community engagement with local centres and organisations, in order to break down barriers to science engagement; one example of this was the Great Plate, a health, wellbeing and nutrition workshop.
Joan was a highly motivated, kind, supportive person, who would have big, ambitious ideas, but who could inspire those around her to make them happen with the example of her own drive and determination.
She had a winning smile and a wicked sense of humour, and loved to chat with friends and strangers alike over a pint.
"She always gave everyone the time of day, and she could disarm you just by smiling at you." says Joan's brother Charles. "If you made a mistake and you owned it she would say, 'that's grand, we'll learn and we'll move on', or offer to help you. I don't think anyone would ever have a bad word to say about Joan… I know I'm biased, but she was just amazing."
Joan Yeats Davidson was born in Aberdeen in 1977, to Charlie and Doreen, a hospital theatre technician and a primary school classroom assistant. Brother Charles arrived two years later. She attended the city's Byron Park and Westerton Primary Schools, and then Northfield Academy. She enjoyed swimming, judo, football and badminton at primary school; the latter sport to the extent that she won school, district and national trophies in her latter primary years.
At Northfield her interests shifted. She played cello with Aberdeen Youth Orchestra; acted with Aberdeen Children's Theatre; developed an interest in speaking Doric; and joined a local environmental group named Dear Life, which was concerned with the impact of oil and fossil fuels.
Joan's concern for the environment continued into university life, when she studied Environmental Geosciences at Edinburgh University after leaving school in 1995. On graduation she returned to Aberdeen and took part-time work running educational science workshops for primary school children at Satrosphere (now the Aberdeen Science Centre), before a full-time job arrived in a field she loved as much as science.
Joining through the company's graduate recruitment process in 2001, Joan spent seven years as a manager with entertainment retailer HMV, a job which took her to stores in Glasgow, Edinburgh, Kirkcaldy, Dublin and Northern Ireland – and gave her a much-appreciated staff discount card.
She loved travelling, attending Scottish rugby internationals, taking part in her book club and watching films (the Harry Potter and Marvel series were favourites) and, especially, music. She owned around 10,000 CDs and records, and regularly went to concerts, viewing the price of a gig ticket as an investment in creating memories to cherish. Favourite artists included the late Chris Cornell of Soundgarden, the Dave Matthews Band and Dolly Parton.
A trip to the Dollywood amusement park in Tennessee was her final holiday before her cancer diagnosis in late 2019, and the disease – a melanoma which spread throughout her body – was the cause of her death in November 2020.
Joan is survived by her mother Doreen, brother Charles and partner Susan, whom she met while they worked at HMV together. The couple lived in Edinburgh.
Joan's family request that donations in her name go to the charities Equate and Science Grrl at joanydavidson.wixsite.com/home