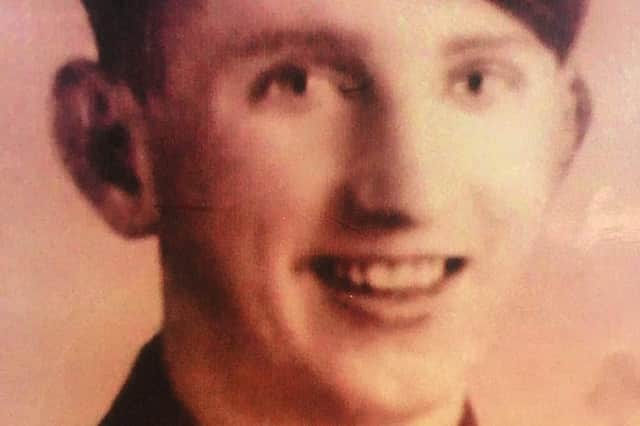 Jimmy Johnstone as a young soldier
Weak, malnourished and enduring temperatures of -25C, Jimmy Johnstone witnessed some of the worst of man's inhumanity on a death march from Poland in the closing months of the Second World War.
He had already suffered five long years as a Prisoner of War and slave labourer under the Nazi regime when, as the Third Reich disintegrated, the beleaguered German army retreated west, dragging thousands of Allied captives with them.
Ill-equipped for the brutally cold winter of early 1945, those too frail to trudge the hundreds of snow-covered miles simply fell by the roadside and were shot. Johnstone, a young brass finisher from Newmachar in Aberdeenshire, somehow survived the unspeakable ordeal long enough to be liberated by US troops and returned to a rewarding life in Scotland.
But at the age of 98, and with time clearly not on his side, he decided to try to trace some of the comrades who shared his experiences after the British surrender at St Valéry in 1940. He was astonished by the global response to his mission, facilitated by Sight Scotland Veterans (formerly Scottish War Blinded).
In particular he had been hoping to trace fellow PoWs with whom he had briefly escaped his captors. An emotional reunion with the son of one fellow escapee followed. Johnstone could tell Bert Petrie's son Sandy "what a brave man his dad was". For Sandy Petrie it was equally poignant: "I have the greatest of respect for Jimmy and the men and women of his generation," he said. "They saved our civilisation and way of life."
Johnstone enlisted in the Royal Engineers as a boy of 16 in 1937. After Britain declared war on Germany, for invading Poland in 1939, he was called up as part of the 51st Highland Division and posted to France. By early June 1940 most of the British Expeditionary Force had been evacuated from Dunkirk but the 51st was tasked with recapturing the Abbeville bridgehead. A German counter-attack saw our troops withdraw to St Valéry-en-Caux where they were trapped. "The Germans had their tanks on the top of the cliffs and had their planes. We were shelled – you have no idea," Johnstone told Sight Scotland Veterans decades later. Wounded in the chest during the fighting, he admitted: "I was young, a bit foolish and brave." On June 12 commanding officer Major General Vic Fortune surrendered. Over 10,000 men were taken prisoner and for roughly three weeks Johnstone and his comrades were force marched, sometimes packed in cattle trucks or canal barges, to Germany via Belgium and Holland. "I remember a French woman had put some pails of water out for us to drink but the German guards just knocked them over. The only drop of water we could try to get was at duck ponds. We marched all day and the only break was at night. We slept in fields out in the open. We were covered in lice, it was horrible."
Marching through Germany in rags, unshaven and infested with parasites, they were humiliated as specimens of the British Army. A woman spat in his face but he recalled: "You couldn't do anything. We were helpless." Eventually he arrived at Stalag XXA, at Toruń (Thorn) in Poland's Kuyavian-Pomeranian province, and became prisoner number 14320. A year later he was moved to Stalag XXB on the outskirts of Marienburg (now Malbork), south-east of Danzig (Gdansk). Thousands of prisoners were put to work on farms, bridges and coalmines, surviving 12-hour shifts on a litre of thin soup and a loaf of German bread between five men. Johnstone loaded coal onto trucks, laboured at salt mines in Krakow, built roads and worked on a farm and railway lines.
He managed to escape in June 1943 after asking a Polish friend for two badges featuring the letter P, denoting a Polish civilian. Duly supplied, along with two sets of overalls, he and a fellow prisoner, Jackie Lockwood, donned them to make a break for it. They were on the run for two weeks, sleeping in an outhouse, until a fateful meeting with some roadworkers. The pair greeted them in German, even uttering "Heil Hitler", but on return to their hideout Johnstone sensed they were being watched. Soon German police arrived and, surprisingly, commended their actions: "You have to be admired. You were doing your duty as a soldier by escaping."
He spent 14 days alone in the cooler. "It was murder. A horrible place," he recalled. "I don't know what happened to Jackie. I never saw him again."
It was while waiting to go into solitary confinement that he met Bert Petrie with whom, along with two others, he would make a second escape bid. This time it was early 1945, the Russians advancing and the German army retreating. An estimated 8,000 prisoners were forced to evacuate Stalag XXB and marched westwards for weeks in appalling winter conditions. In early April a German guard, who claimed to have been a PoW in Scotland in the First World War, approached Johnstone with a proposition: "You give me a note saying I have been a good guard and I will take you and your friends to this farmhouse I know." Johnstone wrote that the guard ought to get a boot up the behind. "But he thought I'd written nice note. He was so happy and put it in his pocket. He took me and three friends away to this farm." Just three days later the Russian shelling and bombing proved too much and the guard ordered them to leave. They returned to the death march. Johnstone had walked hundreds of miles in unimaginable conditions but was soon freed by US troops.
Back in Scotland, deemed fit to return to service, he would have been sent to Japan had the war not ended. He continued to serve with the Royal Engineers in the Territorial Army, became a sergeant and worked in the postal and civil service in Aberdeen. He met his wife Helen on a tram in the city and they were married for almost 60 years until her death in 2006. They had no children and latterly Johnstone, who had limited vision, was supported by Sight Scotland Veterans, who helped his quest to remember St Valery, honour those captured and the comrades who never came home.