Obituary: Jimmy George, Gordon Highlanders veteran and Pinewood Studios carpenter
James Adam George, Gordon Highlander and carpenter. Born on 28 July, 1922 in Aberlour. Died on 29 March, 2020, in London, aged 97.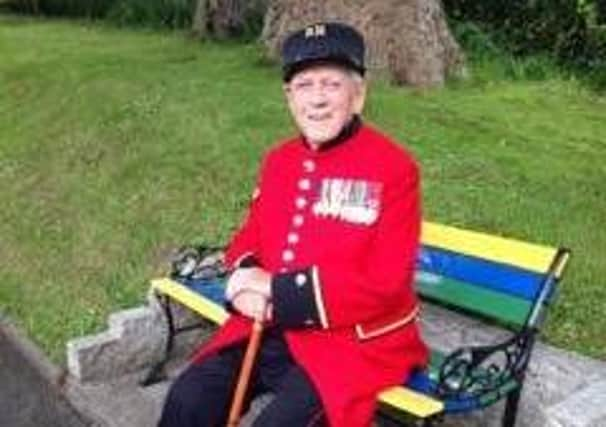 He went from laying the floor in a Banffshire village hall to building the sets for James Bond and Star Wars films.
In between, he survived some of the most gruelling campaigns of the Second World War as a veteran of El Alamein, the Normandy landings and the Ardennes.
And in later life the carpenter, who rubbed shoulders with the stars at Pinewood Studios, went on to sport the famous red tunic as one of the Chelsea Pensioners, the group of old soldiers he had once saluted as a young man.
James George, known as Jimmy, was a shoemaker's son from Speyside who left Keith Grammar School at 13 and worked in a licensed grocer's before completing his apprenticeship as a joiner.
Among his jobs in the 1930s was flooring the local Longmore Hall, where he went to dances.
Called up in January 1942, he was posted to the 5th/7th Gordon Highlanders, following in the footsteps of his grandfather, father and uncles.
After training at Gordonstoun School in Moray he set sail for the Middle East, arriving in Egypt where the troops were visited by Prime Minister Winston Churchill a couple of months before what proved to be a significant turning-point in the conflict, the Allies' victory in the Battle of El Alamein.
On the night of 23 October, 1942, Lance Corporal George, a white St Andrew's cross emblazoned on his back to identify him to those who followed, was in the front trench at the start of the battle.
The fighting raged for ten days and he survived without a scratch, only to be laid low with tonsillitis and exhaustion and packed off to hospital in Alexandria.
Having recuperated and undergone further training, he rejoined his battalion in Sicily and returned to Britain in October 1943.
He met his future wife Molly while stationed at Chalfont St Giles, Buckinghamshire. They married at the local parish church in May 1944 during two days' leave.
Little more than a couple of weeks later he was caught up in history's greatest amphibious invasion, landing on Juno beach on D-Day plus one, amid the bodies of Canadian troops mown down earlier. Within days he would lose his own friend and comrade from their childhood home in Keith, Jimmy Ogg.
After the relief of 6th Airborne at Randville and the liberation of Le Havre, the battalion, as part of 153 Infantry Brigade, left Normandy in September. Passing through Amiens and Cambrai, they crossed into Belgium and on to Holland.
By early October the relief of 15th (Scottish) Division was complete and all three Gordon Highlander Battalions, the 1st, 5th/7th and 2nd, were holding the front alongside each other after crossing the Rhine.
George fought through south-east Holland and in January 1945 saw action in the Ardennes, a campaign waged in the brutal cold of one of the bitterest winters.
Granted leave that month, he managed to get home and see his son Colin, born on 2 January.
Returning to the 5th/7th Battalion near Nijmegen he took part in the attacks into the Reichswald, Gennep, Goch and Thomashof as part of the advance towards the Rhine.
After the war ended he transferred to the 1st Battalion Gordon Highlanders, stationed at Essen, and was demobbed in November 1947, returning to his old job as a carpenter.
He worked for joinery firms in the south of England before taking a job at Pinewood Studios in 1967, the year the Bond film You Only Live Twice, starring Sean Connery – his favourite Bond – was released. Most of the film's interiors were shot at Pinewood, where he was employed until 1987.
He also worked on Chitty Chitty Bang Bang, The Pink Panther, The Dogs of War and an untitled movie that turned out to be Star Wars, as well as freelancing for the BBC and Thames Television.
He and Molly, who were married for almost 71 years, lived in Seer Green, Buckinghamshire where, latterly, he was his wife's carer. After the deaths of his wife and son in 2015, he moved to the Royal Hospital, Chelsea.
In 2016 he returned to Normandy where, unbeknown to him, the tour guide had identified the burial place of his friend Jimmy Ogg, killed four days after D-Day. At Hermanville War Cemetery he signed the remembrance book to "My old mucker".
Later that year he travelled to Keith for the town's Remembrance Day Service, stepping off the train with the words "I'm hame".
He was guest of honour at the town's Royal British Legion where, by extraordinary coincidence, he met Jimmy Ogg's sister, whose family had twice failed to find his grave. They were able to share photographs of his resting place.
The following year George was awarded the Legion d'Honneur and last year
he was back in France commemorating the 75th anniversary of D-Day and the fallen comrades he could never forget.
He was, said regimental secretary Major Grenville Irvine-Fortescue, a remarkable veteran Gordon Highlander, "immensely proud of his service with 5th/7th Gordon Highlanders and equally so of becoming a Chelsea In-Pensioner".
A man so enthusiastic about life, he wanted to make the most of every opportunity.
He is survived by his two grandsons, Martin and Richard, his daughter-in-law Susan and five great-grandchildren.
Comments
 0 comments
Want to join the conversation? Please or to comment on this article.